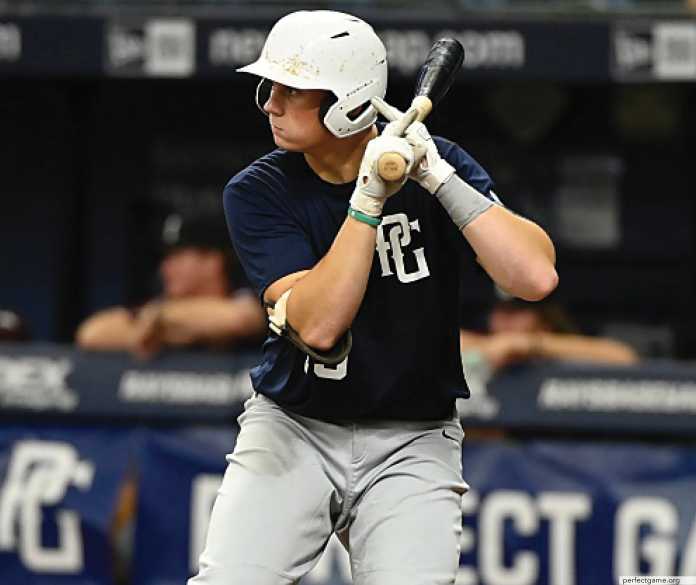 Building the Ultimate Class of 2022 Baseball Starting Lineup
The Class of 2022 is a deep class overall, one that will likely see numerous players selected within the first round of the 2022 MLB Draft. However what would happen if you were to put all the players from the 2022 class on one single team together? Here's what the ultimate baseball starting lineup would look like if you put all of the top Class of 2022 players on the same team.
Catcher: Jared Jones
We begin with Jared Jones, the Walton High School (GA) native, at the catcher position. A player who displays a plus-arm behind the plate, Jones also has plus-power offensively as one of the top home run hitters in the 2022 class. 
Had an amazing weekend down in Baton Rouge!! Can't wait to be a part of something special!! Geaux Tigers 🐯 pic.twitter.com/zFMV5U9Pnx

— Jared Jones (@bearjones_3) November 16, 2021
First Base: Malcolm Moore
A natural catcher, Jared Jones obviously occupied the catching position previously, but Malcolm Moore is too good to not include, so he slides in at first base. Moore provides power from the left side of the plate and would easily slot in as an impact player offensively at first base. 
Second Base: Termarr Johnson
While a natural shortstop, a likely move to second base could be in the works for Termarr Johnson at the next level, and putting the talented infielder at second here allows for another elite bat to slide into this lineup at shortstop. Arguably the top overall player in the 2022 class, Johnson is an elite hitter who will get on base with ease at the top of the lineup.
Termarr Johnson's swing 😍https://t.co/VhztSUGlSV pic.twitter.com/yQODvEJRFo

— Baseball America (@BaseballAmerica) December 13, 2021
Shortstop: Jayson Jones
The player who slides in at shortstop is Jayson Jones, a standout shortstop with the Dallas Tigers. Jones displays a right-handed swing that would drive in runs on a consistent basis, as well as a strong arm that would allow him to excel at shortstop. 
Third Base: Sal Stewart
While other third basemen could've been chosen, it's hard to look past the power potential of Sal Stewart. One of the top home run hitters in the 2022 class, the Westminster Christian (FL) product would be one of the most impactful middle-of-the-order bats in this lineup. 
Sal Stewart (FL) controlled violence. When he releases the barrel it is with bad intentions. #PGNational pic.twitter.com/se7x4whbEC

— PG Showcases (@PGShowcases) July 16, 2021
Left Field: Druw Jones
While Druw Jones will likely play center field at the next level, the talented outfielder slides over to left field here. One of the most talented players across the board in the 2022 class, Jones would slot in anywhere in this lineup, most likely coming in a position to drive in runs.
Center Field: Elijah Green
A no-brainer selection in center field is Elijah Green, a player who displays elite-level speed and power and is an excellent defensive center fielder. A player who would slot in at any part of the lineup, the IMG Academy (FL) product would be one of the most impactful members of this lineup in every way possible.
"He checks off a lot of boxes. … He really has all five tools."

More on Elijah Green, who checked in at No. 3 on our Top 100 Draft Prospects list: https://t.co/fjaaWgaQin pic.twitter.com/GltjRtyyZE

— MLB Pipeline (@MLBPipeline) December 16, 2021
Right Field: Gavin Turley
Gavin Turley is an impact outfielder who displays impressive power and speed similar to Druw Jones and Elijah Green previously. Adding Turley in right field will complete what is an impressive outfield overall, as Turley will provide excellent power in the middle of this lineup. 
Starting Pitcher: Dylan Lesko
While there are numerous candidates to be the starting pitcher for this group, it's hard to choose anyone other than Dylan Lesko. One of the most accomplished pitchers in Perfect Game history, the right-hander displays an elite three-pitch mix, all of which he can command and strike out batters.
Dylan Lesko ('22) bringing the heat at the SE Elite Championships. 🔥🔥🔥 pic.twitter.com/siLS948AY5

— Perfect Game USA (@PerfectGameUSA) June 7, 2021
Closing Pitcher: Brock Porter
Similar to the starter previously, there are many potential options to fill the closer role, but Brock Porter is a player who sticks out in the role in particular. The right-hander displays an electric fastball that flirts with triple digits on a consistent basis, while his curveball and changeup can also strike out batters, making Porter a no-brainer in the late innings.
Written by: Matt Melton