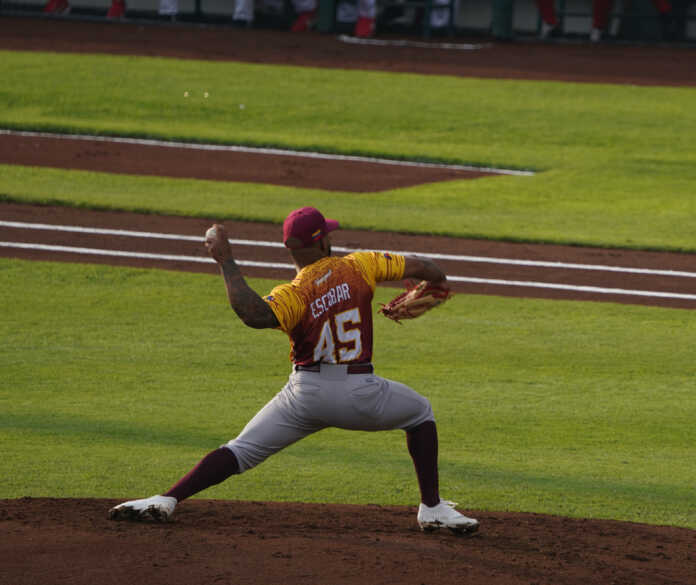 With the calendar having officially flipped to 2023, the anticipation surrounding the upcoming high school baseball season will only continue to grow. We join in the excitement with a series of season previews, beginning with a look at the top five right-handed pitchers in the country, plus a few honorable mentions.
Honorable Mentions
Liam Peterson (Calvary Christian, FL), Barrett Kent (Pottsboro, TX), Anson Seibert (Blue Valley Southwest, KS)
5. Cole Schoenwetter (San Marcos, CA)
Our list of top right-handed pitchers in high school baseball begins with Schoenwetter, a righty at San Marcos High School in California. A UC Santa Barbara commit, Schoenwetter posted a 3.23 ERA with 71 Ks in 39 IP as a junior last year.
4. Bryce Eldridge (Madison, VA)
An Alabama commit out of Madison High School in Virginia, Eldridge is one of the top two-way players – and perhaps the best of all – in the 2023 class. The rising senior is also a solid hitter and defender at first base.
3. Travis Sykora (Round Rock, TX)
Sykora, a 6-foot-6 flamethrower at Round Rock High in Texas, holds the No. 3 spot on this list of top right-handed pitchers in high school baseball. The Texas commit is a potential first-round pick in the 2023 MLB Draft, and he has one of the best fastballs of any arm in the 2023 class.
2. Charlee Soto (Reborn Christian, FL)
The No. 2 ranking goes to the 6-foot-5 Soto of Reborn Christian High School in Florida. Soto, a UCF commit, has some of the best velocity of any right-hander in the 2023 class and is likely to be selected in the first round of the 2023 MLB Draft.
1. Noble Meyer (Jesuit, OR)
While the gap is certainly slim, the No. 1 overall ranking entering the 2023 high school baseball season goes to Meyer, a 6-foot-5 right-hander at Jesuit High School in Oregon. Arguably the top high school pitcher in the 2023 MLB Draft, Meyer is committed to Oregon and is coming off a junior season in which he held a 10-0 record with a 0.72 ERA and 129 Ks in 58.1 IP.