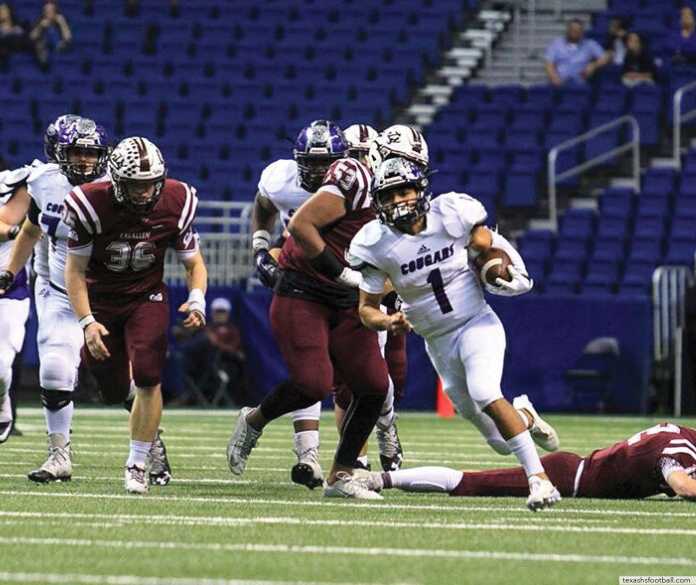 Examining the Undefeated Football Teams Outside the National Top 50
It comes as no surprise that the top four high school football teams in the nation are undefeated. Mater Dei, Westlake, Collins Hill, and Bergen Catholic have all played tough competition and proven to be the best their states have to offer.
But what about the undefeated teams not even ranked in the top 50? According to MaxPreps, six top-100 football teams are currently undefeated but are not ranked within the top 50 nationwide. Let's examine their resumes and determine how good they really are.
No. 58 College Station (TX)
The home of Texas A&M is also home to the Cougars, who are currently 15-0 after defeating Mansfield Summit in the 5A DI semifinals. They edged past a strong Denton Ryan team in the quarterfinals 26-21. The Cougars haven't played enough great teams to get a good read on their true ability, with Ryan being likely their only outstanding win. They can certainly bolster their resume with a win over 14-1 Paetow team in the state championship.
No. 60 McCallie (TN)

 
The Blue Tornado capped off a 13-0 season with a 28-7 win over Montgomery Bell in the state championship. McCallie also defeated Baylor, Knoxville Catholic, and Calhoun (GA), all recognizable and successful on a national stage. Calhoun made an appearance in the Georgia 5A state title game. This is definitely a top-100 team, and they appear to be just on the fringe of the top 50 based on their resume.
No. 67 Cary-Grove (IL)

 
The Trojans cruised through all 14 of their games except the state championship, where they beat East St. Louis by 1. Strength of schedule is a serious concern, though, as they only played five teams above .500 and only one team that ended the season with 10 or more wins. Maybe hold off on placing Cary-Grove inside the top 50 for now.
No. 84 Tampa Bay Tech (FL)

 
The 14-0 Titans are in the state championship, but they've struggled at times this season. They defeated Palmetto and Armwood by one score, and neither of those teams has more wins than losses. They have a couple convincing victories over Hillsborough and Lake Gibson to boost their resume, however. Their current rank seems to be adequate, especially with St. Thomas Aquinas as their next opponent.
No. 86 Zachary (LA)

 
The Broncos' schedule wasn't very difficult, but they certainly proved capable of defeating tough opponents. They defeated 8-3 St. Paul's by 39 and knocked off undefeated Destrehan 34-13 in the state semifinals. They also ended Ponchatoula's undefeated season in the state title game. This 15-0 squad is around the right spot too.
No. 94 De La Salle Collegiate (MI)

 
The Pilots played no nationally ranked teams, but went undefeated and beat the fourth-best Michigan team by 10. They won every game on average by over 24 points, but struggled in a 9-point win over River Rouge and a 5-point win over Brother Rice. This isn't a top-100 team simply because of the lack of consistency and the easy strength of schedule. 
Written by: Dhruv Mohan