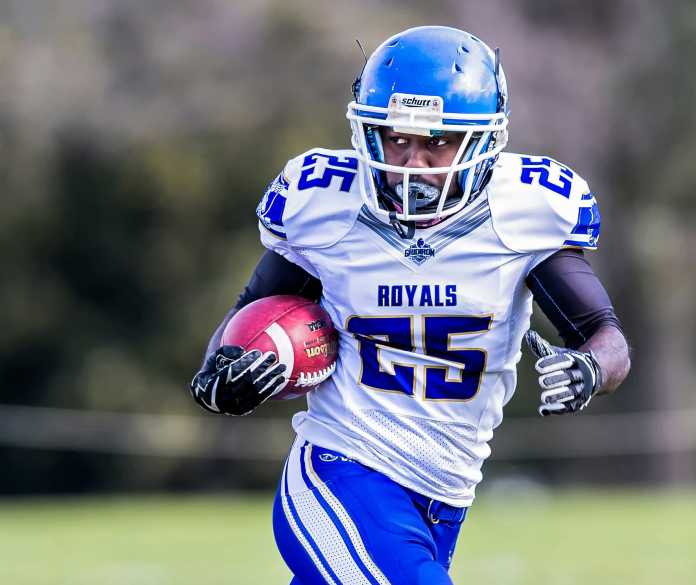 While one name clearly tops the list of top 10 returning Alabama running backs heading into the 2022 high school football season, a few others could be set for massive seasons. Who is that one name sitting atop the list, and what other names are among the best in the state at running back?
1. Jeremiah Cobb (Montgomery Catholic)
Our list of top 10 Alabama running backs is led by Cobb, a four-star prospect who is coming off back-to-back 2,000+ yard seasons at Montgomery Catholic. As a junior, Cobb averaged 11 yards per carry for the Knights with 2,163 yards and 30 total touchdowns, eight of which were receiving, while also catching 24 passes for 561 yards on his way to a First Team All-State selection.
2. J'Marion Burnette (Andalusia)
One of Alabama high school football's top rising juniors, Burnette is also considered one of the nation's top 2024 running back recruits. The four-star prospect is coming off a phenomenal sophomore season in which he rushed for 2,070 yards and 25 touchdowns to earn First Team All-State honors.
3. Khalifa Keith (Parker)
This three-star prospect is third on our list of top 10 Alabama running backs after a junior campaign in which he was a touchdown machine, accounting for 1,877 yards and 28 TDs on 190 carries.
4. Ronnie Royal III (Gulf Shores)
Royal is one of Alabama's top Class of 2024 prospects and one of the state's most versatile all-around athletes as well. An impact player on both sides of the ball, the four-star prospect rushed for 1,263 yards and 19 touchdowns a year ago for Gulf Shores.
5. Drew Pickett (Russell County)
The Russell County standout returns for his senior season as not only one of the top returning names in Class 6A, but also one of the state's top 2023 running back recruits. A three-star prospect, Pickett accounted for 835 yards and seven touchdowns through nine games a year ago.
6. Mykel Johnson (Enterprise)
A 7A First Team All-State selection, Johnson did it all for Enterprise during his junior season. Totaling almost 2,000 all-purpose yards, Johnson rushed for 1,314 yards and 23 touchdowns on the ground a year ago, and returns alongside honorable mention selection Amare Griffin to headline one of the state's top backfields.
7. Ahamari Williams (Hoover)
Also a Class 7A First Team All-State selection a year ago, Williams returns for his senior season at one of state's top football programs. In the Buccaneers' first nine games last season, Williams recorded for 913 rushing yards and 11 touchdowns, along with 134 receiving yards and two more scores.
8. Mason Cartee (Priceville)
One would be hard-pressed to identify a better season – at any position – than what this First Team All-State selection accomplished in 2021 for the Bulldogs. In Priceville's 12 games, the rising senior rushed for 2,363 yards and 32 touchdowns as one of the top 10 Alabama HSFB running backs.
9. Anthony Rogers (Pike Road)
Rogers, one of Alabama's top rising sophomores, takes over as RB1 for defending 5A state champion Pike Road now that Quinshon Judkins has moved on to Ole Miss. He rushed for 1,150 yards and 18 touchdowns as a freshman, while also adding 10 more scores through the receiving and return game.
10. Kamore Harris (Comer)
Our list of top 10 Alabama running backs is rounded out by this two-way standout – Harris rushed for 1,908 yards and 26 touchdowns, and collected 66 total tackles with a pair of sacks defensively last season. He earned First Team All-State honors.
Honorable Mention:
Cosner Harrison (St. James), Eain Bain (Valley Head), Devon Daniel (Carbon Hill), Jordan Smith (Ariton), Jordan Washington (Helena), Conner Warhurst (Russellville), Jashawn Cooper (Montgomery Academy), Jaylen Murry (Wicksburg), Cole Blaylock (UMS-Wright), Amare Griffin (Enterprise)