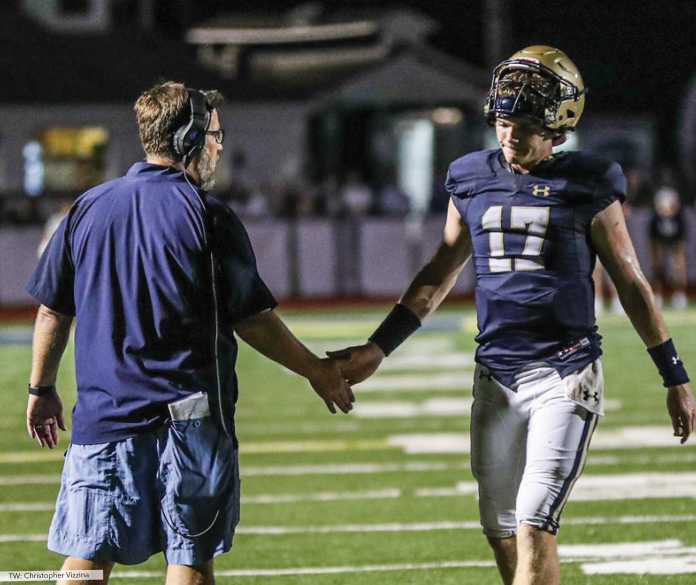 Top Alabama High School Football Players Returning in 2022
With state champions now officially crowned, we can officially turn the page on 2021 and begin to look ahead to the 2022 season. Many top Alabama high school football players will be moving on to the collegiate level, but the state will return several key players from this season in 2022.
Here is a position-by-position look at the top returning football players in Alabama for the 2022 season.
Quarterback
Undoubtedly the state's top returning quarterback in 2022 is Briarwood Christian's Christopher Vizzina, a four-star prospect who is considered as one of the Top 10 2022 quarterbacks nationally. A Top 100 overall player in the 2022 class, the dual-threat quarterback threw for a total of 2,065 yards and 16 touchdowns in 2021, while also rushing for 600 yards and 15 more scores.
In addition to Vizzina, a few of the state's leading passers from 2021 such as rising seniors Andrew Hunter (Randolph School), Earl Woods (Hueytown), and Stone Lawless (Huntsville), as well as rising juniors Brandon Musch (Westminster Christian) and Caleb McCreary (Montgomery Catholic).
Running Back
Headlining the multiple talented running backs who will be returning in 2022 will be rising seniors Drew Pickett (Holtville) and Jeremiah Cobb (Montgomery Catholic), as well as the state's top 2024 recruit Ronnie Royal III (Gulf Shores).
In addition to those three, many of the state's prominent rushers from the 2021 season will return, including top rusher Mason Cartee (2,363 yards, 32 TD) at Priceville, Kamore Harris (Comer), Khalifa Keith (Parker), Devon Daniel (Carbon Hill), and Jordan Smith (Ariton).
Wide Receiver
The wide receiver position's top returning player is clear in Central-Phenix City's Karmello English. A four-star prospect, English has posted 1,042 receiving yards and 17 touchdowns entering the Red Devils' 7A state title game on Wednesday night.
In addition to English, other prominent receivers from the 2021 season will return in Derick Smith (Southside-Selma), Zeke Deloach (Fayetteville), and Ben Hall (Southeastern).
Offensive Line
When looking at the top returning offensive linemen in the state, three names stick out, all of which are three-star prospects. RyQueze McElderry (Anniston) is arguably the top overall offensive lineman in the state, while Vysen Lang (Pike Road) and Koby Keenum (Mars Hill Bible) are not far behind.
Defensive Line
The state of Alabama will return numerous notable defensive lineman in 2022, many of whom are some of the top recruits in the country such as Peter Woods (Thompson) and Tomarrion Parker (Central-Phenix City).
In addition to those two, other four-stars such as Jaquavious Russaw (Carver-Troy), Keldric Faulk (Highland Home), Kelby Collins (Gardendale), and Hunter Osborne (Hewitt-Trussville) also return, as well as three-stars Bradyn Joiner (Auburn) and Yhonzae Pierre (Eufaula). 
Linebacker
Undoubtedly the state's top returning linebacker is Carroll's Karmelo Overton, a four-star prospect. In addition to Overton, a few of the state's leading tacklers from the 2021 season such as Jalen Pickens (Jackson) and Malachi Jones (Sparkman) will return in 2022.
Defensive Backs
If defensive line isn't the position with the most notable talent returning for the 2022 season, then it's 100% the secondary. Three of the nation's top cornerbacks in five-stars Tony Mitchell (Thompson), AJ Harris (Glenwood), and Jahlil Hurley (Florence) will all return, while four-star safeties DaKaari Nelson (Selma) and Sylvester Smith (Munford) also return.
In addition to those players, rising corners such as Dale Miller (Hoover) and Avery Stuart (Alabama Christian) will also return.
Written by: Matt Melton