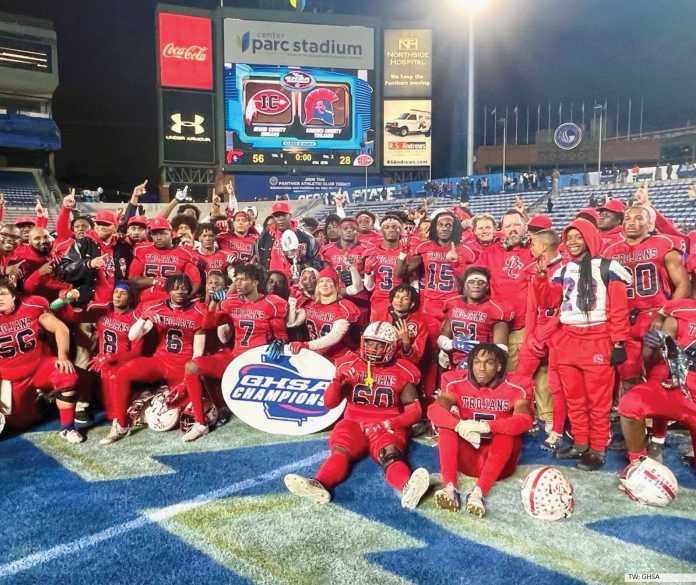 2021 GHSA Football State Championships Recap
Through the bipolar Atlanta weather, 16 high school football teams battled for their respective classes' trophies in the 2021 GHSA Football State Championships. The first of three days featured the 1A-Private and 1A-Public finals, while day two saw 2A, 4A, and 6A champions crowned. The 3A, 5A, and 7A finals wrapped up this year's championship slate on a wet Saturday. Here is how it all went down, game by game.
1A-Private
Just like their 2020 state championship meeting, Trinity Christian's matchup with Prince Avenue Christian ended in a blowout. Thankfully for the Lions, they were on the right side of history, defeating PACS 55-28 after losing 41-21 last season. Trinity's win capped a 14-0 season in which they averaged a whopping 53 points per game.
1A-Public
It was a sigh of relief for Brooks County, who knocked off Irwin County for the first time since 2003 with a 56-28 rout. The Trojans' victory was a result of a masterclass by RB Omari Arnold, who rushed for 320 yards and five touchdowns. Brooks County avenged a 21-13 loss earlier this season in region play.
2A
Fitzgerald kicked off the second day of play with a suffocating defensive performance that helped them defeat Thomasville 21-7. Thomasville was coming off blowout wins over dominant 2A programs, but the Purple Hurricane shut down the Bulldogs to win their first title since the 1940s.
3A
Cedar Grove only led Carver-Atlanta 21-14 prior to a lightning delay, but came back swinging. Capitalizing on four Panther turnovers, the Saints pulled away for a 56-26 demolition in the 3A state championship. This game was a rematch of a regular season region game, which Cedar Grove also won 17-0.
4A
Carver-Columbus did their best to hang with Benedictine, but big plays by Auburn commit and four-star QB Holden Geriner put the 4A state title just out of reach for the Tigers. After losing their first two games this season, the Cadets won 13 straight (including the 35-28 win over Carver) to clinch their third state championship.
5A
From the start, it was all Warner Robins. A touchdown right before the half put the Demons up 24-7, and they went on to win 38-14. This marks back-to-back state title wins in 5A after three consecutive title losses for Warner Robins.
6A
In what was by far the best championship game this season, Buford defeated Langston Hughes 21-20 to win their third straight title. The Wolves trailed 14-0, but methodically scored to lead late with just over a couple minutes remaining. A potential game-winning field goal attempt was missed with no time left, giving Buford yet another championship.
7A
There's no debate: Collins Hill is the best team in Georgia. They completely shut down Milton's rush attack and battled to a 24-8 state title win, the first in school history. Just how dominant was this team? They went 15-0 and allowed only 5.5 points per game. Thirteen of their 15 games were against playoff or future playoff opponents. The 7A trophy goes back to Suwanee, this time with the Eagles.
Written by: Dhruv Mohan