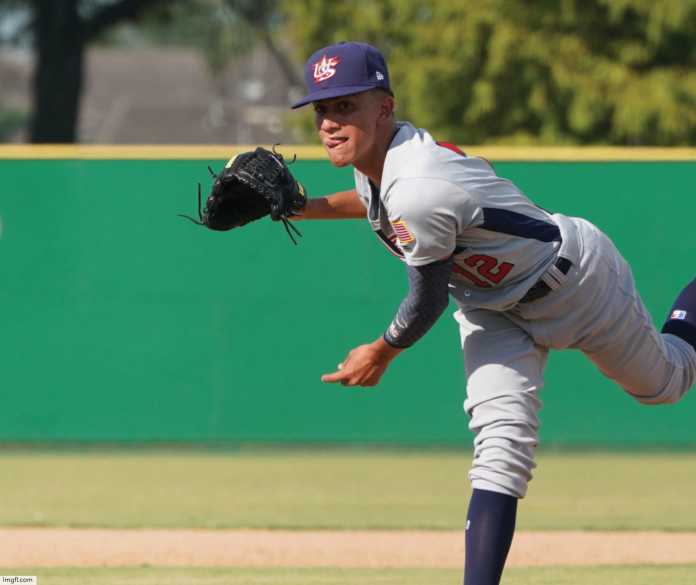 The Top Left-Handers in the Class of 2022
Not only does the Class of 2022 displays multiple elite-level pitchers, but most of those players are left-handers. One of the best groups of southpaws in recent memories, here is a look at the top four left-handers in the Class of 2022, each of whom are rated among the Top 10 overall prospects in the 2022 class by Perfect Game.
Jackson Ferris
Arguably the top southpaw in the 2022 class is Ferris, a native of Mount Airy, NC who attends IMG Academy (FL). Appearing in 10 games this past season with the Ascenders, Ferris posted an outstanding 8-0 record with a 0.55 ERA, striking out a total of 86 batters across 50.2 innings pitched. Enjoying success with Canes National 17U this past summer as well, Ferris is cemented as one of the top overall pitchers in the 2022 class.
Brandon Barriera
Not far behind Ferris as the top left-hander are three players with the first being Barriera, a Hollywood, FL native. A standout at American Heritage High School (FL), Barriera has spent time playing with CBU Scout Team where he has continued to showcase his impressive fastball and slider. The Vanderbilt commit will likely be a first round pick in this year's MLB Draft, along with each of these top pitchers.
Noah Schultz
Also a Vanderbilt commit, Schultz is a native of Aurora, IL where he attends Oswego East High School. Playing with Cangelosi Sparks 2022 Black, Schultz has showcased an impressive fastball and slider from his 6'9 frame, as well as an ability to pound the strike zone. Schultz is currently rated as the No. 9 overall player in the 2022 class by Perfect Game.
Levi Huesman
One of the biggest risers in the 2022 Class is Huesman, a left-hander from Hanover, VA who most-recently played with Richmond Braves Platinum. Rising into the Top 10 overall prospects in the 2022 Class at No. 10 according to Perfect Game, Huesman backed-up a strong 2021 season at Hanover (VA) with an impressive summer on the travel baseball scene. A Coastal Carolina commit, the southpaw has impressive strikeout potential with a strong fastball, as well as one of the best sliders in the 2022 class.
Written by: Matt Melton