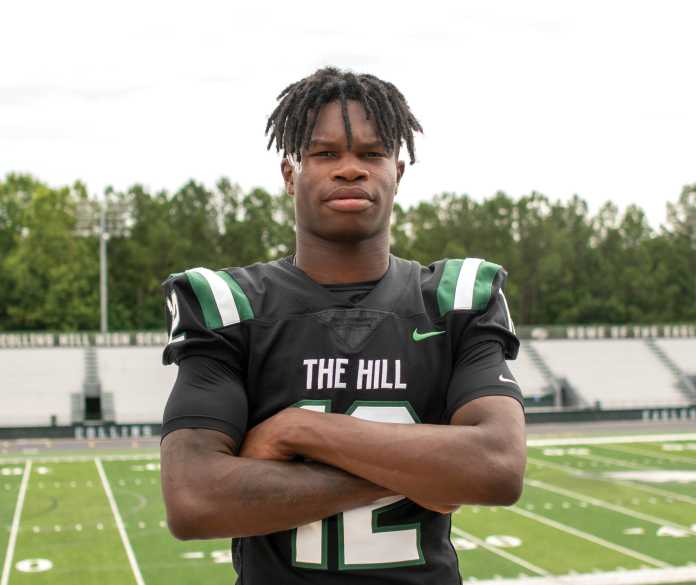 The hype surrounding the Class of 2022 has been immeasurable. Collins Hill's (GA) Travis Hunter has proven he can play otherworldly football on offense and defense, while Lakeland's (FL) Gabriel Brownlow-Dindy has terrorized opposing offenses all year. These are just two of several other star players making their impact nationwide. Let's take a look at how the top ten nationally-ranked recruits have performed on the field this season.
Xavier Nwankpa (Southeast Polk [IA]) – The star safety balled out, leading the Rams to their first ever state championship. Nwankpa had 5 interceptions defensively and was named the 2021 MaxPreps Iowa High School Football Player of the Year.
Travis Shaw (Grimsley [NC]) – Shaw had most of his season sidelined by shoulder surgery, but he returned with 8 hurries, 5 tackles for loss, and 20 total tackles as a defensive linemen in just four games. Shaw also caused two fumbles.
Josh Conerly Jr. (Rainier Beach [WA]) – The uncommitted offensive tackle paved the way for a solid 6-4 season for the Vikings. Conerly's big year on both sides of the ball also earned him the honor of being named a midseason 5-star.
Gabriel Brownlow-Dindy (Lakeland [FL]) – The Oklahoma defensive line commit had his season end early due to a hand injury, but he still managed to put up solid numbers for the Dreadnaughts. In 7 games, he totaled 12 tackles for loss and 7 sacks (2nd on the team).
Shemar Stewart (Monsignor Pace [FL]) – The Spartans didn't have a particularly great season, but Stewart's presence on the defensive line was felt. Stewart pummeled opposing running backs and even helped hold St. Thomas Aquinas's leading rusher to only 26 yards on 8 carries. 
Harold Perkins (Cypress Park [TX]) – Despite being rated as a 5-star linebacker, Perkins's main contributions came offensively, as he rushed for over 1,100 yards and 18 touchdowns. He could only muster 2 sacks and 3 TFLs on defense though.
Evan Stewart (Liberty [TX]) – The Panthers wide receiver only played in three games before opting out of his senior year, and Liberty would go on to lose their last five games.
Malaki Starks (Jefferson [GA]) – Listed as a linebacker, the Georgia commit did not have a particularly fruitful 2021 campaign. He only rushed for 300 yards through 6 games compared to his 1,537-yard total last season. On defense, he only managed one TFL and two interceptions.
Walter Nolen (Powell [TN]) – The top-ranked defensive lineman notched a whopping 26 TFLs, 10 sacks, and caused 5 fumbles in his senior season so far. He's helped allow only 27 points in the Panthers' last five games.
Travis Hunter (Collins Hill [GA]) – Considered a generational talent, Hunter has caught for 900 yards and 8 touchdowns in 8 games (due to a potentially season-ending leg injury) and picked off 4 passes. His impact on the 13-0 Eagles is far more than the stats sheet can possibly show, as most already know.
Written by: Dhruv Mohan