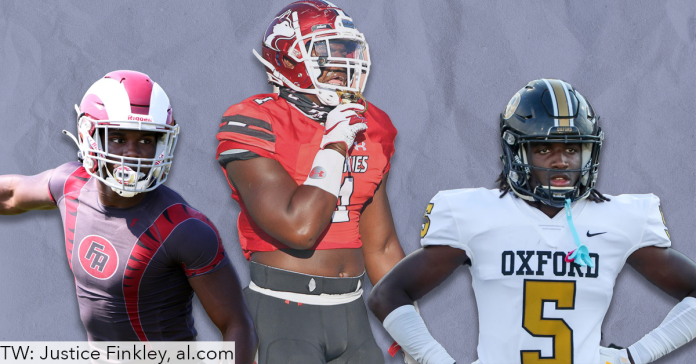 Building the Best 2021 Alabama High School Football Defense
When looking at high school football in the state of Alabama, the state is arguably known for its phenomenal defenses and defensive players. Teams such as Thompson, Montgomery Catholic, Theodore, and more have looked dominant at times on defense this season, but which players in-particular have impressed the most? Many of them happen to be some of the current top recruits in the state. So, let's combine the two and compose the best Alabama high school football defense using players from the 2021 season.
Defensive Line
DE – Jeremiah Alexander (Thompson)
DT – Khurtiss Perry (Pike Road)
DT – Peter Woods (Thompson)
DE – Justice Finkley (Hewitt-Trussville)
Reserves – Kelby Collins (Gardendale), Tomarrion Parker (Central-Phenix City)
While there are multiple candidates to compose the defensive line, you won't find a better combination than these four. This group includes two five-star recruits in Jeremiah Alexander and Peter Woods, and all are versatile linemen skilled in rushing the passer and stopping the run. In all, this group has size, speed, and experience, making the combination of these four undoubtedly the strength of this defense overall.
Linebackers
LB – Shemar James (Faith Academy)
LB – Robert Woodyard (Williamson)
LB – TJ Dudley (Montgomery Catholic)
Reserves – Powell Gordon (Auburn), Taylor Love (Opelika)
The linebacker position features three experienced seniors. Shemar James, Robert Woodyard, and TJ Dudley are all versatile linebackers capable of playing all over the field. All three are rated as four-star recruits, all three have been one of the top tackles in their respective classifications the past couple of seasons, and all three are skilled in both pass coverage and rushing the passer.
Defensive Backs
CB – Tony Mitchell (Thompson)
S – Trequon Fegans (Thompson)
S – Antonio Kite (Anniston)
CB – AJ Harris (Glenwood)
Reserves – Jahlil Hurley (Florence), JQ Hardaway (Central-Phenix City)
If the defensive line isn't the strength of this defense, then it is likely the secondary that features two seniors and juniors. Tony Mitchell and AJ Harris are considered as two of the top corners in the Class of 2023, while both Trequon Fegans and Antonio Kite are versatile defensive backs capable of lining up at multiple positions. When looking at this group compared to other states, it'll be hard to find a better group of talent, especially at cornerback.
Written by: Matt Melton