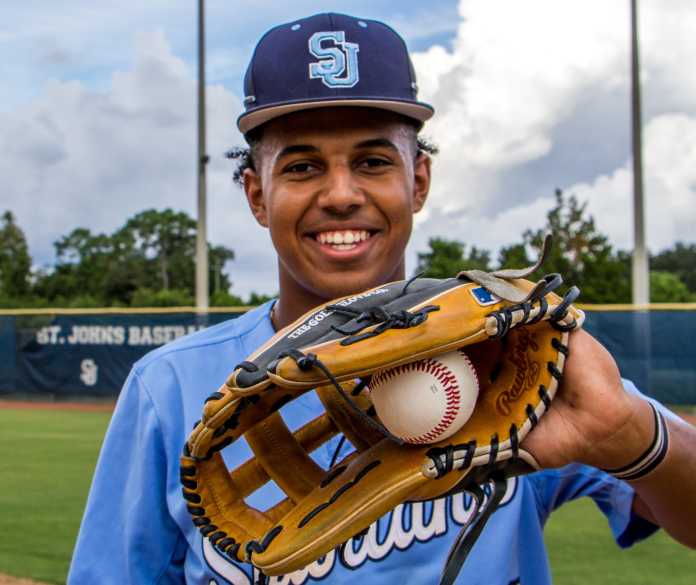 With the 2022 high school baseball season coming to a close in the near future, now is a good time to look back at some of the Southeast's top teams and players. Some of the those players have positioned themselves to be selected very early in the upcoming 2022 MLB Draft, thanks in part to phenomenal senior seasons. Here's a look at five names from around the Southeast who have set themselves apart as fast-rising MLB draft prospects. (Stats as of Sunday, May 8)
3B: Cameron Smith – Palm Beach Central, FL
A smooth-hitting infielder at Palm Beach Central, Smith tops our list of fast-rising MLB draft prospects after enjoying an outstanding senior season in which he batted .524 with 28 RBI and a 1.627 OPS through 19 games. This Florida State commit has a notable amount of upside as a hitter at the next level, and could be selected within the first two or three rounds because of it.
1B: Jayden Hylton – Palm Beach Gardens, FL
The Stetson commit has enjoyed an impressive senior season at Palm Beach Gardens, slashing .467/.590/.800 with 28 stolen bases through 25 games. A first baseman, Hylton could be selected anywhere within the first five rounds this summer; alternately, he could be a day one impact player in college should he go that route.
OF: Jordan Taylor – St. Johns Country Day, FL
In a state displaying two of the nation's top prep pitchers in Jackson Ferris and Brandon Barriera, an argument could be made that Taylor is the top positional 2022 MLB Draft prospect in Florida. A player with elite athleticism, Taylor has enjoyed a stellar senior season, hitting .458 with six home runs and 12 stolen bases through 24 games.
LHP: Bradley Loftin – DeSoto Central, MS
Lofton, one of the Southeast's top southpaws, has posted a 1.75 ERA across 40 innings pitched this spring, with 74 strikeouts to only nine walks. A standout left-hander at DeSoto Central High School in Mississippi, Loftin is a likely second- or third-round pick; he could be a day-one impact starter at Mississippi State next season if he chooses the collegiate route.
RHP: Sam Horn – Collins Hill, GA
Our list of five fast-rising MLB draft prospects is completed by Horn, another one of Georgia's top pitchers alongside names such as Dylan Lesko and Hayden Murphy. A 6-foot-4 right-hander with a plus fastball, Horn could potentially be selected as early as the second or third rounds this July. He's already a four-star Missouri football commit, and is bound to make an impact at the next level in either sport.