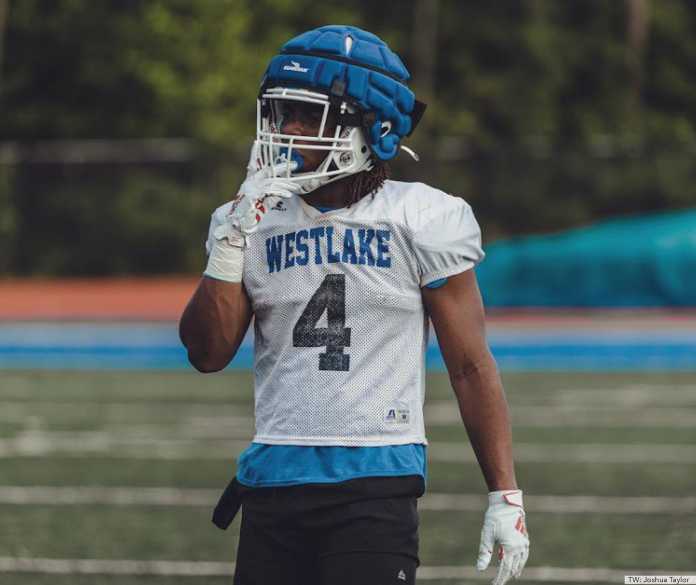 Westlake "Wins" Corky Kell 7-on-7 Tournament
The 7th annual Corky Kell 7-on-7 Tournament featured 45 teams from across the Metro Atlanta area and beyond. The tournament opened with pod play, in which five teams battled against one another within each of the nine pods to sport the best record for seeding into the afternoon bracket. By noon, pod play was complete, with seven teams relishing their undefeated 4-0 records: Westlake, Collins Hill, Bremen, Rabun County, North Gwinnett, Cherokee and Alpharetta.
All 45 teams were then placed into a single elimination bracket based on their pod records, and the quest to determine the ultimate 7-on-7 champion began. The top 19 teams were given first-round byes. However, the lower seeds didn't indicate worse game play. No. 20 River Ridge defeated No. 44 Pepperell by a final score of 30-23 in overtime, while No. 36 Lanier edged out No. 29 Gainesville, 33-31.
The second round featured more action from top-ranked teams. No. 1 Westlake rolled over No. 33 Parkview, 33-14. And No. 2 Collins Hill thumped No. 31 Carver, 28-2. However, high-ranking upsets were not non-existent either. No. 5 North Gwinnett was stunned by No. 28 Peachtree Ridge, while both No. 25 McEachern and No. 20 Johns Creek defeated No. 8 Fellowship Christian and No. 13 Norcross respectively.
During the later stages of the second round, play was stopped due to lightning. Although there was no rain in the area, thunder could be heard clearly, which prompted officials to delay all matches by 30 minutes. Teams filed into their respective shelters to game plan or rejuvenate.
After the delay had concluded, most teams picked up where they left off. No. 7 Alpharetta, attempting to defend its undefeated record against No. 26 Roswell, scored nine points in the last couple of minutes to seal a 35-18 victory. No. 19 Brookwood upset No. 14 Mountain View in a thrilling 37-34 win that came down to the last minute of play. With that, the second round of play was finished.
The third round featured the rise of No. 20 Johns Creek as a Cinderella team. The Gladiators shocked Gunner Stockton and No. 4 Rabun County with key defensive stops and late-game conversions. Elsewhere, No. 1 Westlake continued its dominance by defeating No.16 Archer for the second time in the day. Sam Horn, Travis Hunter and No. 2 Collins Hill survived a scare against No. 15 Kell to advance to the quarterfinals as well.
Just as some quarterfinals matchups began and other third round games finished, play was stopped once more due to lightning. Teams once again trudged to their respective tents to wait out the delay. Within 20 minutes of the delay, it was announced that the tournament would be canceled. Disappointed championship hopefuls like Collins Hill, Cherokee and Marietta made their way back to their respective buses.
In an attempt to leave the day with a winner, the award plaque was given to the top-seeded Westlake Lions. Three other undefeated teams remained at the time of cancelation, but Westlake was handed the award due to its stifling defense in pod play. The Lions only allowed 24 points in their four games combined, earning them the first seed and eventual 2021 Corky Kell 7-on-7 Tournament championship.
Written by: Dhruv Mohan