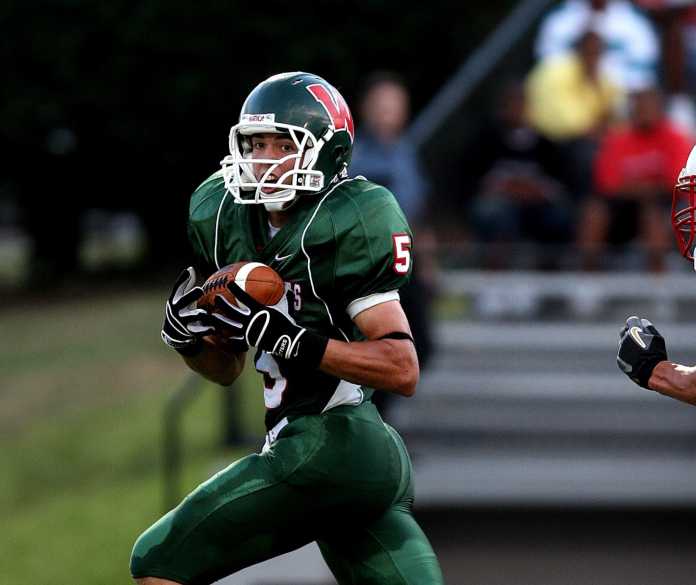 A look into the world of Florida high school football reveals an immense amount of talent capable of running the ball and catching it out of the backfield. Who are the top 10 Florida running backs set to return for the 2022 season?
1. Richard Young (Lehigh)
A five-star prospect rated as the No. 2 running back nationally, Young leads the conversation regarding the state's elite running back talent. The Lehigh standout averaged 9 yards per carry while rushing for 1,755 yards and 19 touchdowns for the Lightning a year ago.
2. Cedric Baxter Jr (Edgewater)
Baxter is coming off a massive 2021 junior season, so one certainly could make an argument for him at the No. 1 overall spot as well. The four-star prospect rushed for 1,718 yards and 26 touchdowns a year ago for Edgewater, while also catching seven passes for 102 yards and another score.
3. Treyaun Webb (Trinity Christian)
Webb, one of multiple returning names for defending 2A state champion Trinity Christian, is another name in the conversation as one of the top 10 Florida running backs. A four-star prospect who missed some time due to injury in 2021, Webb rushed for 1,200 yards with 11 touchdowns in 10 games.
4. Joquez Smith (Jesuit)
Smith is coming off a huge junior season for 6A state champion Jesuit, and was one of the leading rushers in the state. The three-star prospect rushed for 1,990 yards and 30 touchdowns for the Tigers last season.
5. Jerrick Gibson (IMG Academy)
The nation's top running back recruit in the Class of 2024, Gibson transferred to IMG Academy in the offseason, from Mundy's Mill High School in Georgia. In seven games a year ago, the five-star prospect rushed for 626 yards and four touchdowns.
6. Stacy Gage (IMG Academy)
The second of IMG's two elite rising junior running backs, Gage also has seen time with the Ascenders national team during each of the past two seasons. He's a five-star prospect and is right there with Gibson as the Class of 2024's No. 1 running back, with both likely set for high-impact junior seasons.
7. Samuel Singleton (Fleming Island)
Singleton, a four-star prospect, is also considered one of the top running back recruits in the 2023 class. The Fleming Island standout rushed for 948 yards as a junior, while also adding nine touchdowns on the ground.
8. Mark Fletcher (American Heritage)
The American Heritage offense returns multiple key names from last season, with arguably none having a bigger impact than Fletcher. The four-star Ohio State commit is one of the bigger running backs in the state at 6-foot-1 and 225 pounds, and is coming off a junior campaign in which he rushed for 779 yards and 13 touchdowns.
9. Davion Gause (Chaminade-Madonna)
One of Florida's top 2024 running back recruits, Gause is coming off a phenomenal sophomore season for defending 3A state champion Chaminade-Madonna. The four-star prospect rushed for 1,844 yards and accounted for 17 touchdowns on the ground in 2021.
10. Jaden Booker (Palmetto Ridge)
While a number of players could claim the final spot among top 10 Florida running backs, it's hard to not include Booker on this list. A three-star prospect, he rushed for 1,726 yards and 11 touchdowns for the Bears last season, the third straight in which he eclipsed 1,000 yards.
Honorable Mention:
Kendrick Raphael (Naples), Michael Mitchell (Middleburg), Kamari Moulton (Cardinal Gibbons), Kayleb Wagner (Baker), Christian Cromer (Nature Coast Tech), Sedrick Irvin Jr (Miami Columbus), Oniel Senatus (Celebration), Marcus McCrimmon (Central Florida Christian), Joe Jackson (Ridge Community), Isaiah Augustave (Naples)