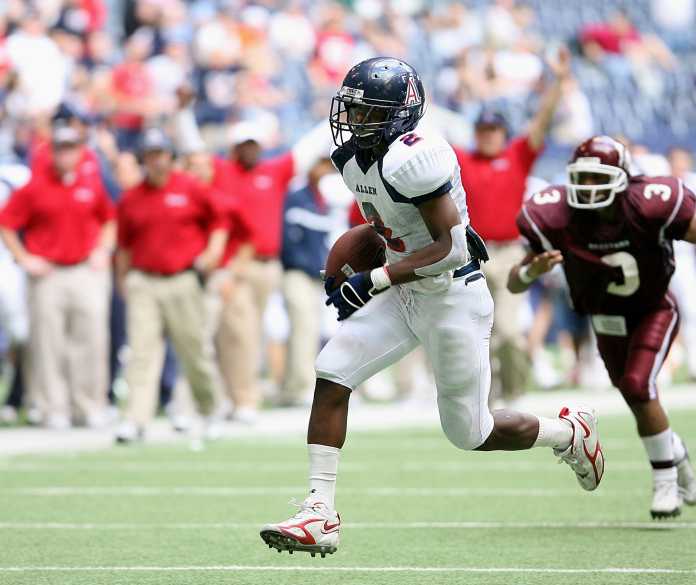 Similar to the running back position, one name clearly belongs atop the list of returning pass catchers for the 2022 Alabama high school football season. Read on to see who that is, and who makes up the rest of our list of the 10 best Alabama high school receivers.
1. Karmello English (Central-Phenix City)
English, Alabama's top wide receiver recruit in the Class of 2023, is the likely favorite to lead the state in receiving during the 2022 season. A four-star prospect, English is coming off a junior season in which he racked up 1,059 yards and 18 touchdowns receiving for 7A runner-up Central-Phenix City. He's clearly the cream of the crop among Alabama high school receivers.
2. Mario Craver (Clay-Chalkville)
The state's top 2024 wide receiver recruit, Craver is also coming off an impressive season for defending 6A state champion Clay-Chalkville. The four-star prospect caught 45 passes for the Cougars a year ago, totaling 937 yards and 10 touchdowns.
3. RJ Hamilton (Hoover)
The Hoover star was a First Team All-State selection as a sophomore during the 2020 season, but missed a majority of the 2021 campaign. The two-sport star is likely set for a massive senior season for a Buccaneers team that is one of the best in the state.
4. Amare Thomas (Pinson Valley)
A three-star prospect, Thomas is one of multiple notable returnees for Pinson Valley this season. Coming off a strong junior campaign, Thomas has the potential to rank among the state's leaders in receiving in 2022.
5. Davion Dozier (Moody)
One of the bigger receivers in the state, the 6-foot-4 Dozier is a fast-rising three-star prospect from Moody. The rising senior is coming off an impressive 2021 season in which he totaled 833 receiving yards with 12 touchdowns.
6. Sawyer Deerman (Hillcrest-Tuscaloosa)
A First Team All-State selection a year ago, Deerman is simply one of the top overall athletes in Alabama high school football. Having since transferred to Hillcrest-Tuscaloosa, the three-star prospect truly did it all a year ago at American Christian, accounting for almost 3,000 all-purpose yards and 39 touchdowns.
7. Josh Palmer (Autauga)
Arguably the state's top tight end, Palmer was one of the top pass catchers in the AISA last season, and returns for his senior season with the Generals. A three-star prospect, Palmer led Autauga in receiving a year ago, catching 42 passes for 768 yards and 13 touchdowns.
8. Jackson Beatty (Mountain Brook)
Beatty, one of the top wideouts in Class 6A, returns in 2022 as one of the focal points of the Mountain Brook offense. The rising senior racked up 1,000 total yards for the Spartans a year ago, as well as 14 touchdowns.
9. Nic Strong (Randolph)
Strong, a two-star running back recruit who rushed for 298 yards and four scores a year ago, is a versatile playmaker for Randolph. As a receiver, he caught 51 passes for 889 yards and 14 touchdowns.
10. Keymari Pittman (James Clemens)
Our list of top Alabama high school receivers is rounded out by Pittman, one of the best returning wide receivers in Class 7A. Across 11 games a year ago, the James Clemens star turned 37 catches into 664 yards and nine touchdowns, setting him up for a potentially massive 2022 season.
Honorable Mention:
Christian Ross (Dale County), Ky McNulty (Baldwin County), Jaylen Mbakwe (Clay-Chalkville), Izayah Fletcher (Hartselle), Derick Smith (Southside-Selma), Chance Henderson (American Christian), Ben Hall (Southeastern), Antonio Ross (Alexandria), Zeke Deloach (Fayetteville), Matthew Rozier (Sparkman)