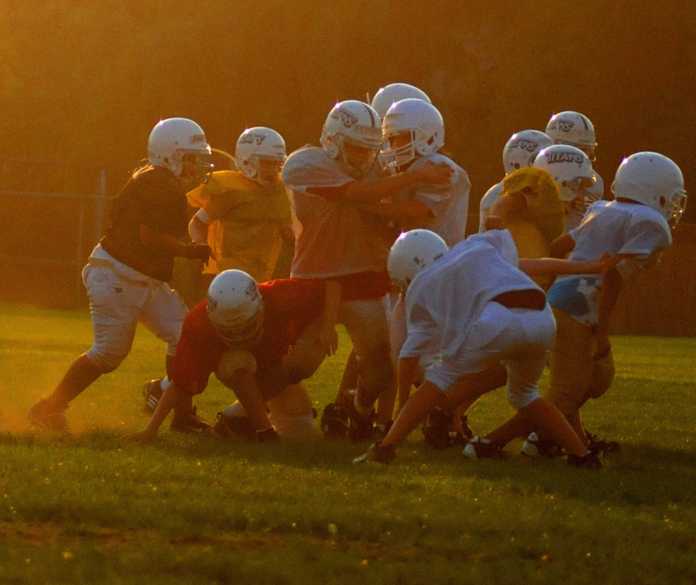 Many games are won or lost in the trenches. These 10 offensive linemen will provide a sizable advantage for their Georgia high school teams in 2022, directly impacting the outcome of a game.
1. Zechariah Owens – Eagle's Landing Christian
ELCA may have the state's best offensive line this season, and Owens is its largest contributing factor. The recent Clemson commit stands at a whopping 365 pounds, yet is versatile enough to match speedy edge rushers as a tackle.
He has also proved successful at other spots on the offensive line, making him a valuable piece for the Tigers. For now, though, he should give quarterback Charlie Gilliam a comfortable pocket to pick apart opposing defenses.
2. Bo Hughley – Langston Hughes
Hughley towers at 6 feet, 7 inches, but it's his mobility that will make the University of Georgia commit a player to watch when he goes against SEC competition. He's a skilled run blocker, and his pass blocking helped the Panthers to 34 touchdowns through the air last season.
Hughley is a bully in the trenches against defensive ends and will continue to dominate at a high level this season, possibly adding a state championship to his growing list of accolades.
3. Madden Sanker – South Paulding
The four-star Louisville commit has become known for both his power and agility, and he'll be among the best Georgia high school offensive linemen in 2022. He stands up to any challenge and has a winner's mindset.
Sanker can play anywhere on the line and has blocked for both a 2,000-yard passer and a 1,500-yard rusher. Expect him to garner more attention this season as South Paulding attempts to vault into the top-10 in Class 6A.
4. Daniel Calhoun – Centennial
Calhoun will be a junior this season but already stands at 6 feet, 6 inches, and weighs 350 pounds. He has earned 25 offers, including ones from Alabama, Clemson, Georgia, and Ohio State.
The ceiling is extremely high for Calhoun, and he may be a top-five player in the state by the start of next season. Despite his enormous size, he still has some room for improvement in mobility, something that may be showcased later this season.
5. DJ Chester – Eagle's Landing Christian
Alongside Owens, Chester forms one of Georgia's best duos at any position. The talented four-star prospect has garnered 33 offers as of now, and he is rated as the seventh-best offensive tackle in the nation.
Off the football field, Chester was the state champion in both shot put and discus two years ago. He thrives at pass blocking and provides a great complement to top-ranked Owens as another of the best 2022 Georgia high school offensive linemen.
6. Kelton Smith – Carver (Columbus)
Smith is one of the few offensive starters from last season's state runner-up squad to return for this season. The four-star interior lineman is currently projected as a future Georgia Bulldog, but Florida State also remains an option.
Smith has an ideal frame at 6 feet, 5 inches and 300 pounds, and he puts it to great use, creating gaping holes for rushers. He was the primary facilitator of a jaw-dropping 4,000-yard rushing year for Carver last season.
7. Waltclaire Flynn Jr. – Grayson
The rising junior has taken snaps mainly as a guard, but he started out at center. Flynn rose to fame as a freshman sensation for Grayson, helping the Rams win the state championship in 2020 against Collins Hill. Since then, his development has only increased. Some consider him undersized at only 6 feet, 1 inch, but Flynn makes that up for that "shortcoming" with excellent footwork and deceptive power. He'll be the glue that holds together a steady Grayson offensive line as he solidifies his standing as one of the top Georgia high school offensive linemen in 2022.
8. Shamurad Umarov – Denmark
Umarov recently committed to Tennessee over 30 other potential schools, including Georgia and LSU. The massive tackle flattens opposing defenders in run blocking, while standing firm as the blindside blocker for Denmark's passers.
Umarov is fundamentally sound and exhibits great potential, setting himself up for an excellent senior season and a great career with the Volunteers and beyond.
9. Trovon Baugh – Pace Academy
Baugh primarily started at right guard for the Knights, paving the way for over 1,500 rushing yards. His status as a four-star prospect is debated; nevertheless, he has committed to South Carolina in the SEC. Baugh is excellent at run blocking, but could use some improvement in the pass game. Interestingly, he has the most offers of any player on the list, with 41.
10. Johnny Williams IV – Northeast (Macon)
The 6-foot-7 Williams immediately stood out on the field, even as a sophomore. Last season, he paved the way for 34 rushing touchdowns and rarely allowed pass rushers into the backfield. He could be a little more agile, but those concerns may be overwritten after a potentially outstanding 2022 season.