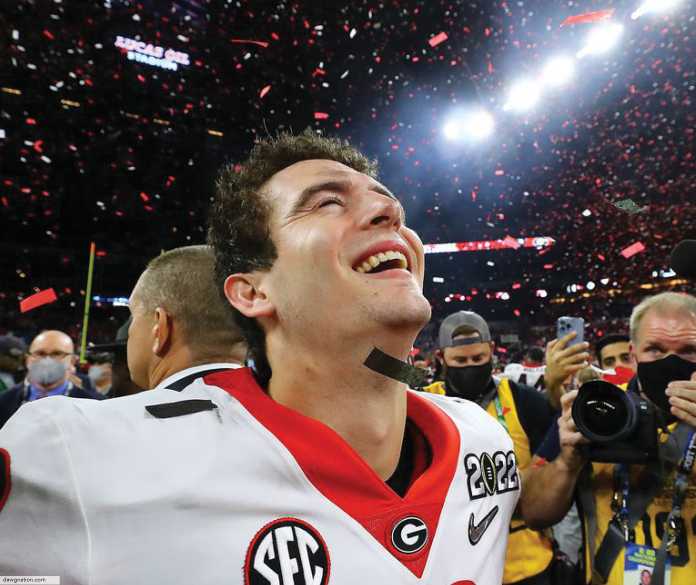 It could only be scripted in Hollywood: an overlooked high school quarterback who walks on at one of the nation's most dominant programs and wins them a national title. There is no possible way that such a story could be true, right?
Enter Stetson Bennett, an approximately six foot, 190-pound quarterback from Blackshear, Georgia. From a town of just over 3,500 people, Bennett started at quarterback for a slightly-above-average Pierce County squad. In his junior season, Bennett passed for over 2,000 yards and 18 touchdowns, but also racked up nine interceptions. Combined with an abysmal defense that gave up 35 points per game, the Bears fell to 7-4, the worst team record since 2010.
While Pierce County lost the same amount of games in 2016, Bennett had tremendously improved. His senior campaign included 3,700 passing yards and 46 total touchdowns. After throwing six interceptions in his first six games that year, a switch flipped. In his seventh game, he threw seven touchdowns against Long County and was never picked off again until his last game against Crisp County, where he still threw for three scores. There were flashes of brilliance from Stetson, but nothing that warranted more than a 2-star rating and one FBS offer from Middle Tennessee State.
Still, Bennett bet on himself. The former Bear became a Bulldog, walking on at Georgia. His freshman year, he never took a snap and watched as Jake Fromm led the Dawgs to the national title, where they lost in overtime to Alabama. After Justin Fields committed to UGA later that year, Bennett decided to transfer to Jones County Junior College in Mississippi.
Maybe this was the moment he would truly shine. Maybe now his abilities would be revealed to the world with a dominant showing at Jones. Nope. Bennett posted his worst season ever, throwing 14 interceptions to only 16 touchdowns and completing under 56% of his passes. Despite this, his experience gained him another star and UGA offered him the backup job after Fields had transferred to Ohio State. He accepted.
Stetson finally got his chance in 2020, but it did not go well. He threw six interceptions in eight games and lost the starting job to USC transfer, JT Daniels. But after Daniels went down early in 2021, Bennett was thrust back into the spotlight. For the first time since his senior year at Pierce County, Bennett showed true confidence, leading the Bulldogs to an undefeated regular season. After facing heavy criticism for losing to Alabama in the SEC Championship, Bennett composed himself and delivered UGA its first title in over 40 years. As a freshman, Bennett had watched Jake Fromm fall to Alabama in an overtime heartbreaker. Three years later, he delivered the crushing blow to the Crimson Tide.
Of all the players who could possibly lead Georgia to a national title, who would have thought it would be the kid from Blackshear? Stetson Bennett did, and that was all that mattered.