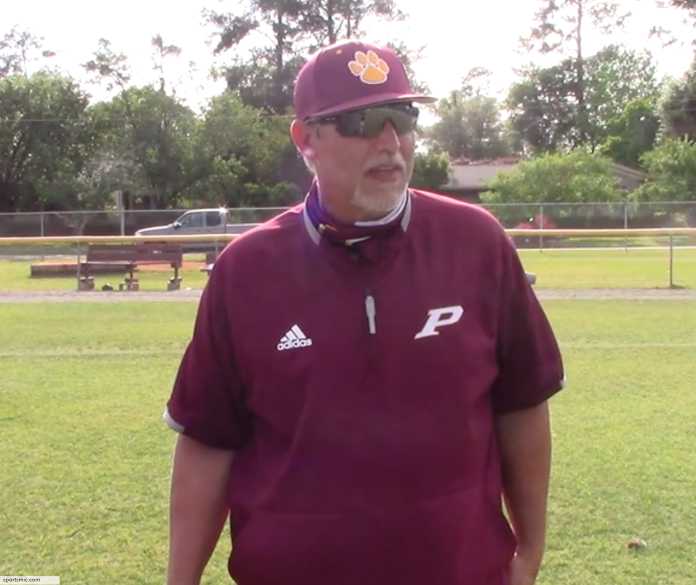 4 Questions With Perry Baseball Coach Denny Bryant
Q. Coach Denny Bryant, I can assume that you have spent a lot of time in baseball. What is your background in baseball, as a player and a coach?
A. I played high school baseball at Windsor Academy and was fortunate to play for two state championships under head coach Brannen Smith. During high school, I played American Legion Post 3 for Walter Banks. I was fortunate to play with and against many talented players. I signed with Mercer University out of high school to play baseball under Coach Barry Myers (Head) and Craig Gibson (Assistant). I ended up tearing my rotator cuff my freshman year. After surgery, I transferred to Andrew College in the fall where I was able to rehab and play a fall season. After fall, I was offered a scholarship to Valdosta State University where I finished up my playing career under Hall of Fame coach Tommy Thomas.
I started my student teaching at Lowndes High School and was fortunate to help out with their baseball program under Coach Danny Redshaw. My coaching career started at Westside High School in Macon, Ga. I was an assistant for three years under David Daniel and was also a FB assistant under the late Robert Davis. After three years at Westside, I went to Jones County High School and was able to coach under Barry Veal. I received my first head coaching job in 2015 at First Presbyterian Day School (FPD) in Macon, Ga. I was the head baseball coach at FPD for five years advancing to the playoffs every year and appearing in the Final Four in 2018. I was also the head softball coach in 2016 and 2017 advancing to the Elite Eight in Columbus both years and finishing in Final Four both years. In 2019, I resigned at FPD and landed an assistant coaching job at Perry High School under TJ Hutchins. My first year as an assistant at Perry was cut short because of Covid. At the end of that year, Coach Hutchins stepped down as head coach and I was named head coach in 2021.
Q. Talk about the move to Perry. What made you decide to take the head baseball coaching position of the Panthers?
A. I resigned from FPD in late May of 2019. This was a terrible time for a coach to be looking for a new home. We had great success at FPD in both baseball and softball. On top of that, my son Carson had just finished his freshman year of baseball at FPD. There were a ton of emotions after starting this new journey. I had grown attached to the players on the baseball and softball teams that I was having to leave. But the hardest thing was my wife and I telling my son that he was not going to be able to graduate with his friends and teammates that he had grown close to. Not even a week after I resigned at FPD, Coach Smith, head football coach and AD at the time called me and let me know that they just had a teacher decide to retire and that Perry had an opening. I interviewed for that position and was hired shortly after. We sold our house in Macon and moved to Perry. My wife, Melissa, was already a teacher in Houston County. I truly believe this was God putting my family and I in the place we were supposed to be. The past three years have been amazing! Carson, who is now a senior, wasted no time making new friendships and team mates. Carson will be attending ABAC next year to continue his athletic and academic career. I knew I would settle on my feet…because that is what coaches do. I was really worried about a 14-year-old leaving everything he knew and starting over, however Perry High School made this transition very easy and helped mold him into what he is today.
After the first semester of school, before baseball season, I was willing to wait out my aspirations of being a head coach so that Carson would have the chance to graduate with his new friends and teammates. During Covid when everything was shut down, I got a call from Coach Hutchins. He stated that he was stepping down as head coach at Perry because he wanted to spend more time with his family. He told me that he wanted me to apply for the head coaching job. I did apply, and was named head coach for the 2021 season.
Q. Perry baseball had struggled to find its identity over the last few years, winning just 16 games in the two seasons prior to your arrival. You led the team to a 22-9 record in your first season, including a 17-game win streak. What was the key to turning around the direction of Perry baseball?
A. There is really no magical wand you can wave to change a program. I am from the middle Georgia area so I knew that Perry has had some very good teams in the past. I was well aware of the 1991 team under Coach Bob Jones who won the state championship game. Sy Jones, who is the current head coach at Coffee Co. was a catcher and pitcher for that team. Coincidentally, both of them were on my staff at FPD before Sy took the job at Coffee Co. I knew that this area always produced talented baseball players and the community fully supported the baseball program. All the ingredients for a great baseball program were in place. Winning games was the easy part. Changing the culture of knowing how to win when expectations are high is the hard part. You hear coaches all the time talking about learning how to win. It's not actually learning how to win a game. It's about how you prepare when you are winning. How to prepare when you start getting everyone else's No.1. How to outwork the teams that have already learned these steps. How to have mental discipline to do these things knowing success isn't guaranteed…how to show up every day and prepare like you are the worst team in the state, then flip a switch and play games like you are the best team in the state. It's about teaching our kids that being a champion requires you to want to be the best in everything you do: classroom, hallway, community and on the baseball field. It is about creating a team environment where every guy in the locker room is a selfless servant and truly wants to see their teammates have success. These were some of the things we were able to do last year which led to a successful season. Our seniors last season were a big part of our success. I truly believe that a team that is driven by the players and not the coaches will always be the teams playing deep into the playoffs.
Q. How do you think this year's team is looking? Do you return a lot of players from last year? Do you think you can continue the winning mindset?
A. I mentioned earlier that a strong senior class is very important in carrying out what it takes to be great. We have 14 seniors this year. Majority of them have had meaningful playing time last year. We have four seniors who have signed to play at the next level. We also have underclassmen who contributed as well. We return seven position starters and seven pitchers that got over 10 innings. Expectations are definitely high. We have worked hard in the off season. Administration allowed us to have a baseball weights class which was something way past due. I am very excited to see these guys compete. Our last series against Troup Co. left a very sour taste in all of our returning players and coaches.