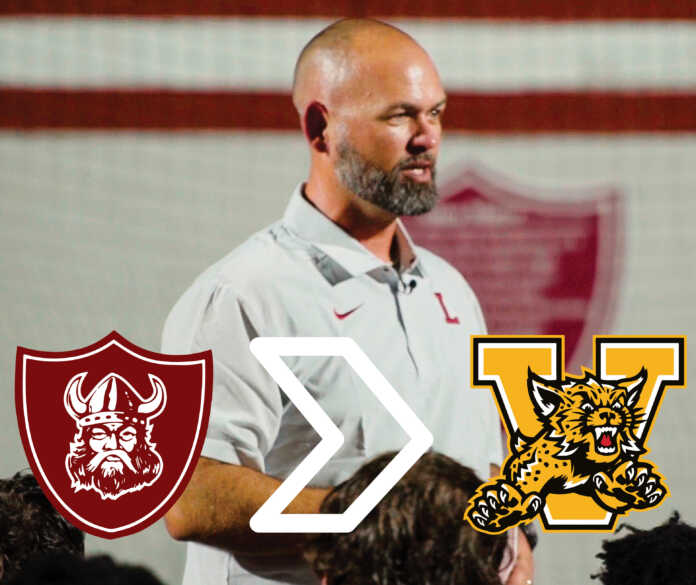 Former Lowndes Coach Will Be Wildcats
' 

Co-Offensive Coordinator, RBs Coach

2022 started out pretty well for Zach Grage. He had just led the Thomasville Bulldogs to an appearance in the Georgia Class 2A state championship game, and now he was being named head coach of the Lowndes High Vikings. But after one season of leading the Valdosta school through a rebuilding year, Grage was suddenly out as the Vikings head coach.

Grage admits it was tough.

"When you get hit in the mouth," he says, "you ask yourself, 'What just happened?'"

He says the initial reaction was to say, "I'm done here."

But as the shock wore off and Thanksgiving weekend approached days later, Grage began to realize he had a lot to be thankful for – and it was much more than just football.

"I sat down with my wife, Mandy, and my kids, and I was reminded of what was really important and that things were going to be fine," Grage recalls.

He decided to take some time to slow down and think about what his next step would be.

"I got to be a dad for a few months," Grage says. "I got to spend time with my wife and pick up my kids from school."

The Grage family decided to take a family camping trip, just to get away from everything and decompress, and that gave them a chance to discuss what the next step might look like.

"We talked about a lot of different possibilities, but whatever we decided to do, it had to be right for our family," Grage says.

When they returned home, Grage began to receive calls from a lot of people.

"I was taking calls from buddies and other people with job opportunities," he says.

Grage says there were calls about head coaching jobs, assistant coaching positions, and even jobs that would take him away from coaching.

"There were a couple of admin roles offered, and there were some head coaching opportunities that we went and looked at and almost pulled the trigger on," he says.

Grage says of the many calls he received, there was one in particular that he credits the most.

"From day one, [Valdosta High head coach] Shelton Felton reached out to me, not as a coach, but as a friend, to check on me and talk to me," Grage says.

Grage adds that Coach Felton's wife, Laquanda, called Mandy almost daily to check in and to just talk.

The two coaches had remained friends since their time together years earlier on Rush Propst's staff at Colquitt County.

Grage says when he returned from the camping trip, Felton called again, but this time it was to ask his friend to come join him on the Valdosta High staff.

"Why don't you come over here and work with me?" Grage recalls Felton asking him on that phone call.

He says he sat down and talked it over with Mandy. They agreed that of all the opportunities before them, including those that would keep him as a head coach, working with Felton and Valdosta made the most sense.

"It checked all the boxes for us," Grage says.

One of the biggest of those boxes was the Grages' kids.

"All three of our boys are locked in here in Valdosta and are doing well in school," Grage says. "Daniel is in archery and golf, while our two younger boys, Daniel and Luke, are wrapped up in football, basketball, and baseball. They play rec ball, travel ball, the whole thing. It really all came down to us not wanting to uproot them again."

Felton, who is in his second season as the Valdosta head coach, says reaching out to Grage just made sense for a lot of reasons, personally and professionally.

"First off, we have been friends since 2012 or 2013, and that's what friends do," Felton says. "I felt like he needed to know I was here for him and his family. It was important for me and my wife to let his family know the Feltons were here for them."

The Valdosta head coach says he is excited to have a coach with Grage's knowledge and experience on his staff.

"Having Grage as a part of my staff is huge for Valdosta," Felton says. "He brings a ton of experience and knowledge to the staff, and it will also help the staff grow and build off of last year's success."

Speaking of success, Felton says what Grage has accomplished in his career will be another welcomed benefit to his staff at Valdosta.

"Grage did a great job at Thomasville, and they scored a lot of points," Felton says. "So to have another head coach on staff to bounce stuff off of will be big for me. We believe in a lot of the same stuff when it comes to building a program and caring for these players."

So, after a roller coaster of a ride over the last four months, Zach Grage joins the Valdosta staff as co-offensive coordinator and running backs coach.

"We have a great staff here already, and I'll be working with current offensive coordinator Nick Harduvel," Grage says.

Initially, Grage says, he is taking on an analyst-type role, leaning on his eight seasons of head coaching experience to make suggestions and simply try to make the overall offensive system run better.

"I'll be looking at all aspects of the team, from the play calling to meeting times, and see how we can be a better offense," Grage says. "I'm learning all of the verbiage and translating what I know to how we call it in our system here."

Right now, Grage says his and the whole staff's focus is on the season opener against the Massillon Tigers in what has already been billed as Valdosta's biggest game in a long time.

"Coach Felton has made it clear to me and the whole staff that we better have a plan and not lay an egg because if we do the whole world is going to know about it," Grage acknowledges.

Welcome to Valdosta High football, Coach Grage.