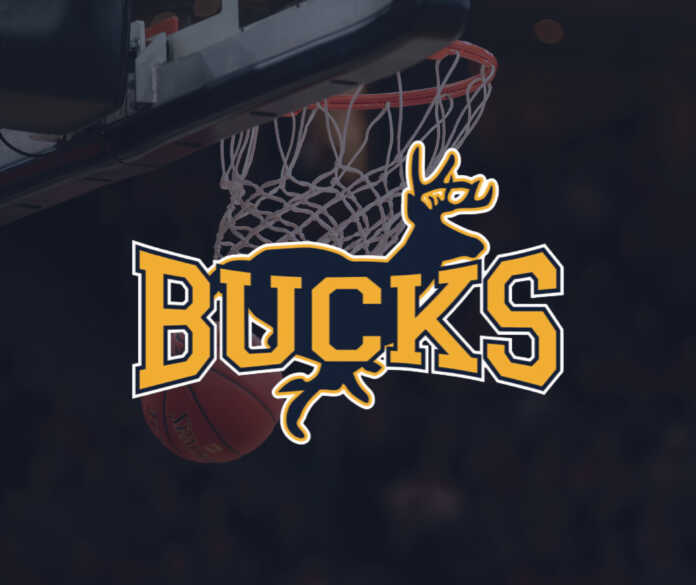 Five-Star Leads Buckhorn to State Basketball Championship
When Trent Seaborn made headlines last fall as an eighth-grade quarterback leading the Thompson Warriors to a state championship, some people called it a once-in-a-lifetime story. But now the state of Alabama has yet another young phenom athlete who has lead his team to a state title. If you aren't familiar with Caleb Holt yet, just wait. Because very soon the whole basketball world will know his name.
Holt recently completed his freshman season with the Buckhorn boys basketball team in New Market, Alabama. He led the Bucks to the Class 6A state championship with a 32-point performance in Buckhorn's 65-56 victory over Mountain Brook High. Holt also pulled down 18 rebounds in the title game. He was named tournament MVP for his performance.
Buckhorn basketball coach Patrick Harding recalls the first time he laid eyes on Holt. It was when he arrived in northeastern Alabama to take over the Bucks basketball program in April 2021.
"I had never heard of Caleb," Harding admits. "I remember I saw him walk into the gym, and I thought it was a player who had graduated who was maybe coming back to the school to visit."
Harding, who had coached at Albertville for the previous 24 years and had been around a lot of Alabama high school players in his coaching career, remembers thinking he had never seen anything like Holt.
"I mean, here was this physically imposing kid who was 6-foot-4, and I just could not believe he was just a seventh-grader," Harding remembers.
Harding became a believer pretty fast. His first year coaching the Buckhorn team was in the 2021-2022 season, when Caleb was an 8th grader. But before Holt could make one basket, or even dribble the basketball for the Bucks, there had to be some changes.
Harding explains that the Madison County school district had a policy that didn't allow eighth-graders to play varsity sports.
"Some policies had to be changed to allow eighth-graders to play with the varsity," Harding explains. "He actually missed our first three games while the policy was amended."
Maybe it was the Caleb Holt effect, but Harding says he thinks Caleb's situation simply brought forth a change that had been coming for a while.
"Sure, it immediately allowed Caleb to play, but it opened the door for other younger athletes to become eligible to play," he says. "There's no question Caleb's situation got the ball rolling."
The Bucks finished 17-12, and even though they didn't win an Alabama state title, the dominance exhibited by Holt was evident.
"Caleb led us in every statistical category there was – I mean everything," Harding says.
Harding says Holt can play point guard, forward – or anywhere else he wants.
"We use him simply as a playmaker," Harding explains. "He has great point guard skills, but he really can play any position on the floor. He has a really good overall skill set, and he can play anywhere offensively, and he can guard any opponent that we go up against."
Regarding his maturity level, Harding concedes the obvious: "Well, he's your typical freshman – he likes to smile and cut up a lot," the coach says.
That's a reflection of how comfortable Holt is on the floor, but don't mistake his good nature for softness.
"He has never been intimidated or reluctant with the older players on the court," Harding says. "His biggest asset is his competitiveness. He really loves to compete, and he loves a challenge."
There's also the enthusiasm that youth brings, and Holt has a lot of that, too, says Harding.
"Caleb plays with such emotion and enthusiasm, no matter if it's a practice or a game, or what time of year it is," Harding says. "Caleb is always going at it with 100 percent effort."
Holt is rated a five-star prospect by most recruiting services, and he is already receiving offers from virtually ever major college in the country. You can expect that list to grow.
Despite his success, Holt remains one of the hardest-working players on his Alabama high school team.
"He works hard at making himself the best player he can be," Harding says, recalling one day  recently when he decided to get to the school earlier than usual. "I came here and heard someone in the gym. It was Caleb shooting basket after basket, all by himself."
As talented as the Buckhorn freshman is, his coach says there are things Holt can work on to become an even more complete player.
"We're working on making him more consistent as a perimeter shooter," Harding says. "But he has great vision and is an excellent passer."
What does Holt himself think of his game and areas he can improve on?
"I think I need to work on my mid-range shot and my footwork," he says.
And what does he think his greatest strengths are?
"I feel my strengths are getting to the basket and finishing, as well as shooting the 3-point shot and my ball handling.
The Buckholt freshman phenom says he only recently began his growth spurt, which has propelled him to his 6-foot, 4-inch height.
"I really started growing into the player I'm becoming around my seventh-grade year," he says. "That's when I started to take [basketball] seriously."
Holt says much of the credit goes to those closest to him.
"My family has always been there for me," he says. "They are great."
While Holt still has three more years of high school remaining, it's no surprise what his goals are.
"I hope to be a great NBA player and influence young people," he says.