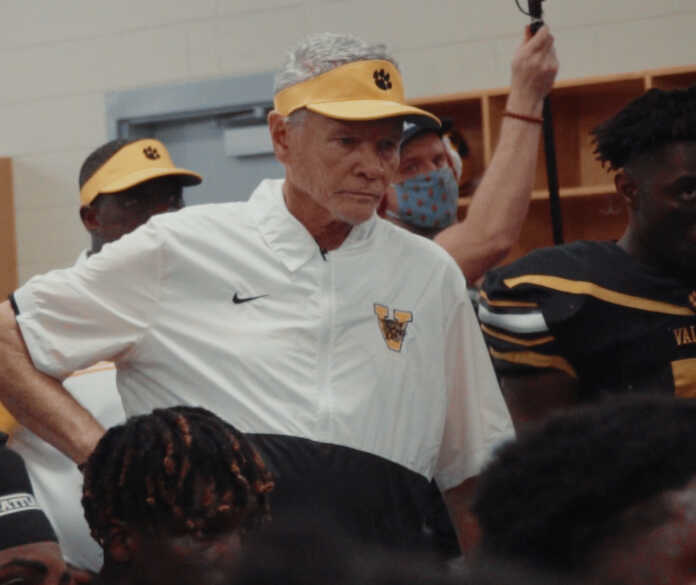 He's back. One of the most recognizable football coaches in high school football, Rush Propst, is returning to the sideline after being named head coach and athletic director at Coosa Christian High School in Gadsden, Alabama.
The hire marks the first time in more than two years that Propst has been in the position of head football coach. The last game he coached was on December 18, 2020, when he led Valdosta High in a semifinal playoff game at Buford High School. The Wildcats lost that game 45-26, finishing with a 7-5 record in Propst's only season as head coach at Valdosta.
That would begin a lengthy absence from the game that Propst had been involved with as either a player or a coach for every season except one (2019) over the previous 50 years.
In 2021 Propst left Georgia and returned to his home state of Alabama. Born and raised in Calhoun County, he played high school football at Ohatchee, then began a career that included stints as a coach at Ashville, Eufaula, Alma Bryant, and Hoover. The latter was his last stop in Alabama; he led the Buccaneers to a 6-6 record in 2007, capping a nine-year run at the school, then moved on to Georgia's Colquitt County High.
Propst said he has been looking forward to returning to coaching.
"I have really enjoyed watching my son, Thomas, play football for these last two years, and I wouldn't have traded that for anything in the world," Propst said. "I wanted to watch him finish his high school football career."
Thomas played wide receiver the last two seasons for Piedmont, which won the state championship in 2021, his first season as a member of the Bulldogs. They advanced to the state championship game in 2022, losing St. James of Montgomery. With his son's high school career over, Propst knew it was time to get back to coaching. He said there were "three or four schools" that reached out to him about a return to coaching, but Coosa Christian really appealed to him.
"I had attended a few of their practices and got to know some of the people there," he said. "We went to dinner together and talked, and I really liked everything that the school stood for."
That included a faith-based atmosphere, which Propst cited as a major draw for him.
"I wanted to be in a Christian environment," he said.
He recalled one event that made him realize Coosa Christian was the place for him.
"I was there at one of their practices, and afterwards, the players all pulled up a Bible app on their phone," he recalled. "I was really impressed with those young men being involved in something like that, and that's what I wanted, too."
Propst acknowledges Coosa Christian will be the smallest school he has ever coached, but that doesn't bother him one bit.
"I think the administration here thought I wouldn't take the job because of the size of the school and what they will pay me," he said, recognizing that he could have earned more money by going to a bigger school.
But this Alabama school is Propst wanted to coach.
"We are a 1A school now, but will move to 2A in 2024, so we will continue to grow, and I'm looking forward to building this program into a state powerhouse and doing it in a Christian environment," he said. "This is where Rush Propst needed to be."