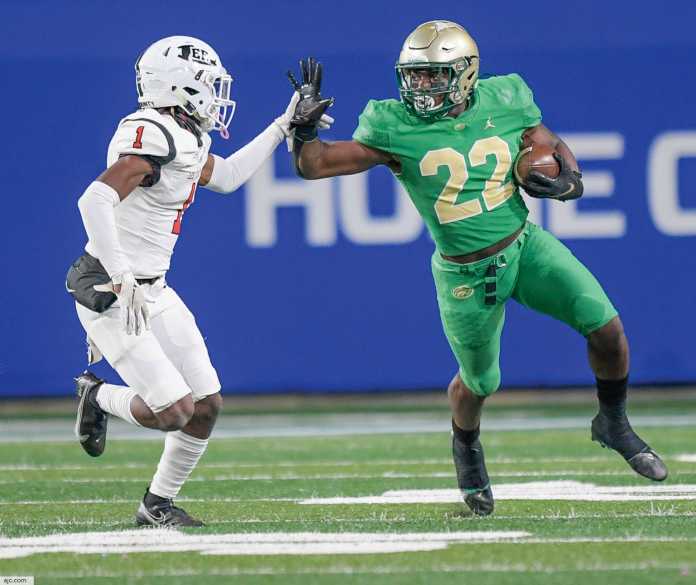 Ranking the Best Georgia High School Football Games of 2020
Despite not having full stadiums, pregame traditions and other usual Friday night spectacles last year, 2020 gave us some great football games. Here are my top 10 best Georgia high school football games of 2020.
10. Oconee County (21) vs. Greater Atlanta Christian (20): Regulation featured only 14 combined points in this 3A semifinals matchup. GACS went up 20-14 after a touchdown in the second overtime period, but a high snap led to a failed point-after try. Oconee County shockingly converted on a fourth down with 16 yards to gain on the ensuing possession and eventually scored (with a successful PAT) for the win.
9. Roswell (28) vs. Mill Creek (27): Halfway through the third quarter, Mill Creek led 27-7 in the first round of the 7A playoffs. In just nine minutes of game time, the Hornets stormed back to take the lead and sealed the win after Mill Creek missed the game-winning field goal.
8. East Coweta (24) vs. Collins Hill (17): This result grew more impressive as the season went on. The Eagles eventually made the state championship, but they'll never forget the rainy night they were upset by East Coweta in overtime.
7. Rabun County (38) vs. Prince Avenue Christian (31): ESPN picked up this game because of the matchup between Gunner Stockton (Rabun) and Brock Vandagriff (PAC). They weren't disappointed. In what quickly became an offensive showcase, Rabun County racked up 302 rushing yards and handed PAC their only loss of the season.
6. Savannah Country Day (29) vs. Aquinas (28): Aquinas led 28-14 with just five minutes remaining, but that lead evaporated after two quick touchdowns. With 50 seconds left, SCDS opted to go for two after their second touchdown, but the snap rolled all the way to the 21-yard line. Still, quarterback Barry Kleinpeter was able to launch a pass into the back corner of the end zone, where the ball was caught by his receiver, despite double coverage.
5. Warner Robins (35) vs. Blessed Trinity (28): In a playoff matchup between these 5A titans, Warner Robins defeated Blessed Trinity with a late rushing score. This win would give the Demons the momentum they needed, and they eventually won the state championship.
4. Cartersville (34) vs. Ware County (31): The score says it all. It was an offense-heavy quarterfinals game that ultimately came down to a fourth down play, which the Gators failed to convert on. Quarterback Tommy Castellanos was not on the field for that fourth down play.
3. Valdosta (28) vs. Warner Robins (25): This opening-week game featured over 1,000 combined yards of offense and ultimately came down to a 40-yard field goal with under a minute remaining. The offensive numbers that both teams put up made this game one to remember.
2. Brookwood (40) vs. Dacula (34): This game was every football-lover's dream. Defense was on display for most of the game as regulation ended at 14 a piece, but four overtimes featured fast-paced offensive football. Clearly, it was an all-around exciting game.
1. Buford (34) vs. Lee County (31): The 6A state championship game was the epitome of 2020 football. Both teams matched each other in almost every category in regulation. However, a fumble on the three-yard line in overtime sealed Buford's accomplishment of back-to-back state championship wins.
Written by: Dhruv Mohan