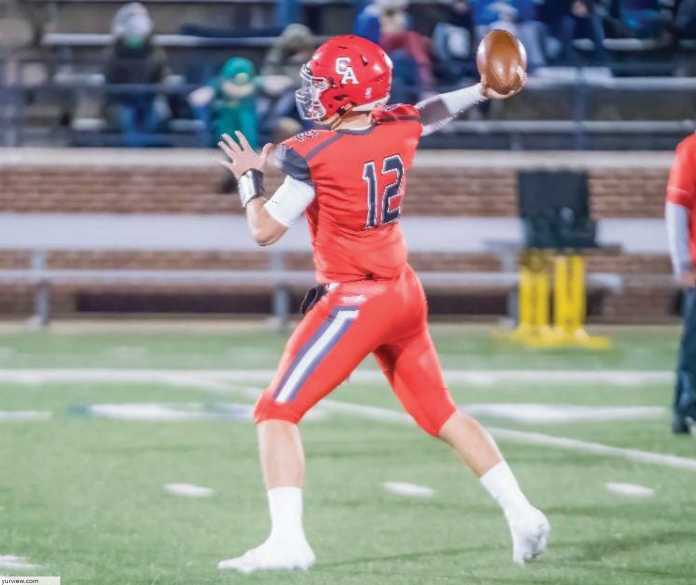 High School Triple Crown Winners in 2021
The Triple Crown is an impressive feat in horse racing. It is accomplished when the same horse and jockey win the Kentucky Derby, the Preakness and the Belmont Stakes. However, a Triple Crown can also be achieved in high school sports. This feat is a state championship in football, boys basketball and baseball in a single season. Two schools achieved the high school Triple Crown this year. 
Carl Albert High School in Midwest City, Okla. completed the feat for the second time in school history this year. The Titans capped off a 12-1 football season with the Class 5A state title. The boys basketball team also won the 5A state title with a 23-4 record. Finally, the Titans' baseball team went 33-7 and won the state title to finish off the Triple Crown. Carl Albert also completed this achievement during the 2006-07 school year. 
Harding Academy in Searcy, Ark., also completed the Triple Crown feat for the second time in the 2020-21 school year. It is the only school in the state of Arkansas to accomplish this achievement. 
According to MaxPreps, 60 Triple Crowns have occurred in high school history. Some states, like Montana, Wyoming and South Dakota do not have the ability to win a Triple Crown as the state athletic associations do not sanction baseball. In California, the sport of baseball does not hold a state championship contest. 
Texas has never had a Triple Crown winner due to the fact that over 200 schools compete in each classification. With so much competition in every sport, no Texan school has been able to capture all three titles in one season. The closest school has been Muenster which won all three titles in the same calendar year, but different school years and, therefore, different seasons. 
On the opposite side of the coin from Texas is the state of Nevada, the king of Triple Crowns. With a small number of high schools in the state as well as just four classification levels, the state has produced 13 Triple Crown winners. Pahranagat Valley had four in a row between 2009-10 and 2012-13, while Bishop Gorman has won three Triple Crowns in the school's history. 
The very first Triple Crown is believed to be North Carolina's Raleigh in 1936. 
Jackson Prep in Mississippi competes in the Mississippi Association of Independent Schools and leads all high schools in Triple Crown wins. The team has won Triple Crowns in 1974-75, 1979-80, 1990-91 and 2012-13. 
Will another high school Triple Crown be added to the ranks in the 2021-22 school year? If so, which school do you think will be able to pull off this impressive achievement? 
Written by: Reagan Cofield