Georgia High School Baseball Rankings: 4A-7A
Updated 5/2/22
6A Houston County +2
7A Parkview +13
4A North Oconee +1
6A Buford -3
5A Cartersville +4
7A Lowndes +14
4A Marist +1
5A North Springs +15
7A Etowah -7
7A Woodstock +1
6A South Paulding +14
4A Benedictine +2
5A Loganville -8
4A LaGrange +4
7A Denmark -2
6A Allatoona -10
6A Pope NR
4A Troup +1
5A Coffee +5
5A Whitewater NR
7A Cherokee E
5A Ola NR
4A Thomas County Central NR
7A Walton NR
4A Cedartown NR
Parkview is red hot, riding a 10-game winning streak, but it's not quite enough to unseat the No. 1 team in this week's poll, the Houston County Bears. With Dylan Lesko out for the season after having Tommy John surgery, it will be interesting to see if Buford can make a deep run through the playoffs without their top player.
Lowndes has moved into the top 10, as they are one of the state's hottest teams with a 17-3 mark over their last 20 games, including a 2-0 playoff sweep over North Paulding. North Springs also made a huge leap up the poll, moving up 15 spots to No. 8. The teams are just completing the first round of the playoffs, and we will now see attrition begins to shape the Georgia baseball top 25 poll.
Georgia High School Baseball Rankings: 1A-3A
Updated 4/11/22
3A Pierce County +1
1A Pvt Fellowship Christian +11
1A Pub Wilcox Co +8
1A Pvt Mt Paran Christian -3
3A North Hall -2
2A Lovett -2
1A Pub Charlton Co E
2A Pace Academy -3
1A Pub Irwin Co-3
1A Pvt Tattnal Square -2
2A Calloway +8
2A Thomasville +2
1A Pub Metter  -4
3A Mary Persons +8
1A Pvt Wesleyan-2
1A Pvt North Cobb Christian NR
3A Long Co +1
3A Cherokee Bluff -2
3A Pike County NR
1A Pub Johnson Co NR
2A Cook -1
3A Franklin Co-7
1A Pvt Savannnah Christian NR
2A Elbert Co NR
2A Jeff Davis -15
As the high school baseball regular season begins to wind down, our updated Georgia baseball top 25 poll sees a lot of movement from the previous ranking of Class 1A-3A teams.
We have a new No. 1 with the 17-1 Pierce County Bears moving into the top spot. We also reward the undefeated Fellowship Christian Paladins by moving them into the No. 2 spot from their previous ranking outside the top 10. Wilcox County is another big mover, sliding into the No. 3 ranking with an undefeated season so far.
This week's poll welcomes five new teams as North Cobb Christian, Pike County, Johnson County, Savannah Christian, and Elbert County enter the top 25. If you don't see your favorite team, don't worry – with the playoffs right around the corner, I'm certain there will be a few upsets, setting the stage for some new teams to jump into the Georgia baseball top 25.
Georgia High School Baseball Rankings: 4A-7A
Updated 3/28/22
Buford 6A E

Etowah 7A NR

Houston County 6A -1

North Oconee 4A -1

Loganville 5A -1

Allatoona 6A -1

Lambert 7A -1

Marist 4A +1

Cartersville 5A +12

South Forsyth 7A +13

Woodstock 7A E

Blessed Trinity 5A +10

Denmark 7A -6

Benedictine 4A +4

Parkview 7A E

East Coweta 7A E

Richmond Hill 6A NR

LaGrange 4A NR

Troup 4A -2

Lowndes 7A-1

Cherokee 7A NR

Glynn Academy 6A NR

North Springs 5A NR

Coffee 5A E

South Paulding 6A E
Georgia High School Baseball Rankings: 1A-3A
Updated 3/7/22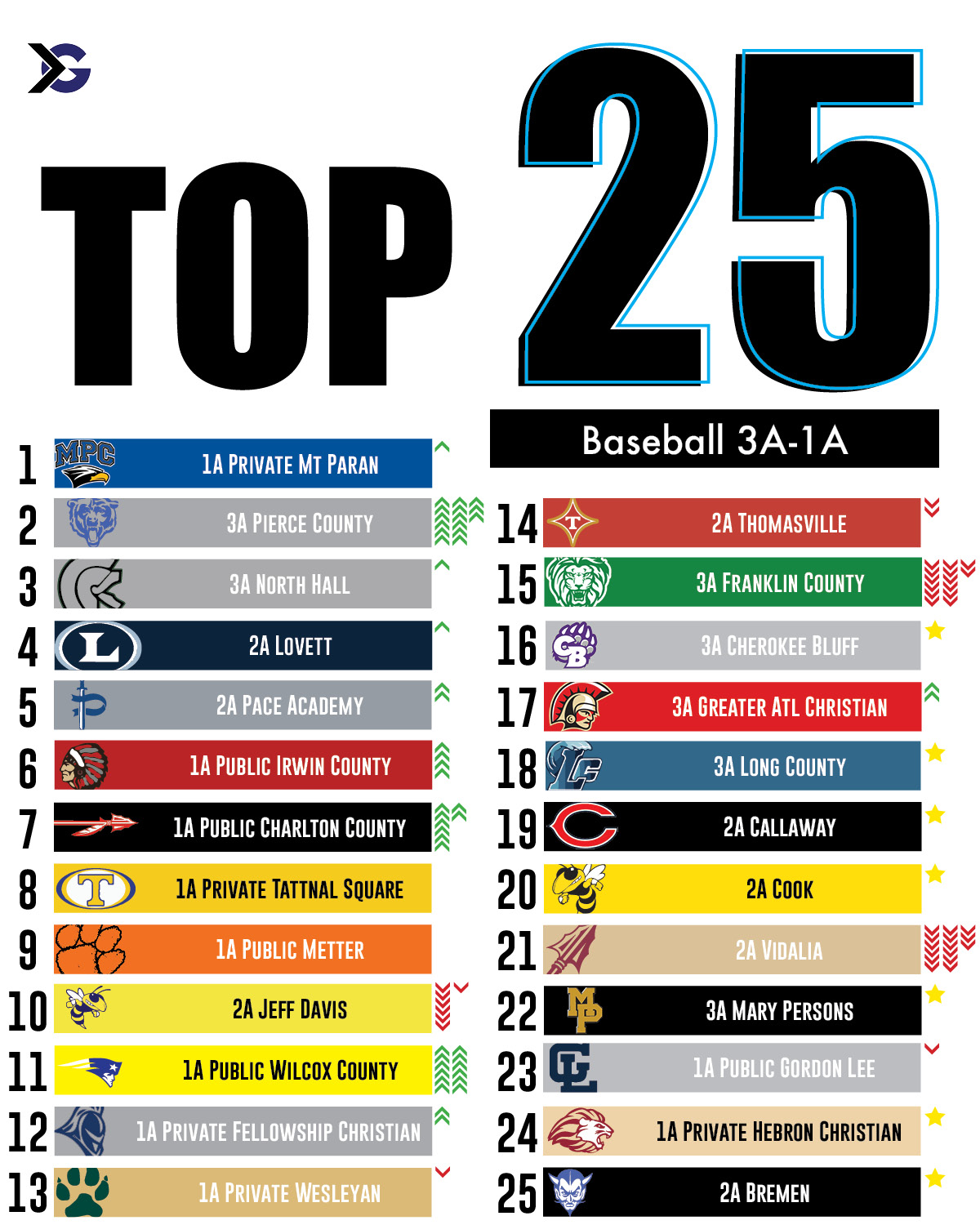 Mount Paran Christian moves into the top spot from their previous No.2 ranking, unseating Franklin County, who moves down to No.15 in this week's ranking. Pierce County was the big mover, leaping 15 spots to the No.2 spot. Wilcox County moves 12 notches as this week's No.11 team. We see several teams who were previously not ranked climb into the top 25 poll, including Cherokee Bluff, Long County, Callaway, Cook, and Mary Persons. Hebron Christian and Bremen are the other two previously unranked teams who played well enough over the last two weeks to claim a spot in our top 25. Let us know your thoughts on who deserves a look! 
Georgia High School Baseball Rankings: 1A-3A
Updated 2/20/22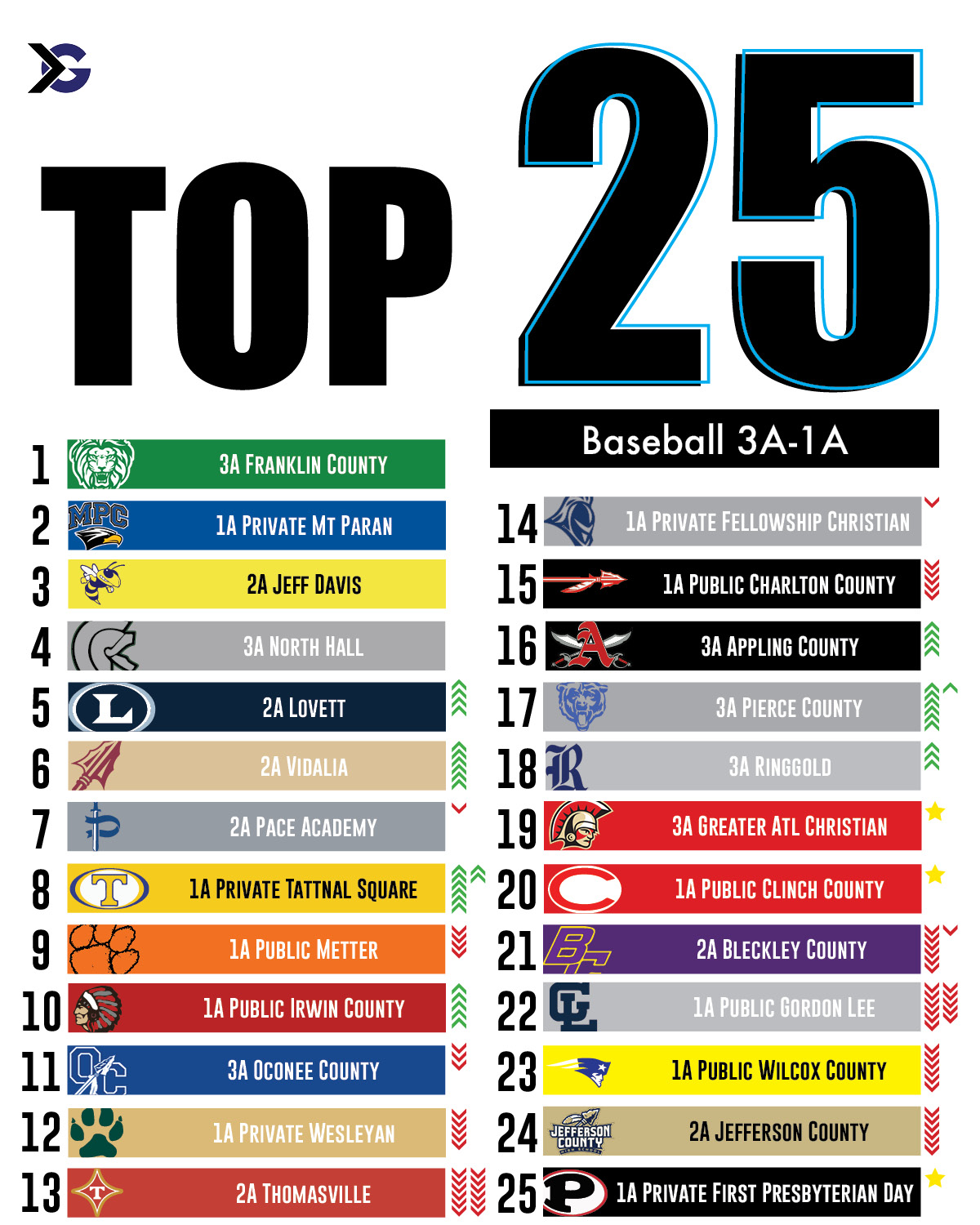 The 2022 high school baseball season is underway here in Georgia, and ITG Next gives you our first regular season ranking of the top 25 teams in class 1A-3A. How does it compare to the preseason rankings we released a few weeks ago?  There's not a whole lot of change, with Franklin Co. remaining at the top after splitting their first two games of the season. In fact, no one in the top of the ranking is off to a fast start, as many of the top 15 teams are near .500 baseball so far. It's still too early to make big changes, although class A Public defending state champ Metter is winless through their first three games. Irwin County and Thomasville deserve to move up after each team starts fast, with 3-0 starts, and so does Appling and Pierce, who are both undefeated after two games each. Here's a look at the Week 1 Top 25…read it, but don't weep…there's still a lot of baseball to be played!
Preseason Georgia High School Baseball Rankings: 4A-7A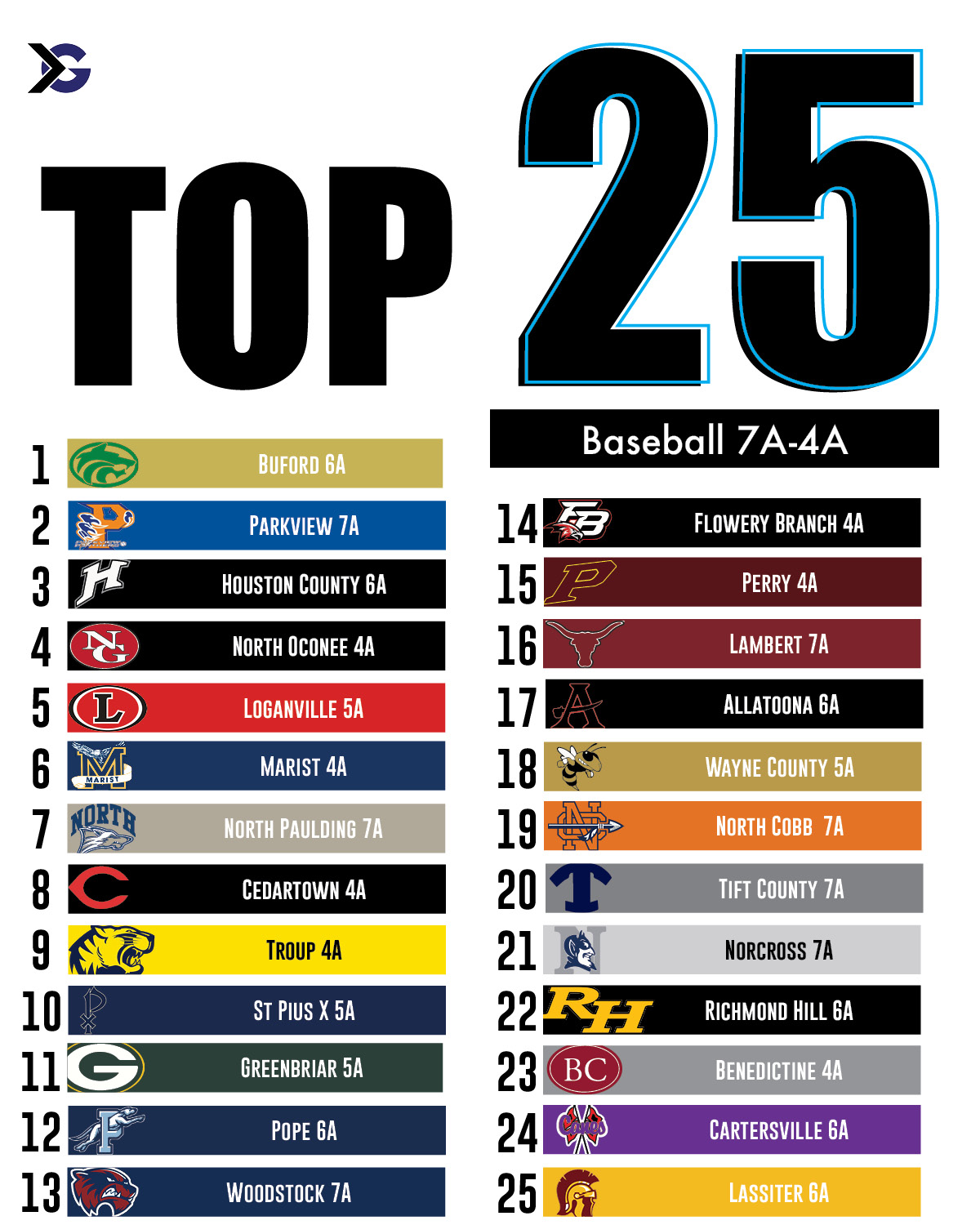 Our preseason rankin for 4A-7A has the Buford Wolves as the team to beat, with Parkview at No.2. Both the Panthers and the Wolves bring back many returning contributors from last year's teams, including Dylan Lesko and Riley Stanford. The Panthers will have a great shot at repeating as state champs in 7A, led by top pitcher Landon Stripling. Houston County, with returning standout Gage Harralson, will be among the teams to watch all season in our top 25. Let us know your thoughts! 
Preseason Georgia High School Baseball Rankings: 1A-3A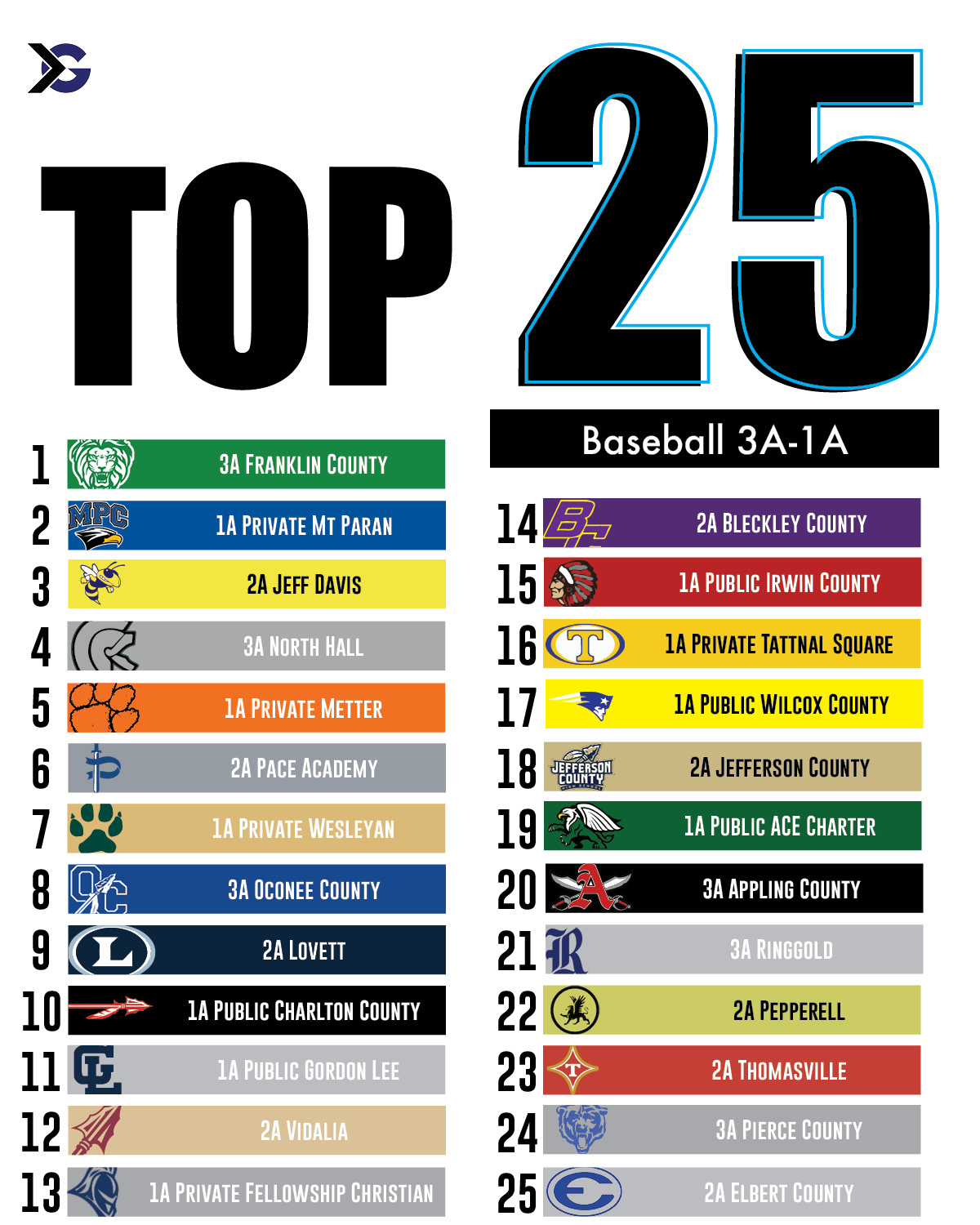 Last year's 3A state runner-up Franklin County kicks off our first
baseball
preseason ranking as the No. 1 team. They bring back every member from last year's 36 win squad, including the top three pitchers: Lawson Gailey, Kayne Jinks, and Myles Dodd.
Mount Paran
is looking to defend its class 1A private state title with 10 returning starters to help their chances. Our darkhorse? Look out for the 3A Appling County Pirates.