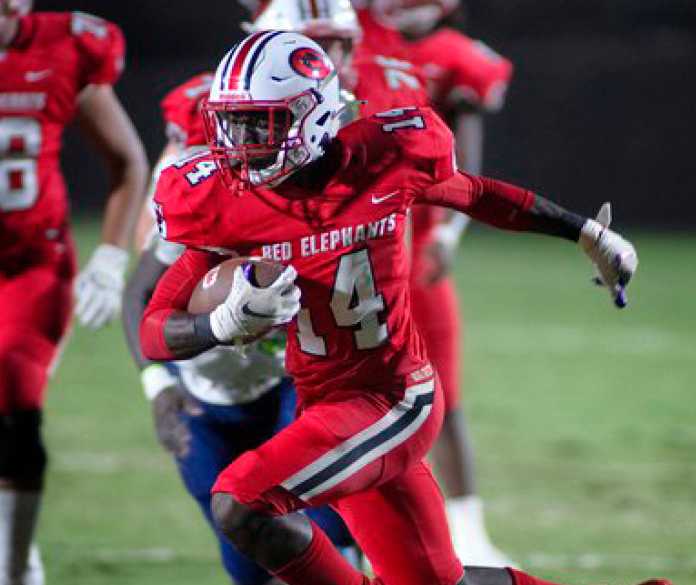 Listening to Game After Game Made for an Exciting Night on My Couch
Deciding not to attend any one game of all of the attractive Georgia high school football quarterfinals, I opted instead to stay home and follow the action of several contests at once, thanks to the beauty of the internet. I would maneuver through several teams' live audio streams, and boy was I treated to a night of fun.
The evening started with me listening to a track meet at City Stadium between Houston County and Gainesville in one of the Georgia high school Class 6A quarterfinals. The battle between two first-year head coaches, Jeremy Edwards of the Bears and the Red Elephants' Josh Niblett, produced a lot of offense early and often, with the score knotted at 14-14 at the end of the first quarter.
I then decided to check out the Thomas County Central vs. Roswell matchup. When the Yellow Jackets got up 17-0 early, then just minutes later scored on a 73-yard touchdown to extend their lead to 24-6 at the half, it was looking like another big offensive night for Central. I would come back to this game later.
I checked in on the Colquitt County vs North Gwinnett game, where the Packers were on a mission, jumping out to a 21-3 lead that they never relinquished en route to a massive win over the Bulldogs.
A quick check-in to Hughes and Woodward Academy early on was an exciting listen – a  closer-than-expected game was in progress and tied at 21-21, with both teams getting hit with costly personal foul penalties.
I was able to find the Rockmart internet stream of the Yellow Jackets' game against Fitzgerald at Jaycee stadium. I listened in to an exciting second half as Rockmart emerged from the locker room leading the Purple Hurricanes by a TD, 14-7.
I went back to the Gainesville vs. HoCo game, which by then was in the second half, and what had been a tie game had turned into a three-touchdown Red Elephants lead, which the Bears could not recover from as Gainesville won 49-35. It was a fantastic 10-3 season, though, for Jeremy Edwards and the Bears. Oh, and quarterback AJ Hill has two more seasons left, and with a supporting cast of sophomores and juniors coming back with him, better look out for HoCo next season.
Meanwhile, Niblett continues his unbelievable run, which started way back in August with a season-opening win over Marist, a game that no one had given the Red Elephants a chance to win. They won that game going away, and haven't looked back since. So, who will Gainesville play next?
Well, I checked back to the TCC vs. Roswell game, which if you'll remember was 24-6 at the half when I left. To my amazement, Roswell had rallied to take the lead 35-31! I decided to stick with the Yellow Jackets and Hornets game, with Roswell threatening at the TCC 11-yard line. Two plays later, on 3rd-and-short, Roswell scored to make it 42-31 with about four minutes remaining in the game.
Central managed a late field goal to cut it to a one-score game, but Roswell recovered an onside kick and the Hornets offense made the first downs needed to ice the game. That outcome means Roswell and Gainesville will face each other in the semifinals this week.
Back to the Rockmart vs. Fitzgerald game, where the Purple Hurricanes had tied it up and was going to overtime. An exciting finish there gave Tucker Pruitt's team a 21-14 win.
I went back to the Hughes vs. Woodward Academy game that was 21-21 when I left it earlier. Well, that had changed with Hughes scoring three unanswered TDs to now lead 42-21. The Panthers went on to win 56-28.
By this time, many other final scores in the Georgia high school quarterfinals were rolling in, including Carrollton's sound defeat of the Walton Raiders, who surprised everyone in the state last week by defeating the top-ranked Buford Wolves. They could not replicate that same magic on this night, however, losing to the mighty Trojans 52-27.
That sets up an exciting semifinal matchup for Carrollton against their former coach, Sean Calhoun, and his Colquitt County Packers.
Whew! What an exciting night of action in the Georgia high school quarterfinals. Thank you to the great play-by-play guys around the state; you kept me on the edge of my seat – the comfy one in my living room.