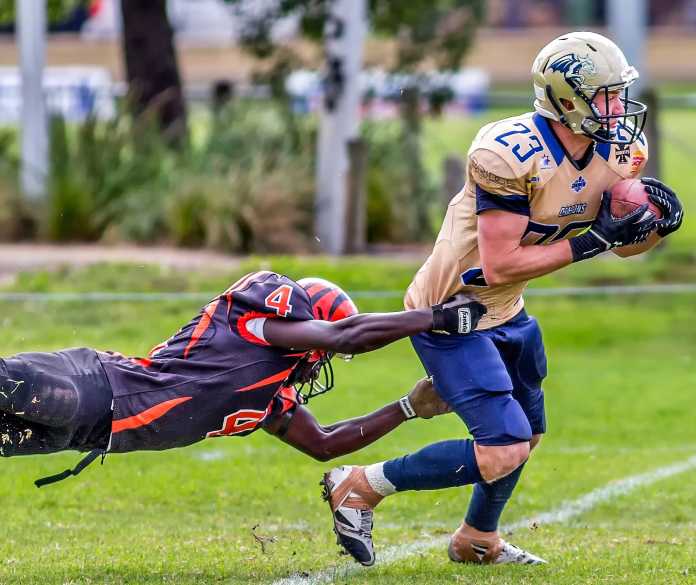 Early in the high school football season, interstate games draw a lot of attention for teams in all classifications. Last weekend, seven games took place between schools in Georgia and South Carolina, with the Peach State claiming six victories.
Appling County vs Aiken
3A semifinalists Appling County completed its first game of the season against Aiken after the Pirates' Week 1 matchup with Ware County was canceled due to inclement weather. Appling jumped out to an early lead on the Green Hornets and never looked back, rolling to a 42-7 blowout. The loss was the South Carolina school's second to a Georgia high school football opponent this season; the Green Hornets' fell by 32 points in their season opener to Lakeside-Evans.
Claxton vs Hilton Head
Claxton, a squad with only five wins in the past two seasons, earned its sixth with a 29-18 victory over Hilton Head Island. Excellent defense from a historically middling group solidified a 13-point cushion for the Tigers entering the fourth quarter, which they would mostly maintain.
Jefferson vs Wren
This was one of the more notable out-of-state high school football matchups featuring Georgia and South Carolina teams, and it also resulted in a runaway victory for the Peach State squad. The Dragons, coming off a heartbreaking loss on a blocked game-winning field goal against Alpharetta, defeated the Hurricanes 56-28 to earn their first win of the season. Sammy Brown and Elijah DeWitt led the Jefferson blowout, providing balanced success both through the air and on the ground. A 42-15 halftime lead essentially guaranteed the Dragons' first win under former Oconee County and Stephens County head coach Travis Noland.
Jenkins vs Bluffton
Jenkins hasn't been the same without Jason Cameron at head coach, as evident in last week's 45-0 loss to Benedictine. That game was not played to completion; it was halted at halftime due to violence in the stands. The Warriors partially made up for that embarrassing loss with a solid comeback victory over Bluffton. Down 21-14, the Warriors rattled off 20 consecutive points to secure the win. Bluffton already had Georgia experience prior to its matchup with Jenkins, as the Bobcats rolled over Beach in Week 1.
Lincoln County vs McCormick
The theme of strong starts for Georgia high school football teams against those from South Carolina continued as Lincoln County used a 19-0 opening spurt to defeat McCormick. Turnovers plagued the Chiefs and a lack of scoring opportunities buried them as the game progressed. For Lincoln County, offensive improvement will be an emphasis in the future. In the first week, the Red Devils could muster only 23 points against Bryan County, a team with only five wins in the past six years. That total was almost exactly matched against McCormick.
Sandy Creek vs Greenwood
On paper, the best Georgia vs. South Carolina matchup featured Sandy Creek and Greenwood. The Eagles finished with a 10-2 record last season, but fell in the second round of the playoffs. Similarly, Sandy Creek had an excellent 2021 campaign, but lost in a stunning first-round upset to Dawson County. This past weekend, Greenwood's defensive weaknesses were exposed as Sandy Creek QB Geimere Latimer passed for nearly 300 yards and 4 touchdowns en route to a 46-21 blowout. The Patriots led 27-7 at halftime and never ceased their offensive barrage, adding on the final 19 points in the third quarter alone. The win bumps Sandy Creek to 2-0 and certifies that the Patriots offense is one of the classification's best with 84 points so far.
Franklin County vs Pickens
Georgia's only loss to a team from South Carolina last weekend came when Franklin County faced off with Pickens. The Blue Flame exploited clear mismatches down the stretch against a clearly overmatched Franklin squad to win 42-17. The Lions surprisingly jumped out to a 10-0 first-quarter lead, but that was promptly erased by three Pickens touchdowns in the second period. All hopes of a comeback were lost with two fourth-quarter touchdowns to ice the victory. The Blue Flame, which managed only three wins in the entirety of last season, need only one more to match that total this year. Franklin County, one year removed from a strong 7-3 campaign, will have a chance to regroup against Lumpkin County next week.
Interestingly, since 2003, South Carolina leads Georgia in head-to-head victories 433-432-1. With just two more Georgia wins than South Carolina this season, the Peach State can reclaim the head-to-head title. Last season was not ideal for Georgia, as they lost 31 games to South Carolina and won only 23 overall. However, they made up significant ground in the first two weeks of this season, winning 19 of the 22 games played between both states. Nine games between the two states are set to be played this week, including three on Saturday as part of the Cam Newton Classic. Will Georgia end this season with more victories than their rival to the northeast?