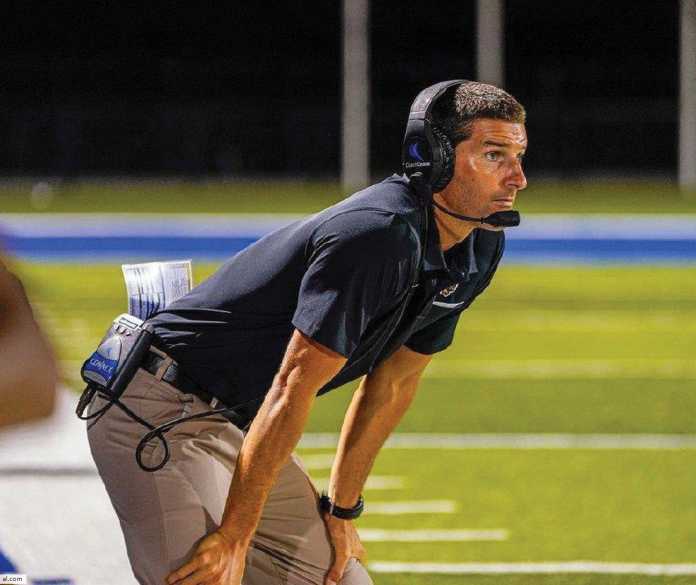 Sean Calhoun has been hired as the new Colquitt County football head coach. Calhoun is a familiar face for Packers fans; he was an offensive assistant under former head coach Rush Propst during the 2014 and 2015 seasons. The decision was announced during a specially called Board of Education meeting the morning of Jan. 5, 2021.
Welcome home @CoachHoon @CCPackersFball pic.twitter.com/1JJd6YHwFU

— Jason Jacobs (@jasonjacobs72) January 6, 2022
Calhoun returns to Colquitt County after having spent the last year as head coach at Vestavia Hills, located just outside Birmingham, Alabama. Prior to his one season at Vestavia Hills, Calhoun spent five seasons as the head coach at Carrollton, where he led the Trojans to a 51-12 overall record and a trip to the quarterfinals each year.
In an exclusive interview with ITG Next soon after his hiring was announced, the new Packer coach said that he and his family are excited to be returning to South Georgia.
"To try to put into words the excitement my family and I feel right now is really hard to do," Calhoun said. "Moultrie and Colquitt County has always been a very special place for us, and we are honored and humbled to be returning here to start this new chapter of our lives."
Calhoun said one of the first things he wanted to do as the new coach was meet the players. He added that selecting his coaching staff would be another top priority. He planned to meet with the current staff as a group first, then meet with everyone one-on-one.
"Making sure I have a great staff is of the utmost importance to make sure we are successful," he said.
As far as his coaching philosophy and what Packers fans can expect to see on the field, Calhoun said his approach is simple.
"We want to be physical and, at the end of the day, score one more point than the other team; it's not too complicated," he said.
Calhoun said that he's learned from his time previously spent in Colquitt County that there is one thing really good teams must do well.
"I feel like that you've got to be able to run the football to win championships, and that's what we're going to do," he said.
The new Packers head coach added that the team's skill set would ultimately determine how he and his staff approached the season.
"We conducted an extensive search for our next head football coach, but in the end, we knew Coach Sean Calhoun was the best man for the job here at Colquitt County," said Daryl Funderburke, Colquitt County athletic director. "He was the right fit for what we needed here at Colquitt County, and we look forward to great things from our football program moving forward with Coach Calhoun leading the way. We are very excited to have Sean and his family back in Colquitt County."
Speaking of his family, Calhoun is married to wife Kellie, and they have three children: Cade, 11; Cora, 10; and Camrey, 7. Calhoun said when he was offered the job, it wasn't just his decision.
"When Colquitt County calls, you listen," Calhoun said. "When they offered me the job, I was super excited, but it's more than me; it's the entire Calhoun family they're getting."
ITG Next welcomes Sean Calhoun and his family back to Georgia.