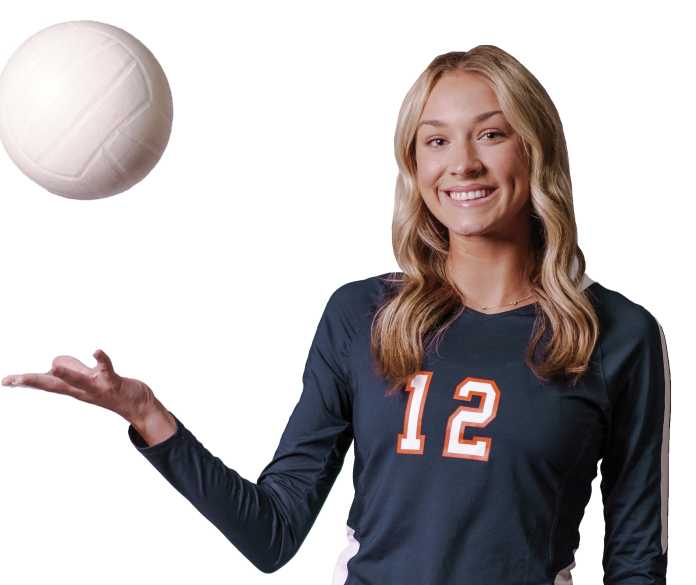 Valwood Repeat: Valiants Volleyball Wins 2nd Straight State Title
While South Georgia continues to play catch up with the rest of the state when it comes to fielding championship volleyball programs, the Valwood Valiants program is definitley doing their part.  For the second consecutive year, Valwood has won the GISA Class AAA State Volleyball Championship. You have to go back to the 2002- 2003 seasons to find the last time a Valwood team won back to back state titles. That was when the tennis team took consecutive state titles. 
The Valiants are coached by the husband-wife duo of Greg and Val Callahan, along with assistant coach and intern Trey Ekker. It was the Callahans who also led Valwood to their 2020 state championship. When asked how she felt about the odds of this year's team's winning another state title, Callahan said it was all about finding the right mix of returners and new players, and building those synergies. "Even though many of the athletes were members of both teams, those athletes played different roles. We had seven seniors on this 2021 squad, so it took a little while to find the right combination of leadership, accountability, and encouragement," said Callahan. So, after winning it all last season, and knowing what it took last season, was there a time that the coach felt that she may just have another championship team? "I think we knew in the preseason that another state championship was a possibility," she said. Callahan points to the same time last year, before the start of the regular season, during a preseason tournament, that she realized what her team needed to do differently to become a championship contender. She said it was against a traditional state powerhouse, Dominion Christian, that taught her and her team the little things they needed to go to the next level. "They beat us in that tournament, and when we played them again in the state final, it gave us a pretty good idea of how to prepare." This preseason would be much different. Valwood didn't have an opportunity to play in the same tournament, forcing her team to rely on their self confidence, much of which carried over from last season. 
To reach the final match of this year, the Valiants would be forced to defeat Frederica Academy and Creekside Academy in the first two rounds. That would set up a rematch with Dominion Christian, the same team Valwood defeated in last year's state title match. This time, Valwood would seal the deal with a strong serve game, winning in 5 sets. Callahan says the team's serve strength was one of the keys to winning a 2nd straight state championship. "All season we focused on using our serve as an offensive threat and playing pursuit defense. I felt those two things were the keys to our success," said the coach.
Leading the way in the championship match was All-State senior Adair Rodemaker, who had 32 kills while another All-State Senior, Ellie Griner, led the defensive effort with 19 digs. The remaining members that played in the state championship match are Marleigh Carson, Anna Alverado, Bailie Musgrove, Caylee Collins, Annabelle Kerrigan, and Olivia Shen. Completing the 2021 championship season roster is Chloe Lynn Collins, Chelsey Whetherington, Charis Eager, Mary Schroer, Olivia Brooks, Emma Cope, Samantha McQuitty, and Gracie Smith.
This year's Valwood team finished with a 20-5 overall record, identical to their 2020 record of 20-5.
Congratulations to the 2021 State Champion Valwood Volleyball Team!
Written by: Phil Jones
Read more from this issue.