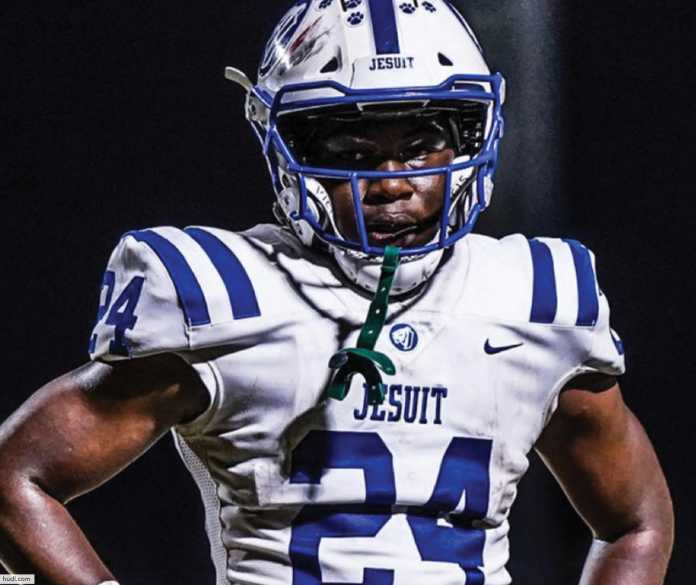 Jesuit Football Player Joquez Smith Voted ITG Next Florida January Male Athlete of the Month
While Jesuit football displayed multiple playmakers on the offensive side of the ball such as quarterback Luke Knight, as well as wide receivers Junior Vandeross, Jaydn Girard, and Jarriett Buie, it is hard to look past the special 2021 season from junior running back Joquez Smith.
One of the top overall running backs in the state of Florida, Smith was not only impressive throughout the 2021 season but helped the Tigers bring home the 2021 Class 6A state championship with a strong two games to conclude the year. Because of this, Smith has been named our ITG Next Florida Male Athlete of the Month for January, receiving 58.26% of the votes. 
From the opening kick in Game No. 1 to the clock hitting 0:00 in Game No. 15, there were few high school football teams, if any, in the state of Florida who had a more impressive 2021 season than the Jesuit Tigers.
The 2021 Class 6A state champions, Jesuit steamrolled through the competition weekly from August to December in route to a perfect 15-0 record, outscoring opponents a combined 568-126 for the year. Playing only two one-possession games all year (24-21 vs St. Thomas Aquinas, 35-29 vs Pine Forest), the Tigers were obviously dominant on both sides of the ball, in-particular with an impressive offense that averaged 37.9 points per game (PPG) overall this season.
Despite only playing two total games during the month of December, you don't have to look far to see Joquez Smith's impact during the Tigers' Class 6A playoff run. 
Having already posted impressive showing's across the first three rounds of the playoffs in wins against Boca Ciega, Braden River, and Hillsborough, Smith would begin the month with arguably his best single-game of the season against Miami Northwestern in the state semifinal round. A game in which Jesuit went on to win 37-12, Smith would carry the ball a season-high 22 times which the junior would turn into a season-high 234 yards with three touchdowns, averaging a phenomenal 10.6 yards per carry (YPC) against the Bulls defense in what was one of the best games of his high school football career.
Setting up a Class 6A state title matchup with then 12-1 Pine Forest on Dec. 18, Smith would go-on to carry the ball 16 times for 93 yards and two touchdowns in the Tigers 35-29 state championship win, averaging an impressive 5.8 (YPC) in the process. After those two impressive games, Smith would conclude the month of December having rushed for 327 yards and five touchdowns on 38 carries, capping what was a phenomenal junior season. 
We caught up w/ @JesuitTigers_FB '23 RB @joquezsmithh not long after he zoomed straight to the end zone for a 2-point conversion that sealed his team's 35-29 win over Pine Forest for the @FHSAA 6A state title.

Smith was the last player in the state to reach the end zone in '21. pic.twitter.com/ZD1Odo8T08

— New Era Prep (@EraPrep) December 19, 2021
Speaking of that season, Smith would rush for a total of 1,976 yards and 29 touchdowns in all while averaging 8.4 YPC, as well as 131.7 yards per game (YPG) with 11 games of more than 100 rushing yards. As expected, Smith also received multiple accolades at season's end, including a MaxPreps Junior Second-Team All-American selection.
More sensational individual accolades for Jesuit football players. Class of '23 members Joquez Smith and Troy Bowles are named to the @MaxPreps Junior All-America Team! @joquezsmithh @TorelloSportshttps://t.co/CmQ1Ixhqj6#AMDG l #GoTigers l #StateChamps pic.twitter.com/s90en7zRXp

— Jesuit Tigers Football (@JesuitTigers_FB) January 5, 2022
The three-star recruit has already turned in a phenomenal high school career with the Tigers and is set for an even bigger 2022 as a senior. Congrats to Jesuit running back Joquez Smith, our ITG Next Florida January Male Athlete of the Month.