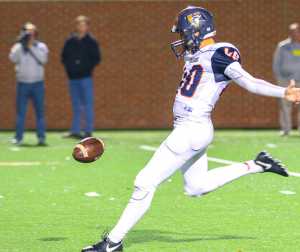 Fitzgerald High School is down 27-24 with about five minutes to go. Dodge County just scored a long touchdown to take the lead.
The Purple Hurricane moves down the field, and Alex Martinez slotts home the 37-yard field goal with just a few minutes to go. The defense gets the stop and moves down to the Dodge County 35-yard line. Martinez comes back out with just a few seconds to go, lining up the 50-yard field goal.
Kicking is one of the more underappreciated positions in football. We laugh when the kicker gets run over on a kickoff and mock the athleticism of some players. But, when there's just a few seconds to go in a game, the entire team, entire town is looking at the kicker. The pressure rises tenfold for the player a majority of fans didn't know the name of two minutes prior.
Professional football shows the two sides of that pressure. Adam Vinateri has played in the NFL for 24 years and is regarded as one of the best kickers of all time. He made a name for himself as a clutch kicker, making game-winning field goals in the Patriots' first two Super Bowls in 2001 and 2003. In the 2003 season, Vinateri made 74% of his field goals, good for 26th out of 39 kickers that season. But he made the field goal that won the Super Bowl, so he was rated as the best.
In 2015, Blair Walsh made the most field goal attempts in the NFL regular season with 34, and he made six field goals over 50 yards. He was one of the best young kickers in the league and helped the Vikings make their first playoff appearance in four years. They played the Seahawks, and Walsh attempted a 27-yard chip shot to win the game. It went wide left. The once promising career ended the next week, as Walsh was cut during the 2016 season.
Kicking is all about confidence, as one miss can change an entire player's fortitude. It's as much of a job of resilience as it is leg power. Being able to bounce back is infinitely more important than kicking 50 yards.
Fitzgerald's Alex Martinez was able to keep his cool. He stepped on the field with three seconds left and buried the 50-yard field goal. Fitzgerald won the game as time expired, and Martinez was the hero. It's the fine margins of a kicker.
https://itgnext.com/wp-content/uploads/10.9.19-Kicker-web-1.jpg
2625
3125
Kyle Grondin
https://itgnext.com/wp-content/uploads/ITGNext-logo-Black-and-Cyan-300x186.png
Kyle Grondin
2019-10-09 14:41:14
2019-10-09 14:54:31
And the Kick Is Good!