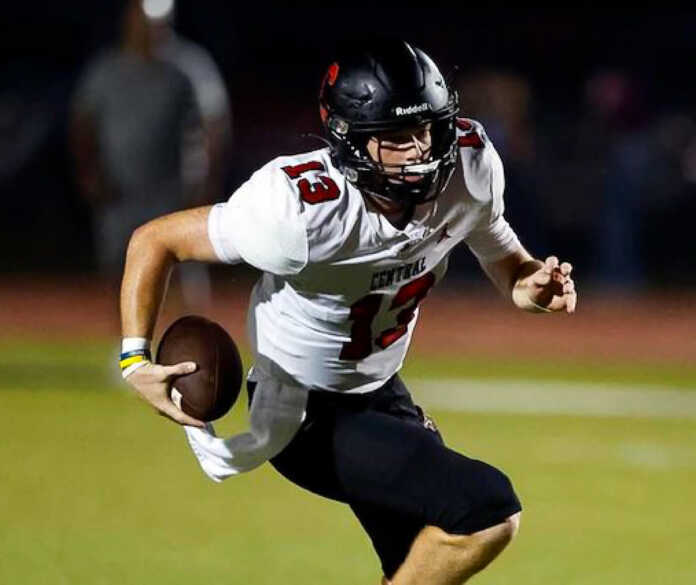 One of the state's top quarterbacks so far this season, Central-Phenix City junior Andrew Alford has been voted the ITG Next Alabama September 2023 Male Athlete of the Month as a result of his on-field play during August. Alford received 51.28% of the possible votes over three additional finalists: Pleasant Grove wide receiver Clarence Taylor, Pleasant Grove quarterback Eric Handley, and Foley running back Kolton Nero.
Alford, who transferred to Central-Phenix City from Brookstone (GA) during the offseason, is off to a stellar start to his Red Devils career. He has helped lead his new team to an undefeated 3-0 start, with wins over Hewitt-Trussville, Smiths Station, and Enterprise, while sparking an electric Central-Phenix City offense that is averaging 49 PPG.
Alford made his debut on August 25 at Hewitt-Trussville in Central-Phenix City's season opener, and it was an impressive one: 22-of-28 pass completions (78.6 CMP%) for 428 yards and 5 touchdowns, a 144.3 QB rating, and 1 carry for 8 yards. Since that game, Alford has continued to impress, completing 68.9% of his passes for 1,029 yards and a 13:1 TD:INT ratio across three games. He also rushed for 21 yards on 3 attempts during that span.
Congratulations to Central-Phenix City quarterback Andrew Alford on a strong start to the season and ITG Next Alabama September 2023 Male Athlete of the Month honors.