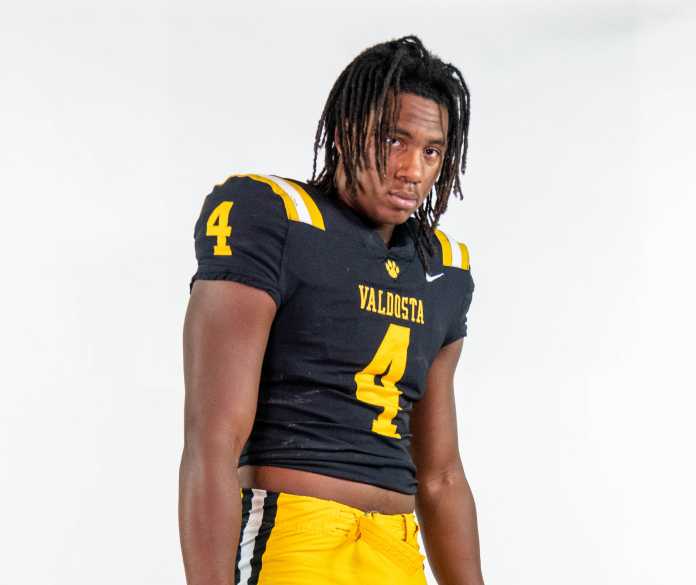 As reported late Tuesday on Extra Point! With Phil Jones, four-star edge rusher and UGA commit Gabriel Harris has been ruled ineligible for the 2022 season by the GHSA. Harris transferred from Thomas County Central High School to Valdosta High School during the offseason with the intent of joining the Wildcat football team.
The familiar phrase of "bona fide move" is once again at the core of the ruling, specifically whether Harris indeed made a bona fide move into the Valdosta school district. Valdosta submitted a hardship request on behalf of Harris, but that was denied by the GHSA. Valdosta is appealing the ruling, and the appeal date is set for Aug. 16.
If Harris and Valdosta lose this appeal, there is still a path that could allow the standout DE to play his senior season. That would be in the form of two additional appeals, the first of which would include appearing before a four-member appeals committee. Failing that, the final option for Valdosta and Harris would be to go before the board of trustees.
This is an all too familiar situation for the Valdosta program. In April 2021, Valdosta appealed alleged recruiting violations involving a handful of players. In that case, Valdosta lost each of their three appeals and were ruled ineligible for the 2021 postseason.
ITG Next will keep you updated on this developing story through our social media platforms, here on our website, and on Extra Point! With Phil Jones, which you can watch on Facebook Live @itgnext.georgia every Monday and Tuesday at 5 p.m.