This week our "4 Questions with the Coach" subject is Lee County head football coach Dean Fabrizio, who has done a remarkable job of turning around a program that lay dormant in the world of Georgia high school football for years. Now in his 14th year at Lee County, Fabrizio discusses his time there and his team's tough loss to Class 7A power Colquitt County.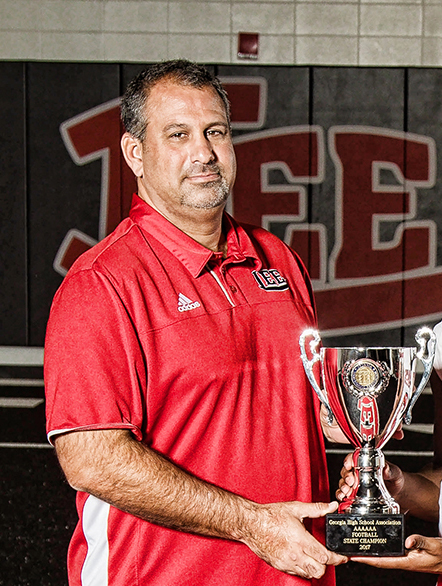 Q. Coach Fabrizio, we are having this conversation soon after your Lee County football team's loss to Colquitt County, so we appreciate you taking the time to do this, first and foremost. Let's start there: The game was either team's for the taking with the score 24-20 and 10 minutes left. What happened from there?
A. It was a great game and a great atmosphere. We will be a better team for playing this game. A couple of things happened. We had a 4th and 4 at their 20-yard-line and didn't convert. Than they drove down for a field goal. We got the ball back and punted. Had them 3rd and 17 and they hit a big pass for a TD, which pretty much took the wind out of us. With this being one of our younger teams, depth has been a concern and it showed some Friday night. My hat's off to Coach Calhoun and Colquitt County. They played a great game.
Q. Coach Fabrizio, this was a rare home regular-season loss for you and your Lee County football team – your first since the 2016 season. It has to be a bit of a strange feeling right now, not having been in this position very often.
A. It certainly was. We built our new fieldhouse after the 2016 season and this was the first time walking in there after a regular-season loss. Was definitely strange. Like I said though, we try to play strong competition to make us better, and when you do that you are going to lose now and then.
Q. I know some guys have missed time over the last week or so with some bumps and bruises, and I know you won't use that as an excuse, but how is the overall health of your team right now?
A. Not bad. Ousmane and JD both played last night, but neither was near 100 percent. We have some other guys banged up as well. That is just part of it, though. Have to find ways to overcome. Our athletic training staff led by Brian Davis does an outstanding job, so we expect these guys to be back to full strength soon
Q. Do you feel like this 2022 Lee County football team has still got a great chance to accomplish a lot the rest of the season?
A. No doubt this year's team has a chance to be really, really good. We have a lot to work on, but we have great hard-working kids and great assistant coaches. We expect to bounce back strong from this loss, and we better, because this Friday we play a Lakeland Lake Gibson team that was in the semifinals in Florida last year.