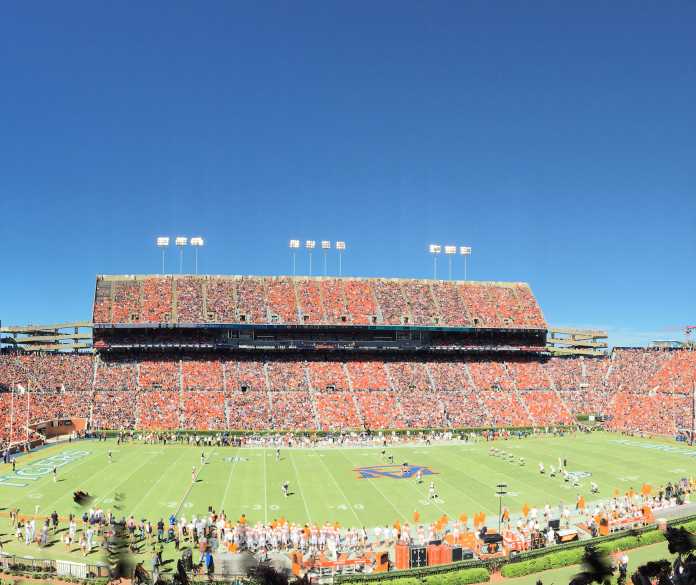 "There goes Davis! Davis is gonna run it all the way back! Auburn's gonna win the football game! Auburn's gonna win the football game!"
It's impossible to forget the late Rod Bramblett's call of the legendary 2013 Iron Bowl between Auburn and Alabama. A top-five showdown between bitter SEC rivals produced one of college football's greatest moments nine years ago, when the Tigers' Chris Davis ran a missed field goal back 109 yards for the game-winning score with no time left. This iconic matchup certainly lived up to the hype, and so did the players involved. Here's a look back at the events leading up to the unforgettable Auburn Kick Six.
Entering the Iron Bowl, a game-winning Kick Six by Auburn was unfathomable, as Alabama sported an undefeated record and the top ranking in college football. The Crimson Tide had notched three top-10 victories so far and had not lost a game since November 10 of the previous year. The catalysts of this season's offensive explosion were quarterback AJ McCarron and running back TJ Yeldon, who combined for 418 yards and all of Alabama's points against Auburn.
McCarron was a four-star prospect from St. Paul's Episcopal in Alabama, where he led his team to a state championship as a junior. That got the attention of many SEC coaches, including Nick Saban. However, his first Iron Bowl experience was sour, as he came in for an injured Greg McElroy and saw the Tigers stun his team with a 24-point comeback win.
Yeldon, much like McCarron, also played high school football in Alabama. He rushed for over 2,000 yards his senior year at Daphne. The speedy five-star recruit originally chose to play for Auburn, but later decommitted after Gus Malzahn's impending move to Arkansas State.
Budding star receiver Amari Cooper also played a massive role in the Alabama offense. The high school senior standout at Miami Northwestern (FL) notched 178 yards and a score in the 2013 Iron Bowl to accompany over 700 yards on the year.
While the offense garnered much of the spotlight, the defense took over as the season progressed. Future stars in C.J. Mosley, Landon Collins, Ha Ha Clinton-Dix, and A'Shawn Robinson combined for 262 tackles throughout the year and played big roles in holding Auburn at bay.
Mosley, who set a school record with 186 tackles as a senior at Theodore (AL), led the Crimson Tide in tackles as well in 2013. Collins, a former five-star safety from Dutchtown (LA), provided a physical presence all season and proved it once again facing Auburn, forcing and recovering a fumble. These defensive playmakers stifled the Tigers as Alabama strung together three touchdowns after trailing early.
The road had not been easy for Auburn. The Tigers began the year unranked and fell to 6th-ranked LSU in the fourth week. From that point, however, Auburn played inspired football, shooting up the ranks after beating No. 7 Texas A&M in College Station. Just two weeks prior to the Iron Bowl, the Tigers experienced their first miracle, as Nick Marshall completed a tipped pass to the team's second-leading receiver, Ricardo Louis, for the go-ahead touchdown on 4th and 18 against Georgia. That propelled the Tigers to the No. 4 ranking.
While Marshall had been reliable, running back Tre Mason was Auburn's offensive spark. The quick Park Vista (FL) product was only the 14th-best back in the nation, but that didn't prevent him from jolting the Tigers' offense against Alabama with over 160 yards rushing. Interestingly, Mason rushed for more yards at Auburn in 2013 than he had as a senior in high school.
Defensively, future Kansas City Chief Dee Ford terrorized opposing offenses, leading the team with 14.5 tackles for loss and 10.5 sacks. Not far behind was Carl Lawson, the Milton (GA) High star who racked up 27 sacks as a senior with the Eagles. Auburn's leading tackler and defender, though, was Chris Davis. Davis played several positions at Woodlawn High School in Birmingham. Despite over 1,000 scrimmage yards and three pass breakups, the future cornerback was rated only as a three-star prospect. Davis received just one collegiate offer, and it came from in-state Auburn.
With one second remaining in the game and the score knotted at 28, the Tigers elected to send Davis back in case Alabama missed the 57-yard, game-winning field goal. The Crimson Tide had several chances to put the game away earlier, but missed field goals had prevented them from doing so.
Saban opted to have Adam Griffith, a redshirt freshman from Calhoun (GA), attempt the kick rather than starter Cade Foster. Griffith's kick landed just a yard short of the endzone's back line, and Davis streaked towards the Auburn sideline. With one tightrope act and a burst of speed, history was made – the Auburn Kick Six. The Tiger defender with just one collegiate offer single-handedly buried Alabama's hopes of three national championships in a row.