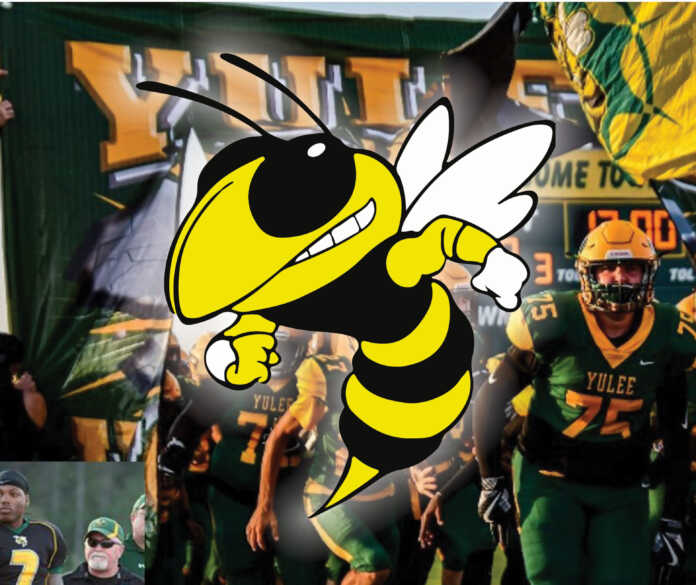 Coach Kyle Dougherty Says Younger Players Will Be the Difference
When Kyle Dougherty was offered the head football coaching position at Yulee High School in March 2021, the only thing he knew about the northeast Florida school was the same thing everyone else knows Yulee for: It was where NFL standout running back Derrick Henry played. Even though he may not have been that familiar with the Hornets at the time, it's now 2023 and there's no doubt Yulee found the right guy to lead their football program.
After a 4-6 record his first year, Dougherty led the Hornets to the playoffs last season, finishing with a 6-4 regular-season mark. It was Yulee's first postseason appearance since 2016. Although the Hornets lost 16-6 to traditional powerhouse Baker County, Dougherty says the improvement in his team was evident not only in more wins, but a better overall attitude and approach. He likes what he is seeing.
"I think we are headed in the right direction," Dougherty says. "There's a lot to be excited about if you're a Yulee fan. We had six kids who made the All-Star list from last year's team, which is huge for this area. Our defense was in the top five in northeast Florida in almost every defensive stat category."
Dougherty thinks it's the defense that will make the difference with the 2023 Yulee football squad.
"I've got some very talented kids coming back this year, including almost all of our defense," he says
Among the team leaders who will be back are senior Rylan Hale.
"Rylan made All-State as a tight end as a sophomore, and last year he made All-State as a starting linebacker," Dougherty says. "He's really talented and is an amazing young man."
Hale's talents aren't limited to football, either.
"Rylan is training to be a pilot," Dougherty says.
That may work out nicely, as the pilot-in-training and talented football player has just received an offer from the Air Force Academy.
Joining Hale will be returning defensive lineman Braylon Hicks.
"Braylon is absolutely dominant," Dougherty says of the catalyst in the Hornets' run to the playoffs last year. "He had major knee surgery last summer and came back ahead of schedule. We had three games scheduled in seven days, and we had to win all three to make the playoffs. Here was Braylon fresh off major surgery, and he was the difference maker in us winning those games. He shut down all three rushing attacks, and that allowed us to win and make the playoffs. He wound up finishing second in tackles on our team in just five games."
The team's leading tackler was a sophomore, linebacker Amauri Goff, who Dougherty says is "very athletic." Joining Goff on the talented defensive unit will be All-State selection LJ Jacobs, a 6-foot, 1-inch safety who is receiving quite a bit of attention, with current offers from Georgia Southern and South Florida.
"He is a big physical kid who will see some time at running back for us," Dougherty says.
While the 2023 Yulee football team will have a lot back on the defensive side, that's not the case with the offense.
"We lost a lot of talent on the offensive side of the ball," admits Dougherty. "We lost three starting receivers, along with three offensive linemen and our starting quarterback, Chris Turner."
Turner will attend Valdosta State, where he could see playing time as the Blazers' signal caller.
A few pieces of last year's playoff team will be back, including starting running back Teonte' Artis-Croxton, who rushed for 477 yards and 3 TDs last season. Quarterback Lee Homitz, who started for Yulee's JV team last year, also returns, and he may be the leading candidate to take over the starting job at the varsity level. However, there is an up-and-coming eighth-grader who is already receiving interest from major colleges for his baseball ability, and Dougherty says the youngster is a pretty good quarterback, too.
"His name is Preston Matricardi," Dougherty says.
That's a name you will be hearing a lot more of in the years to come. According to Dougherty, Matricardi just committed to Florida State as a baseball player, but he is considered very much a two-sport athlete. Dougherty says he will be in the mix for the Hornets quarterback spot this season.
"Preston will definitely have a shot at the starting job," Dougherty says.
The Yulee head coach will be looking at four other JV players to step up and fill the holes left by heavy losses of last year's starters on offense. They are wide receivers Thomas Green and DJ Mason, running back D'Ante Simms and offensive lineman Turtle Ricks.
Yulee special teams were another reason for the team's success last season. According to Dougherty, the Hornets special teamers blocked 7 punts and 2 field goal attempts last year. The Yulee kicking game should be in good hands again with the return of All-State kicker and punter Brysin Osgood. Last season, Osgood averaged 37.3 yards per punt, with his longest going for 58 yards. He connected on 21 of 22 PATs and was perfect on his FG attempts, successfully connecting on all three tries. His longest was good from 40 yards.
Despite having a few holes to fill on offense, Dougherty thinks his 2023 Yulee football team has a chance to be really good this season.
"If our younger JV guys can step up on offense, we have a shot to do well," he says. "It depends on how quickly those guys can grow up and if our defensive guys play like they have been."