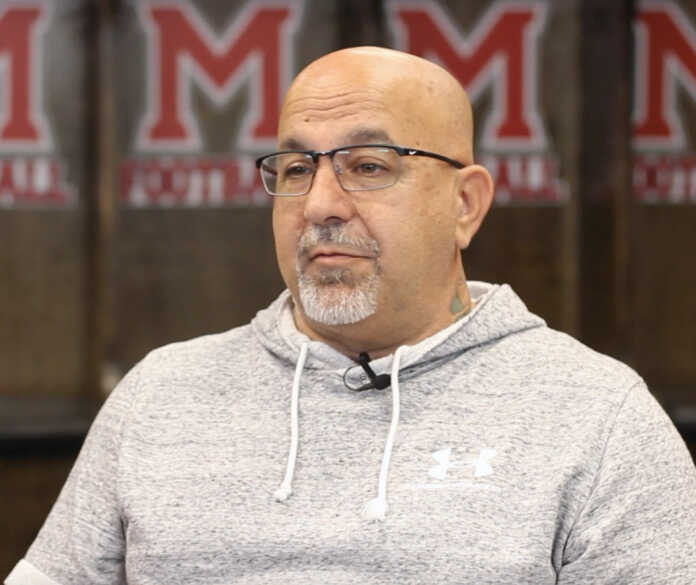 Career Path Took Him From Undercover Cop to Rewarding Career in Athletics
It's fair to say that the path Gary Sylvestri took from being a south Florida bouncer to a Georgia high school athletic director was not how most folks would draw it up. As Silvestri, or "Sly" as those who know him well call him – and he asked us to refer to him by that nickname – prepares to retire from his post as athletic director at Milton High School, he shared with us his incredible story below and on our Next Take Georgia podcast. It's a path took him from being an "edgy" kid growing up in south Florida to an undercover narcotics officer to a football coach to where he is today, at least for a few more months, until his retirement at the end of this school year.
A native of The Bronx, New York, Sly moved with his family to Broward County, Florida when he was a young boy. He would go on to attend Northeast High School, where he wrestled, ran track, and played football. He flourished on the gridiron, earning a scholarship to Bethany College in Kansas until a traumatic brain injury (TBI) in his senior season changed things.
"It was the third concussion I had suffered in high school, and it actually was a brain bruise, or a TBI," Sly recalls.
He spent a week in intensive care, but suffered no lingering effects. It brought an end to his playing days but steered him towards coaching, and it may very well be the point that brought him to athletics on a full-time basis.
Following his graduation, Sly's head coach at Northeast asked him to stick around and help him, which Sly did beginning in 1983. Heh spent the next couple of years coaching at his former high school, but he also got into a few other things to make extra money.
"I started bouncing at clubs, working in bars, that kind of stuff," Sly explains. "I was a bit of an edgy kid, and I was definitely pushing the envelope at that time."
While working his bar job, several law enforcement officers would come in and tell Sly that he should join their ranks.
"I didn't want to be a cop, but I figured it was a good way to make a good living, while making my own schedule, so I applied to become a cop, and was hired," he says.
That began a 21-year career in law enforcement that saw him begin as an undercover narcotics office right away in the mean streets of south Florida.
"It was real-life Scarface," Sly says, recalling the popular movie about a drug lord (played by Al Pacino) pushing illegal substances in the streets of south Florida. For Sly, the Tony Montanas were all too real.
"My biggest drug bust was 200 kilos [440 pounds] of cocaine," Sly recalls.
Finally, after two decades of living dangerously and bringing down hundreds of bad guys, Sly decided he had enough. In addition to the undercover stint, he was a SWAT team leader, and he worked within the Broward County K-9 unit.
"I really enjoyed that part of it, but law enforcement had taken its toll on my body," he says. "I had four knee surgeries, with a knee replacement and a shoulder pinned together, so I figured I would retire, collect my pension, and look for something else."
During his time as a cop, Sly had continued to coach football, working as an assistant at Plantation High School from 1999 to 2005 under head coach Frank Hepler. He also attended Broward Community College, earning a joint bachelors degree in 2005 from BCC and Colorado Tech online.
In 2007, Hepler approached Sly about applying for jobs on the football staff at a new school opening in Georgia. It was West Forsyth School in Cumming.
"He asked me to come up with him to West Forsyth and coach," Sly remembers.
They interviewed together and were hired as part of the new Forsyth County school staff. Hepler became the head football coach and Sly was an assistant coach. He also served as the school's assistant athletic director. While at West Forsyth, Sly attended Georgia State University for graduate studies in education.
In 2009, Sly left West Forsyth and was hired at Milton as the team's running backs coach.
"Within a year, I was asked to work in administration, which I did for two years," Sly says.
That's when the once-edgy kid got called into the principal's office. Only, this time it was not to be disciplined.
"I remember our principal at the time, Cliff Jones, called me into the office," Sly says. "He said, 'You're at all of our athletic events, you represent our school so well, you're working with our athletes and their academics, and you were an assistant AD at West Forsyth; why don't you become our athletic director?'"
In 2012, Gary "Sly" Sylvestri was hired as Milton High School's athletic director.
Under the leadership of Sylvestri as athletic director, Milton has claimed 20 state championships, along with eight state champion runner-up finishes. Included are state championships in football, baseball, and basketball in the state's highest classification. His daily duties include overseeing an athletic department consisting of 23 varsity sports and more than 100 coaches.
He has received several awards for his work, including being selected as Professional of the Year at Milton. He is heavily involved in FCA and acknowledges his faith is of the utmost importance to him.
"This has been a calling," he says. "God gave me this platform to work with these kids, and that's why I take it very seriously. The ROI is great."
In addition to his athletic director duties at Milton, Sylvestri serves as a lay minister at a local church. He served in a similar capacity when he was coaching in south Florida.
Along with the rewards that come with impacting so many students as athletic director, when Sylvestri goes to work at Milton, he doesn't leave his family at home. They actually come with him.
Sly's wife of 31 years, Alisha, serves as Milton's director of football operations. Two of their four children work at Milton also. Their son Vinny is an assistant football coach and works with the training staff that serves the football program. Their daughter Dominique is a community based instruction (CBI) teacher, working with special needs children. Their son-in-law, Dominique's husband, is an assistant coach at Milton. Vinny and Dominique both played sports at Milton. Their other kids are Nick and Danielle, who each live out of state.
What's next for Sly Sylvestri after he leaves his work as Milton athletic director.
"I am looking at a couple of opportunities," he says. "[Milton football] coach [Ben] Reaves wants me to stick around and do something with player development with the team."
Sounds like it might be tough for Sly to truly say goodbye to Milton High School.
Listen to the entire episode of Next Take Georgia right here.