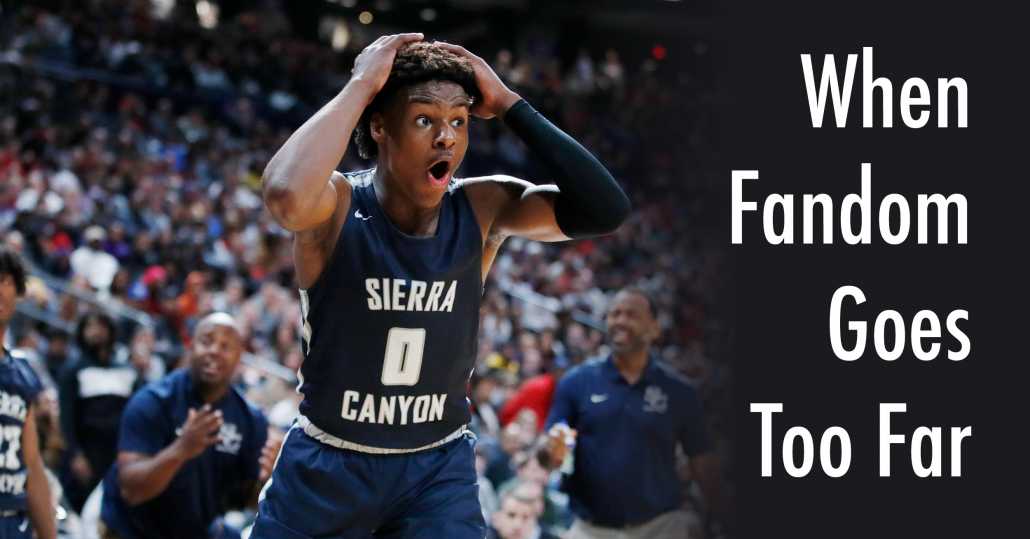 Fan is short for fanatic. Fans think with passion and pride and typically consider themselves part of the team. Fans care about their teams as much as anything else.
Sometimes, fans cross the line.
That's what happened on Jan. 21 at the Spalding Hoophall Classic, when No. 2 Sierra Canyon was in the middle of a game as they had an inbound pass on the sideline. The player inbounding the ball happened to be LeBron James Jr. Yes, he's the son of that LeBron James. 
"Bronny," as he's called, has taken the internet by storm with his ability on the court and of course because of his father being one of the best basketball players to ever live. But a fan, clearly not a fan of the older James, decided to use this as an opportunity to throw something at Bronny. 
It ended up being a harmless plastic cup, but it is a prime example of a fanatic crossing the line. It is never okay to throw something at a player during a game. From professional all the way down to Little League, throwing objects should never be the answer. 
What makes this matter worse is that a fan's view of LeBron James drove him to throw something at a minor. 
It ended up being a minor who threw the object, but James Sr. said it best when asked about the situation after his game against the Boston Celtics. 
"It's just disrespectful, and it was a little kid, too," James said to a pool of reporters. "I don't know how old that little kid was. I don't know. I don't know if he learned that on his own or learned it at home or whatever the case may be, but it's disrespectful."
James also elaborated on the fact that his children, especially Bronny, have learned to take the hate and abuse sometimes for their dad being who he is. But the bigger problem is, why do they have to face that burden? Minors should not be blamed for the actions of their parents, and expecting Bronny to do anything other than just play basketball and go to school is a disservice to his growth and development as a basketball player and human being. 
So while you attend your local high school games as a fan, just remember: Kids are watching, and people are watching. The attitudes and actions you take will be remembered and spread to those around you. So set the right example as a positive fan.  
https://itgnext.com/wp-content/uploads/Fandom-web_a.jpg
1313
1563
Kyle Grondin
https://itgnext.com/wp-content/uploads/ITGNext-logo-Black-and-Cyan-300x186.png
Kyle Grondin
2020-01-27 17:05:34
2020-01-28 11:27:02
When Fandom Goes Too Far