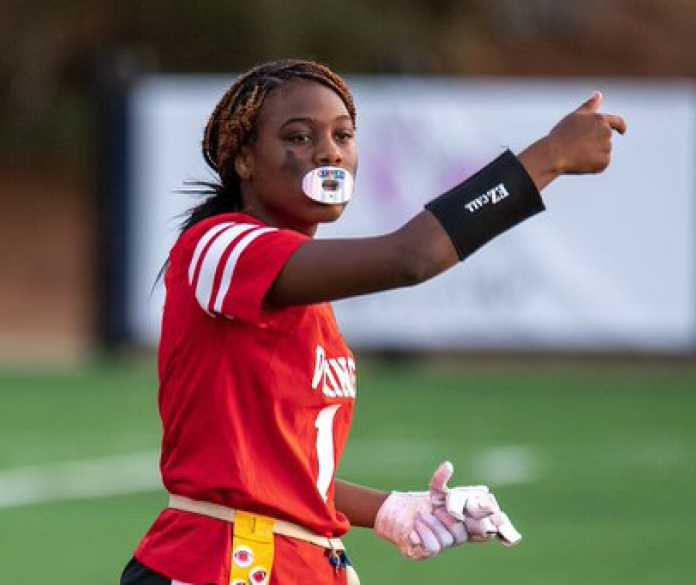 St. Anne-Pacelli Girls Flag Football Looking to Finish Phenomenal 2021 Season
When looking at the current state of girls high school flag football in the state of Georgia, you won't find many teams more-impressive at first glance than the St. Anne-Pacelli Vikings.
In what is only the second season for flag football in St. Anne-Pacelli program history, the Vikings have already seen success on the football field, both in 2020 and 2021. Finishing the 2020 season a year ago with a 6-3-1 overall record, the Vikings not only won a region championship in year one, but also made a second round playoff appearance as well.
Already having seen success in year one, the Vikings entered the 2021 season with excitement surrounding the team, and that excitement has carried-over onto the field this fall as St. Anne-Pacelli has enjoyed an impressive 2021 season.
Beginning the season in tournament play, the Vikings opened the 2021 campaign with an impressive 20-0 win over Eagle's Landing before dropping their next game 18-7 to Calvary Day. That 11-point loss only seemed to make the Vikings stronger however as St. Anne-Pacelli has since won 10 consecutive games dating back to October 18 that has the Vikings current record at 11-1 overall entering the state playoffs, as well as a perfect 6-0 in region play.
Not only are the Vikings outscoring opponents a combined 297-38 on the season, but St. Anne-Pacelli has also posted a total of eight shutouts, and has only allowed over 7+ points to an opponent once this season, which happened to be the previously-mentioned loss to Calvary Day.
Owning multiple impressive wins over the likes of Spencer, Hardaway, Carver, and more, the Vikings display an impressive offense led by star freshman Tamiyah Carter who has accounted for over 600+ yards and 15 touchdowns so far this season. In addition to Carter, St. Anne-Pacelli's offense also features many other key contributors including Ann-Marie Robinson, Emily Obermeyer, Adalee Christenson, Kira Roper, and more.
While many of those same players such as Robinson play important roles on defense as well, senior Bradley Dalelio also plays a prominent role having collected over 35+ tackles and three sacks so far this season, as well as others also being key contributors.
The St. Anne-Pacelli Vikings have been one of the top teams in the state of Georgia throughout the 2021 season, and haven't showed any signs of slowing-down as we enter the playoffs. Will St. Anne-Pacelli bring home a state championship to cap-off a phenomenal 2021 season?
Written by: Matt Melton  
Read more from this issue.