South Georgia is known for its football heritage, and deep in the heart of the history is the legacy of Valdosta High School. On July 25 from 8 a.m. to 12 p.m., Valdosta High School hosted their sixth annual Lil 'Cats Camp at Bazemore-Hyder Stadium. Approximately 50 young athletes attended the event (ages six to 12), accompanied by their parents and loved ones.
"It's important for us to reach out," said Coach Reggie Mitchell, who headed the camp. "It's an opportunity for the children to get a head start on learning the game."
After a registration period from 8 a.m. to 9 a.m., the children were split into groups and rotated around stations that focused on different aspects of the game. They were taught the basics of passing, catching, blocking, and other important fundamental skills of football.
"We want to stress the fundamentals of the game," Coach Mitchell said. "It's the foundation of football, of any sport, actually. The more they learn fundamentals at a young age, the better chance they have to succeed as they get older."
Perhaps the biggest part of the afternoon involved the station referred to as "Cat Talk," in which current and former coaches and players spoke with the young campers about the history of the Wildcats and the accomplishments to which the institution lays claim.
"I'm from Valdosta, and I played for the Wildcats under Coach (Nick) Hyder," Coach Mitchell said. "I'm proud of what this school represents. It's very important for the kids to understand what this program means, not just to the school, but to our community."
According to Coach Mitchell, the camp also serves as an outlet to stay in touch with young athletes as they grow and learn the game.
"It helps us to track the kids," he said. "Whether they become Wildcats or not, we're able to follow the kids, athletically and academically. We want to build relationships with the children and their parents, and we want to ensure that they have the opportunity to remain in touch with us if they so desire."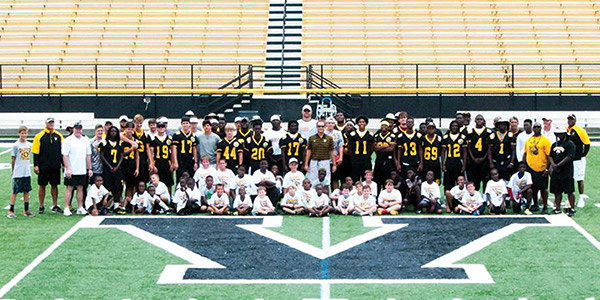 ---
South Georgia/September 2015
Special Feature
Lil 'Cats Camp
Valdosta, Georgia
https://itgnext.com/wp-content/uploads/web_lilcats_main_SG_0915.jpg
1000
750
Georgia
https://itgnext.com/wp-content/uploads/ITGNext-logo-Black-and-Cyan-300x186.png
Georgia
2015-09-09 18:12:03
2016-10-13 16:08:45
Valdosta High Hosts Sixth Annual Lil 'Cats Camp