Listening to Tristan Corley talk about his college plans would lead one to believe the graduating senior never had worries about where he would further his education. Last month, Corley graduated from Central High School in Phenix City, and after a little bit of down time, the 18-year-old will head off to Jacksonville State University.
"I think my mom was more excited than me, because she was worried I might not get accepted. I told her that I knew I was going to college, and it was just a matter of where, because I was going to be accepted somewhere," says Corley, laughing.
The easy-going nature and gentle teasing about his mother's anxiety over college entrance belie a big truth. Not only is Corley going to a well-respected university, he was offered a full academic scholarship, renewable each year of his college experience.
Corley earned the chance to receive an academic scholarship by maintaining a 3.5 Grade Point Average (GPA) combined with his ACT score of 28. He was looking for a school where he could seek a business degree, because he has a pretty clear vision of where he is headed in his future.
"I want to get my MBA and then get an internship somewhere. After that, I hope to return to this area and move right into some type of management. I like the fact that, with hard work, I could own my business," he says.
Before the Honors Classes and college prep Corley has undertaken as a high school student, he says he always knew academics was the way to go. Good grades have been a way of life for him. His parents encouraged him in that area, but Corley mostly adopted the attitude of striving for academic success on his own. While he knew Honors Classes would be beneficial in the long run, Corley welcomed the opportunity to exercise his mind.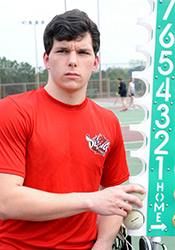 "Those courses are more challenging. I would much rather be involved in that course of study that just coming in and doing some kind of worksheet every day," says Corley.
Academic exercise runs parallel to physical exercise in Corley's life. At the suggestion of a friend, Corley decided to try out for the Central High School tennis team. He was a sophomore and had just finished up football season. Without much thought, Corley went to the team tryouts and has been playing tennis ever since.
When asked if he had ever played tennis before, had he ever watched a tennis match, did his parents play the sport, or had he even held a racquet prior to that time, Corley has a one word answer for all four questions.
"No," he says, laughing and shaking his head.
Turned out it didn't really matter. He finished up his third year of playing for the Red Devils as the number-two doubles player and number-four singles player. He has a real love of the sport (pardon the pun), and despite his late start with tennis, the 6-foot-tall right-handed athlete has been determined to make the most of his talent and time.
"I hate it when people say tennis has no technique. It does, and it is a passionate sport. You are playing against yourself. You can't rely on people to bail you out. I have tried to improve on everything about my game ever since I picked up a racquet," Corley says.
In addition to becoming a strong participant in the sport, Corley also found a community of friends among his fellow tennis teammates. The athletes are close and enjoy each other's company both on and off the court. The encouragement and friendship extended to the tradition of having dinner together after every home match.
Although Corley will not be playing tennis as a collegiate athlete, he has learned a good bit from his time on the court that will carry over to college life and beyond. He understands hard work and team effort. Corley has gained an appreciation for good leadership; he says that his coach this season, Olga Shaw, taught him more about tennis in a few weeks than he learned in the previous years combined. Because Corley has worked a part-time job at a local Chipotle eatery in addition to playing tennis and squeezing in daily gym workouts, he also has gotten time management down to a science.
"I was washing clothes after 12 o'clock in the morning sometimes because I had a match the next day," he says, smiling.
Corley dropped both football and wrestling to pursue tennis at Central, and he has never regretted the decision. He almost feels he wasn't allowed to reach his full potential with the sport because of his late start and offers some words of wisdom to those who might be interested in taking up tennis.
"If you want to play amazing tennis, get out there early. You need to start a lot sooner than I did. It's a lifelong sport, though, and I will be playing when I am 70 years old," says Corley.
Getting to know Tristan
Family: Mother, Tammy Wood; father, John Moseley; one brother, Chris
Pets: Two dogs and a cat
Favorite food: Italian
Music he prefers: Everything. All genres.
Favorite team (college or professional): Florida Gators
Athlete he admires: John Eisner
Last book he read: Gone Girl
Favorite movie: Interstellar
Church he attends: First Baptist Church
Best thing about attending Central High School: The diversity of the students and teachers is amazing.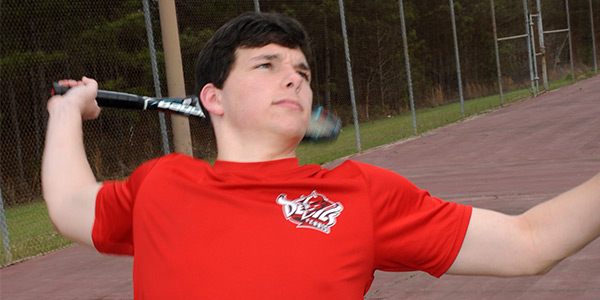 ---
Columbus Valley/Academic Athlete/June 2015
Tristan Corley
Central High School
Phenix City, Alabama
By Beth Welch
Photos by Jerry Christenson
https://itgnext.com/wp-content/uploads/web_corley_main_CV_0615.jpg
1000
750
Columbus Valley
https://itgnext.com/wp-content/uploads/ITGNext-logo-Black-and-Cyan-300x186.png
Columbus Valley
2015-06-12 15:41:26
2016-01-11 16:02:14
Tristan Corley: Central High Tennis