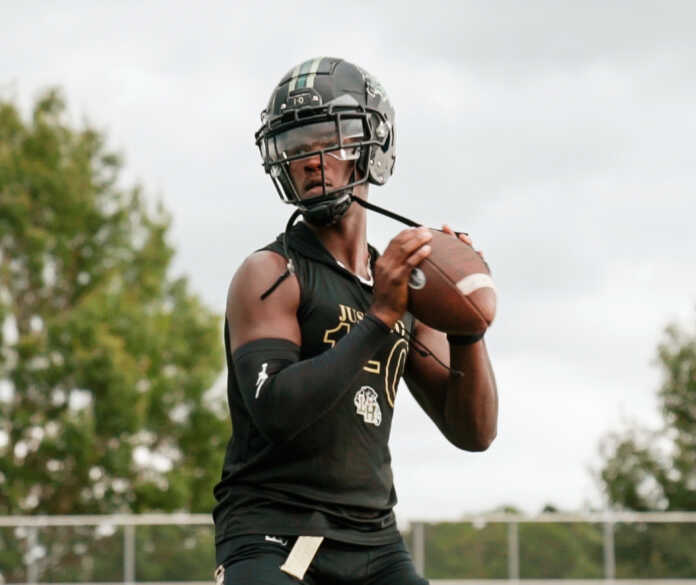 Mill Creek's blowout victory over Carrollton in the Georgia Class 7A state championship brought the 2022 season to a close. Several teams and players defied odds on the field, some breaking decades-long records and others etching their names into the history books for the first time. Such was the case among the top passers in Georgia high school football, who once again established the state as a frontrunner for offensive talent nationwide. Following are the 2022 season's statistically best passers.
10. Jay Kanazawa – 3,266 yards
Kanazawa more than doubled the passing output of any other quarterback in his classification. His mid- and late-season consistency propelled Schley County through the bracket and into the A-D2 championship, where the Wildcats fell despite Kanazawa's 242 passing yards. He passed for three or more touchdowns seven times, and he also proved to be a scrambling threat at times.
9. Baxter Wright – 3,343 yards
Gainesville's leap from 5-5 to 14-1 would not have been possible without Wright, who received playing time even as a freshman. The current junior torched opposing defenses for 40 scores through the air and did not turn the ball over in any playoff game. He was an integral part of Gainesville's gameplan against Langston Hughes and set season highs in passing attempts, completions, and rush attempts.
8. Ben Guthrie – 3,365 yards
Facing an easier schedule than it did the last two years, Alpharetta's passing attack opened up. Guthrie burst on the scene with 343 yards and three touchdowns against a stingy Jefferson defense to start the season, and he never looked back, ending the year with 44 total touchdowns. He passed for over 200 yards in all but one game and maintained a completion rate above 60% all season.
7. Jeremy Hecklinski – 3,520 yards
Hecklinski's heroics for Walton weren't limited to a second-round stunning upset of Buford; his impact was felt all season. His accurate passing and playmaking skills always shined in the most important of games, such as 426 passing yards against Mill Creek and 417 against North Paulding. He even completed two perfect games, never throwing an incompletion in routs of Pope and Cherokee.
6. Jack Cendoya – 3,546 yards
Cendoya's leap in production came at a critical time for Mt. Pisgah, which hoped to improve on a five-win 2021 campaign. Despite losing Cole Spence as a target, Cendoya picked apart opponents, passing for 272 and 365 yards in upsets of Fellowship Christian and Darlington, respectively. While turnovers in other important games ultimately resulted in losses, Cendoya's 2022 performance marked a stark improvement for the senior.
5. Keegan Stover – 3,605 yards
The lineage of high-flying Rabun County passers only continued with Stover. The transfer from West Forsyth quickly made an impact, passing for 13 TDs and nearly 1,000 yards in his first three games, eventually resulting in a 41-touchdown senior season. Stover's outputs helped WR Jadensss Gibson lead the state in receiving again, improving his totals from 1,878 yards to nearly 2,000 yards this season.
4. Antwann Hill Jr. – 3,663 yards
Hill's improvement among the top passers in Georgia high school football is unrivaled. After tossing 8 touchdowns and 7 interceptions as a freshman, Hill shocked the state with a breakout sophomore season that included 40 touchdowns. The Houston County Bear posted three 400-yard performances and maintained over 70% completion over the season. His youth did not prevent him from being clutch, as evident in victories over Perry, Warner Robins, Northside-Warner Robins, and Brunswick.
3. Prentiss Air Noland – 4,095 yards
Langston Hughes's offense broke the state record for points scored in a season and Noland was the main catalyst. The left-handed junior passed for a whopping 55 touchdowns, good for second in Georgia history. His completion rate stands at 73.1% and he passed for four or more touchdowns in nearly half of this season's games. Noland's consistent passing makes him a top-3 quarterback for next season, if not No. 1.
2. Julian Lewis – 4,118 yards
Lewis slammed the door shut on any doubts about his inexperience at the high school level. The nation's top-rated freshman quarterback tossed 48 touchdowns and proved to be one of the most consistent players in Georgia statistically. He led Carrollton to an undefeated regular season and the 7A state title game, where he passed for an otherworldly 531 yards and 5 touchdowns in the Trojans' shootout loss. He's No. 2 among top passers in Georgia high school football – and he might be the best quarterback in the state already.
1. Aaron Philo – 4,598 yards
Leading the state in receiving is nothing new for junior sensation Aaron Philo. The Prince Avenue Christian passer threw for 4,540 yards last season and produced similar totals this season. He passed for 6 or more touchdowns in five games this year, and his name now tops the lists of every statistical passing record in the Georgia history books. Not only was Philo No. 1 among top passers in Georgia high school football, he was the nation's sixth-leading passer this season, and he very well could better that ranking in 2023.