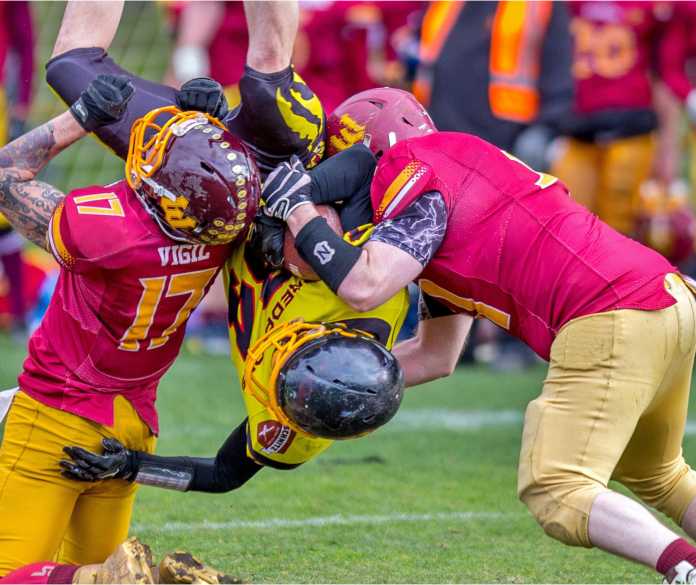 Defensive linemen are some of the most important players on the football field, stopping rushing attacks, creating pressure in the backfield, and often deciding the outcome of a game. Here's our list of the 10 best high school defensive linemen in Georgia entering the 2022 season.
1. Vic Burley (Warner Robins)
Burley is not only the best Georgia high school defensive linemen in 2022, he's one of the best in the nation, ranking third overall as a four-star Clemson commit. He is athletically brilliant and has an ideal size, allowing him to explode into the backfield. Burley thrives in rush defense as well, easily engulfing running backs and bringing them down. He also has strong hands, mostly developed due to success in shot put and discus throwing. Burley will have the biggest impact on Warner Robins' possible third consecutive state championship team.
2. Kayden McDonald (North Gwinnett)
McDonald has simply destroyed every offense he's played against. He racked up a whopping 58 tackles for loss to accompany 19 sacks last season, anchoring a stifling run defense for North Gwinnett. He has a massive frame and uses sheer power to overrun offensive linemen. McDonald is projected to stay in-state and go to Georgia, where he may provide an impact similar to that of recent first-round NFL draft pick Jordan Davis.
3. Zavion Hardy (Tattnall Square)
A four-star recruit, Hardy has been invaluable for Tattnall Square. He posted 12 tackles for loss last season and even started offensively as a tight end. As a result, his footwork and hands have been adequately developed to match his pure power. The Trojans faced a number of solid rusing offenses last season, and Hardy was the key factor in keeping them contained. He seeks to help his team build on a nine-win season and add a deep playoff run to his resume.
4. T.J. Searcy (Upson-Lee)
Searcy, a Florida commit, wasn't dominant statistically last season, but he still made his impact felt, combining his long frame with a deadly first step to blow up plays defensively. Searcy thrives on the strong-side, where his skillset is best put to use. There may be room to grow in terms of body composition, but he certainly will have time at Florida to do so. Until then, he'll be the leader on a young Upson-Lee defense that hopes to win more games than it did last season.
5. Gabriel Harris (Valdosta)
Harris is on the smaller side of most pass-rushers, but that didn't stop Georgia from pursuing the Thomas County Central transfer. Last season, he totaled seven sacks and 12.5 tackles for loss, both team-leading numbers. Now, he'll start at Valdosta on a bigger stage. Harris makes up for his smaller frame with first-step quickness, allowing him to get into the backfield before linemen can get set. He may have a breakout senior year as one of the best high school defensive linemen in Georgia in 2022.
6. Stephiylan Green (Rome)
Green may not rank highly on prospect boards; however, he is a nightmare for opposing offenses. The Clemson commit has been dynamite for Rome, disrupting momentum by bursting through the line for crucial tackles and sacks. He focused on improvement throughout the offseason, displaying his power and finesse in spring practice and summer camps. He is sure to be an impact player this season, and at Clemson as well.
7. AJ Hoffler (Woodward Academy)
Potential is the word most associated with Hoffler at this point. He has a near-ideal build and showed flashes of brilliance with nine sacks last season. However, he has yet to fully exhibit his athleticism and strength. Hoffler is more of a passrusher and could use his hands better to tackle running backs. If he can round out his skill set this season, he'll climb up prospect rankings rapidly.
8. Hevin Brown-Shuler (Pace Academy)
Brown-Shuler is currently the fifth-highest ranked defensive linemen in the Class of 2024. After this season, he may move into the top three. He was a MaxPreps All-American as a freshman, projecting well for the rest of his high school career. He already has the frame of a Power Five commit, and all that's left is statistical production. His chance will come as the Knights' defensive leader, proving he's one of the best Georgia high school defensive linemen in 2022.
9. Darron Reed (Carver Columbus)
There's a good chance Carver does not reach the state championship last season without Reed's impact up front. The 4-star LSU commit posted 7 sacks and 10 tackles for loss last season and helped anchor a suffocating defense that held seven opponents in the single digits. The 270-pound lineman thrives at stopping the run and uses good hands to beat offensive linemen at the snap.
10. Justin Greene (Mountain View)
Greene, the top-ranked junior defensive lineman in Georgia, lacks size but makes up for that shortcoming with speed and agility. Mountain View's defensive leader still has time to build more muscle, after which he will become a force to be reckoned with. His explosiveness has already been on display, and he can change a game quickly.