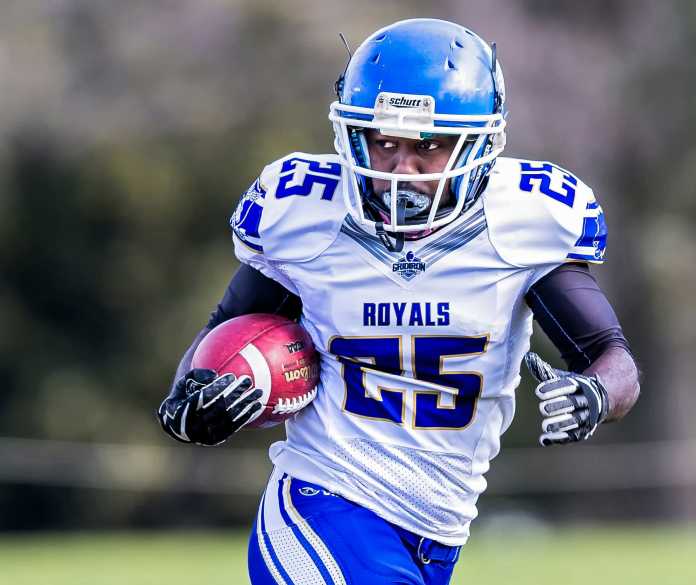 Cornerbacks may have the hardest job on the football field. One mistake could result in a loss for the team. The following 10 players rarely make such mistakes and are key leaders on their respective teams. Consider them the best Georgia high school cornerbacks entering the 2022 season.
1. Kayin Lee – Cedar Grove
Lee was thrust into the spotlight after an excellent performance against Milton as a sophomore. Since then, he's trademarked his physicality and ball skills to become one of the best Georgia high school cornerbacks entering the 2022 season. The four-star Ohio State commit is a sure tackler and excels in both man and zone coverage, as evidenced by his seven interceptions last season. His quick reaction time provides an additional boost to another potential Cedar Grove state championship team this season.
2. Ethan Nation – Roswell
Just like Lee, Nation burst onto the scene as a sophomore, when he  grabbed an astounding 8 interceptions. The four-star cornerback currently holds 50 offers, many of which appreciate his awareness in zone coverage. Nation's style of play fits well into Roswell's defensive scheme, and the results have shown the past two seasons. The Hornets' defensive leader begins the 2022 season as one of the best high school cornerbacks in Georgia, and he'll once again use his great instincts and change of direction to help lead Roswell back to the state championship.
3. Aveion Terrell – Westlake
Brother of the Atlanta Falcons' AJ Terrell, Aveion experienced the pressure of a spotlight early on in his career. However, he lived up to the hype, intercepting five passes as a freshman on varsity and maintaining a dominant stature on the outside. His man coverage skills may be unmatched, and his ability to high-point balls like a receiver allows Terrell to overpower intended targets and intercept passes. Aveion also starred offensively for Westlake last season, only further developing his hands and quickness.
4. Brice Pollock – Shiloh
The Pittsburgh commit is known for his speed, and his medals with the Shiloh track team are proof. On the football field, Pollock is a menace, as he intercepted four passes last season and totaled nearly 60 tackles. Pollock puts himself in the best position to make a play on every snap, whether it be in tackling a ball carrier or breaking up a potential touchdown. He will prove to be a key piece for the Panthers in college.
5. Branden Strozier – St. Francis
Strozier has seen the good and the bad at St. Francis, as the Knights had to rebuild after a winless 2020 campaign. Throughout those tough times, he has been a hallmark of consistency, using his track speed to make plays at both receiver and cornerback. The Clemson commit thrives in man coverage and can lock down an entire side of the field if necessary. He will be a critical piece in the continued retooling of St. Francis.
6. Martel Hight – Rome
Hight stands at less than 6 feet tall, but his impact looms much larger. As a receiver, he refines his ball skills and improves on quick feet. Defensively, Hight uses his hands well to distract and prevent receivers from making contested grabs. His leaping ability is almost always on display, likely due to his continued participation in track. He will further his career in the SEC, but not before making an impact as one of the best Georgia high school cornerbacks in 2022, and making one last playoff run with Rome.
7. Kaleb Cost – Sandy Creek
Cost knows how to deliver a hit; as a ball carrier facing him, it would be beneficial to simply fall down. Committed to UNC, Cost is a true leader for Sandy Creek. He led the Patriots with 3 interceptions last season and racked up 5pass defenses. Offensively, he led the team in yards per catch, totaling over 500 scrimmage yards. Cost is set to make a huge impact at the next level in the ACC.
8. Jace Arnold – Marietta
Arnold's production on the stat sheet may not turn heads, but his play does. The four-star Wisconsin commit is a true playmaker, flying all over the field and breaking up passes that should result in easy offensive scores. He can thrive when left alone on a side or in zone coverage. The Badgers will have an athlete more than a cornerback on their hands in just about one year.
9. Jack Tchienchou – St. Pius X
Tchienchou may be the lowest-rated prospect on this list, but according to teammates and opponents, his impact on a game may be one of the greatest. A true athlete, he totaled over 700 yards offensively, scored two touchdowns defensively, and even served as the team's returner in special teams. His skillset is very well-rounded and his endurance is off the charts.
10. Jalyn Crawford – Parkview
Parkview has no shortage of young talent, and Crawford is just another example. Much like several players on this list, Crawford used a solid sophomore campaign to boost recognition statewide. Now, he's listed as Georgia's best cornerback for 2024, and the only 2024 recruit on this ranking. Crawford intercepted two passes in the North South All-Star Game last season, adding to his notoriety as one of the best Georgia high school cornerbacks entering the 2022 campaign.