Mack Nash once climbed an active volcano. Achieving great things comes naturally to the Camden County senior, whether on the football field, in the classroom, or in life in general. As a 6'5″, 245-pound tight end on the Wildcats football team, Nash is called upon to block like an offensive lineman while also being able to catch passes over the middle. He earned a varsity letter his sophomore year, which is rare in the Camden County program. Academically, he is ranked fourth in his class and has scholarship offers from seven schools so far.
"Being a good student isn't about being a genius in every study, it's about working hard and staying focused in each one," Nash says. "I believe a good work ethic and determination in school carries over into football."
Nash has always participated in sports; specifically baseball, basketball, golf, and wrestling. He started playing football in third grade before moving to Hawaii, where he competed for a swim team. The Navy family then moved to Maryland, where Nash played three seasons of football in middle school before moving to Camden County his eighth-grade year. He started playing football full-time his sophomore year and has grown to be a team leader.
"Mack brings a steadiness to our locker room and team," says Camden County head coach Welton Coffey. "His quiet strength does not go unnoticed by coaches and players."
Nash has started for the Wildcats for three seasons and is one of the most consistent players on the team. "He shows up, he works hard academically and athletically, he is unselfish, and he puts Camden County football first," Coach Coffey says. "We are just elated to see his growth as a student-athlete, but more importantly, as a person."
Classroom clout:
Nash has a 4.9792 grade point average on a 5.0 scale (unweighted), and he takes multiple Advanced Placement classes. He is ranked fourth in a senior class of 591 students at Camden County High School. He is a member of the Spanish Honors Society, Connections Club, National Society of High School Scholars, and has participated in student government and the Beta club. Nash is a Georgia Certificate of Merit recipient and a Junior Marshal. He has been on the Superintendent's Honor Roll since ninth grade.
College plans:
So far, Nash has not chosen which college he wants to attend, but he has plenty of offers. Navy, Army, Appalachian State, Furman, Charleston Southern, Georgia State University, and the University of South Florida have all offered Nash a scholarship to play football. "I would like to major in biomedical engineering, political science, or history," he says.
Describe your first big play:
"It was five minutes into the first quarter of my second-ever varsity game. We were up 7-0 against Beach High School. We had driven all the way down to the 20-yard line and were looking to score. The coach calls my number on a drag across the middle of the end zone. The ball is hiked, and I scrape wide open and end up, ball in hand, with a TD reception."
What was your most memorable game?
"I would have to say my most memorable, thus far, was our 28-24 loss against last year's state champs, Colquitt County. Even though we lost, I remember this game best because it was one where we weren't playing for anyone or anything. We were playing for each other. I think just about every one of my teammates put a lot of heart into that game. In the end, they had a one-in-a-million 60-yard rush to the end zone narrowly defeating us at the chime of the fourth quarter. I think we all remember this game to remind us what we are capable of."
On the field:
Nash has received the Academic Achievement Award the last three years in a row from his team. He has participated in the Elite Junior Classic, an all-star game in Georgia for the best juniors in the state, and he received All-Region 1-AAAAAA honorable mention as an offensive lineman and tight end. He has also competed in the Under Armour All-America and Nike Opening combines.
What is the most amazing thing you have ever done?
"I've climbed Kilauea in Hawaii. That was an amazing experience."
Coach Welton Coffey on Mack Nash
"The refreshing thing about Mack is, even though he is highly intelligent, he still carries himself like an everyday guy. This is why others feel so comfortable around him. Who knows what Mack's future holds? He could be a brain surgeon, engineer, math professor, high ranking military official, professional athlete, construction worker, coach, or open up a bait shop in St. Marys (Georgia). The sky is the limit!"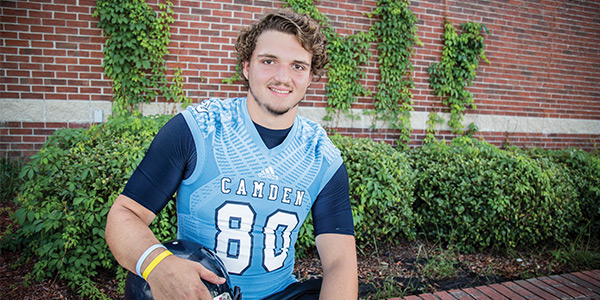 ---
SE-AA-0815 – Mack Nash
Academic Athlete
Camden County
(W) Rob Asbell
The Sky's The Limit For Camden Big Man
https://itgnext.com/wp-content/uploads/web_nash_main_SE_0815.jpg
1000
750
Southeast Georgia
https://itgnext.com/wp-content/uploads/ITGNext-logo-Black-and-Cyan-300x186.png
Southeast Georgia
2015-08-21 14:58:35
2016-01-11 15:57:46
The Sky's The Limit For Camden Big Man