While seniors enjoy their final moment in the spotlight, the underclassmen toil, hoping to be noticed by recruiters so they can get their shot at a college scholarship. In recent years, there has been an amazing wealth of talent coming up.
We will likely see these players' names in the headlines in the coming years. Each one has had the opportunity to play early in their high school careers and contribute to their teams.
In Baxley, Junior Keelan Crosby of Appling County became a starter for Coach J.T. Pollock his freshman year. Since then, he has blossomed into a go-to player and team leader for the Pirates, a position he hopes to continue next year. After an outstanding junior year, he is attracting attention from major college scouts and would like to attend the University of Florida.
Ware County defensive lineman Jalynn Strickland was sidelined with an injury his freshman year, but has made up for lost time by imposing his will on opposing blockers. He also hopes to go to school in Gainesville in the future and may get his chance as he continues to grow and learn. The big man has become a major player on the Gator's strong defense that has made a deep run in the playoffs this year.
"My mom has always been there for me no matter what and my coaches are always pushing me to go harder," Strickland says.
Ninth-grader Jashawn Sheffield of Frederica Academy has already received offers from two SEC schools. He made the move to the private school this year and made a quick impact for the Knights. Despite being a freshman, Sheffield helped take Frederica to a new level this season and head coach Brandon Derrick expects the trend to continue.
"I see him breaking a lot of records over the next few years," Coach Derrick says. "The thing about Jashawn is that he will push everyone else to be just as good, so our program is going to be trending up for years to come."
All three student-athletes had outstanding seasons for their respective teams and have started receiving the attention of colleges. They will soon be getting calls from college coaches who want them to come play at their school.
They are the future of high school football in Southeast Georgia, and the future looks bright.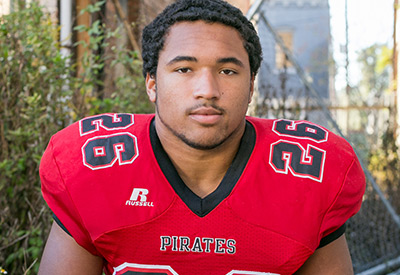 Keelan Crosby
Junior
Appling County Pirates
Baxley, Ga
Junior Keelan Crosby started attracting attention this year as the quarterback for the Appling County Pirates. In a season that was supposed to be a rebuilding year, Crosby stepped up to make Appling more competitive. In a crucial game against rival Pierce County, Crosby threw three passes for 84 yards and two touchdowns while running for 139 yards and another score to lead the Pirates to victory. In the final game of the season against Southeast Bulloch, he carried the ball 15 times for 271 yards and three touchdowns, including a 60-yard score.
The 5'9", 200-pounder rotates between quarterback and running back on offense and also plays linebacker on defense for Coach J.T. Pollock's Pirates. He can bench press 385 pounds in the weight room and has a 4.5 40-yard dash time. His low center of gravity helps him break tackles and clear the way for his breakaway speed. Once he gets into the second level of the defense, he can outrun or overpower most would-be tacklers.
Crosby started playing football as a 7-year-old in the recreation leagues. The first time he carried the ball in a game he scored a touchdown, a fact that stays with him in every game.
"When I know I'm about to get the ball I just think about going for six every time," Crosby says.
He played middle school football and recalls defeating Waycross Middle in the playoffs his eighth grade season. The following season, he joined the Appling County varsity team and started making big plays his sophomore year. He credits his family for keeping him focused and making sure he stays respectful. He does admit to indulging himself on one run.
"The coolest thing I ever did was when I slapped my dad's hand while I ran down the sidelines for a touchdown," he says.
Crosby is getting attention so far from Purdue, Middle Tennessee State, and Georgia State. Prior to next season, he plans to work on honing his abilities as a signal caller.
"I hope to improve on my reads as a quarterback," he says.
Just as impressive as his on-field stats are his abilities in the classroom. Crosby has a perfect 4.0 grade point average, is a member of the Beta Club, and is in the top-10 in his class academically at Appling County High School. He would like to attend the University of Florida to major in Psychology and Childhood Education.
Jalynn Strickland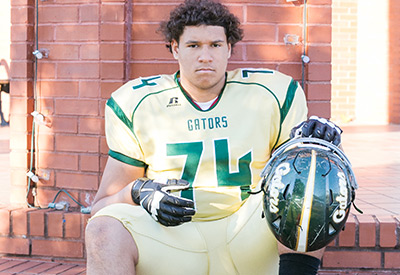 Sophomore
Ware County Gators
Waycross, Ga
Simply put, Jalynn Strickland is a man-child. Standing 6'6″ and weighing 295 pounds, he clogs the running lanes as a defensive lineman for the Ware County Gators. With an ability to push past blockers and sniff out the ball, he is a force to be reckoned with on Coach Franklin Stephens' defense.
"I have to beat the man in front of me," Strickland says.
Although he started playing at the varsity level just this season, Strickland is already getting looks from Florida, Alabama, Auburn, Clemson, Ohio State, Kentucky, and Georgia Tech.
He started playing football at 6 years old and was always the biggest kid on the field.
"When I got to middle school, I really started to like football because it was different and I played with people my size," he says.
Tragedy struck last season when Strickland suffered a broken leg and torn anterior cruciate ligament that kept him away from football his freshman year. This season, Coach Stephens started to work with him to prepare him to play at the varsity level. He attended a football camp at the University of Florida, where he received a lot of attention from Coach Jim McElwain's staff. He played in the preseason scrimmage against Valdosta High School and got his first big plays.
"I had back-to-back tackles for a loss," he says.
He then got his opportunity to start against region foe Coffee County in a big victory for the Gators.
Strickland has a 3.3 grade point average in the classroom and has been on the A/B Honor roll. He hopes to attend college to major in sports medicine.
"I really want to attend The University of Florida," he says.
In addition to football, Strickland is also a member of the Gators' basketball and track teams.
His favorite part of the playing football is winning a big game with his teammates, something he has experienced frequently in his first season playing for Ware County. He also played a big part in the Gators playoff victories this post season against Northside Warner Robins, Rome, and Drew. By next year, he hopes to push himself harder to help his team even more.
"I want to be able to become a leader and to learn everything I can from my coaches," he says.
Jashawn Sheffield
Freshman
Frederica Academy
St. Simons Island, Ga
The football program at Frederica Academy on St. Simons Island got a shot of excitement this year as freshman Jashawn Sheffield burst onto the scene. The first-year player has the potential to become the most successful player in the school's history, having already received a scholarship offer from the University of Tennessee.
"He was a major contributor to our success," says Frederica Coach Brandon Derrick, whose Knights returned to the playoffs in 2015.
Sheffield rushed for more than 800 yards and nine touchdowns, caught passes for another 316 yards and four touchdowns to go along with 203 yards in kickoff returns and another score this season.
"He helped to produce about one-third of our offensive output and is only a freshman," Coach Derrick says.
After breaking the huddle and knowing that he is about to get the ball, Sheffield's thoughts become focused.
"Let's get it," he says.
A 6'2″ combination running back, receiver and defensive back, Sheffield already runs a 4.5 40-yard dash time and has the ability to make defenders miss. In addition to the offer from Tennessee, he is also getting looks from Georgia and Ole Miss. He did not start playing football until his seventh-grade year but has picked up the game quickly. During a game against Bulloch Academy this season, he became involved in a rivalry.
"We scrimmaged against them in camp and it ended in a little fight, so we were waiting on that game," Sheffield says. "We were up and lost the lead at the end of the game. They kicked it off to me and I took it back for a touchdown."
Attending the Tennessee camp in Knoxville was a memorable moment for Sheffield, who also got to take a 29-hour road trip to see the Grand Canyon. Sheffield hopes to improve several aspects of the game in the coming years.
"I want to get bigger and faster, improve my vision and be a better leader," he says.
He credits assistant coach Alex Mathis with helping him learn more about the game. He has improved in ball handling and field vision but knows he has more to learn.  Most importantly, Sheffield has become a team leader for the Knights.
"He is a very humble person who works extremely hard in the classroom, weight room, and the playing field," Coach Derrick says. "He is only going to continue to get better every year."
---
SE-PS-1215-The Future
Player Spotlight
Keelan Crosby – Appling County
Jalynn Strickland – Ware County
Jashawn Sheffield – Frederica Academy
(W) Rob Asbell
(P) Jennifer Carter Johnson
The Future of SEGA Football
https://itgnext.com/wp-content/uploads/web_segafuture_featured_SE_1215.jpg
630
1500
Southeast Georgia
https://itgnext.com/wp-content/uploads/ITGNext-logo-Black-and-Cyan-300x186.png
Southeast Georgia
2015-12-10 19:38:33
2016-01-14 11:54:11
The Future of SEGA Football