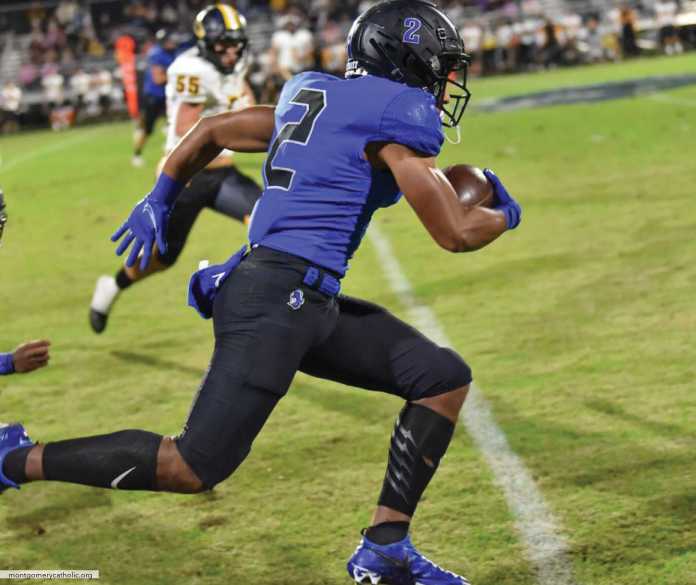 10 Best Alabama High School Football Games Remaining in 2021
We have already seen some phenomenal games so far this season in Alabama high school football. However, what if I were to tell you that the best is still to come? Here are the 10 best Alabama high school football games still to be played in the 2021 season. Each of which these regular season contests will greatly affect seeding entering the playoffs. 
10. Central-Phenix City vs Opelika – September 24
Central-Phenix City and Opelika meet for their annual rivalry game during the last week of September, a matchup that the Red Devils have dominated recently winning the last five meetings between the two. The Red Devils have been one of the top teams in Class 7A this season in year two under head coach Patrick Nix, while the Bulldogs have bounced-back nicely after an 0-2 start to the season. Last seasons meeting was each team's closest game of the season, one in which the Red Devils won 21-19 at Opelika.
9. Thompson at Mountain Brook – September 24
Another exciting 7A/6A matchup on the 24th is defending 7A state champion Thompson traveling to face Mountain Brook, one of the top teams in Class 6A. The Warriors have dominated this matchup in recent years, with Mountain Brook's last win coming in 2016. Don't be surprised if these two teams are undefeated going into this Week 6 matchup.
8. Montgomery Catholic vs Trinity Presbyterian – October 15
In what will be one of final regular season games for each team this season, arguably the top two teams in Class 3A so far this season will meet for a very important region matchup. The Knights won last season's matchup between the two 13-10, and return many notable players off last year's 3A Runner-Up team including linebacker TJ Dudley and quarterback Caleb McCreary. This will likely not be the final meeting between these two this season either.
7. Briarwood Christian at Mountain Brook – October 7
The Lions and Spartans meet for what will be a very-important Class 6A-Region 5 late season matchup. Both teams are off to strong starts to the season, and are among the top teams in Class 6A this season. Mountain Brook won last season's matchup 17-0. 
6. Auburn vs IMG Academy (FL) – October 29
One game that has been circled on calendars since the beginning of the season is 2020 7A runner-up Auburn welcoming IMG Academy (FL) to town for the regular season finale. Widely considered as the top high school team in the country, IMG's roster is loaded with five and four-star prospects, while the Tigers have had a strong start to the season under new head coach Keith Etheredge. This late-October showdown between the Ascenders and one of Alabama's top teams will truly be must-see. 
5. Clay-Chalkville at Pinson Valley – October 15
The cross-town rivals will meet in mid-October in a matchup in what very well could decide Class 6A-Region 6. This matchup will feature two of the state's top quarterbacks in Zach Pyron and Khalib Johnson, as well as many other highly rated recruits. Pinson Valley won last season's meeting 27-10. 
4. Hewitt-Trussville at Hoover – October 1
The first of many Class 7A-Region 3 games on this list comes on October 1 when Hewitt-Trussville visits Hoover. The Bucs have won three of the past four between these two teams, including a thrilling 29-28 final a year ago. The 2021 meeting between the Huskies and Bucs will likely be a massive contest when it comes to 7A playoff seeding.
3. Auburn vs Central-Phenix City – October 1
If the previously mentioned Hewitt-Trussville/Hoover matchup isn't your "Game of the Week" on October 1, then it is 100% the showdown between the Tigers and the Red Devils. A game that will likely decide 7A-Region 2, Auburn won both meetings between the two last season with a 29-28 regular season victory at Central, as well as a 35-17 win at home in the playoffs. The annual rivalry matchup is always must-see with massive stakes on the line, and this season will be no different. 
2. Thompson vs Hewitt-Trussville – September 17
You could certainly make the argument that No. 1 and No. 2 are a toss-up with both coming from Class 7A-Region 3. The first of the two involves defending 7A state champion Thompson hosting Hewitt-Trussville this upcoming Friday. The Warriors and Huskies are both loaded with talent on both sides of the ball, and will likely decide who holds the upper-hand in the region entering the month of October.
1. Thompson at Hoover – October 22
Arguably the top remaining regular season game this season comes on October 22 when defending 7A state champion Thompson travels to Hoover. Similar to the previous matchup, this will be a massive game in Class 7A-Region 3 between arguably the top two teams in the state. Thompson has won the three previous matchups between the two, but each time these two teams meet on the field, it is truly the most must-see football game in the state of Alabama.
Written by: Matt Melton