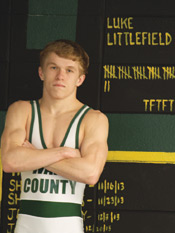 Luke Littlefield has now come full circle. Four years ago, Littlefield was featured as In the Game Magazine's (Southeast) inaugural Rising Star. At that time, he was a tennis player at Waycross Middle School who also dabbled in wrestling. Littlefield's grappling skills were actually discovered at age seven by a martial arts instructor who thought the tyke had the makings of a good wrestler. Littlefield took up the sport competitively in sixth grade, but by the completion of middle school he still had not begun to tap into his full wrestling potential. In the years subsequent to the 2010 ITG profile, Littlefield established himself as one of the area's premier wrestlers, averaging a remarkable 50 wins per year. Ironically, as he hits the homestretch of his high school career, Littlefield is picking up his tennis racket once more.
"He eats and sleeps wrestling," notes Littlefield's father, Dan. "Last year Luke ran track and he has run cross country several years. But he recently decided he needed a break from running and some of the boys talked him into playing tennis again."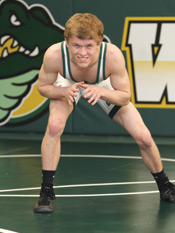 Before his tennis comeback unfolds, there is the issue of punctuating a career that has seen Littlefield rack up more than 200 career mat victories. After bursting onto the scene with a 49-10 record his freshman year, Littlefield went 55-7 as a sophomore. As a junior, he posted a cumulative mark of 57-4 between the 106-pound and 113-pound divisions. The Gators captain has split time this year competing at both the 113-pound and 120-pound classes where he had amassed a record of 49-4 through the final week of January. Always the gracious winner, the humble Littlefield is all too happy to share the accolades.
"Matt Collins is someone I look up to a lot," says Littlefield. "He talked to me a lot and would get me pumped up before matches. When I don't feel like going hard and am drained, Coach E (WCHS head coach Joe Eichfeld) keeps me going. Also, my drill partner Jake Gourley is someone I have known since I was five. We're like best buds, but we go at it and make each other better every day. Kirby Malone's Dojo (in Blackshear) is a place where we can go at it, drill, wrestle, and get better. Jacob Allen and I usually spend a pretty good bit of our offseasons there."
Littlefield finished fourth in the state last year in class 5A at 106 pound. He has spent most of this season ranked second at 113 pounds. His totals also included 28 pins in his first 46 victories of 2013-14. "Luke has the best stamina on the team," notes Eichfeld. "He is a true team player and team leader. He is the one of the most dedicated athletes that I have coached in the sport of wrestling."
Littlefield's stamina is the product of many years of running. Littlefield owns a personal best time of 17:25 on the cross country 5K course. He also has run the mile in under five minutes. "I ran cross country all four years of high school," notes Littlefield. "I mainly did it to stay in shape and I actually had one of the best times on our team."
By some accounts, Littlefield is nothing short of the Energizer Bunny. "Luke has never had any trouble cutting weight," states his father. "He is very dedicated. He lifts weights at school and at home."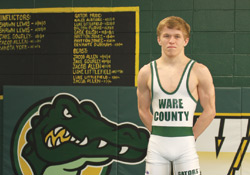 "Passion is the word that sums it up about Luke's love for wrestling," says Littlefield's mother, Laurie. "He is extremely dedicated to the sport and is always working out and doing drills on off days and even after practice…. Luke has given lessons to middle schoolers and hopes to start that back up after the season ends. As a parent I am extremely proud to see such dedication."
Outside Georgia High School Association (GHSA) competition, Littlefield has also enjoyed success with USA Wrestling and in Amateur Athletic Union (AAU) circles. His highlights are too numerous to list here. Still, there are a few recent moments that rank among his favorites. "This year at duals, I knocked off the number-two guy in my weight class," he says. "I teched the guy (earned technical victory), 15-0. I also competed at the USA Super 32 qualifier last year and got fourth place."
Adds Eichfeld: "My most memorable moment with Luke was actually kind of funny. It was when we went to McIntosh for a summer tournament before his ninth-grade year. Luke got dropped on his head and knocked out during a match, but wanted to get up and keep wrestling. Also, his performance at state duals in 2013 when he went 5-0 as well as his placement in the traditional tourney last year stands out."
Littlefield has literally been making the grade for some time now. He carries a 3.6 GPA and scored 1470 on the SAT. A member of Beta Club and the Junior Bank Board at Waycross Bank and Trust, he has taken several honors and AP classes at WCHS and will be an honor graduate this spring. Still, he is not even regarded as the top scholar in the family. He readily concedes that title to twin brother Stape, a swimmer, golfer and cross-country runner who totes a 4.0 GPA. "I'm a better athlete, but Stape is mainly committed to academics," he laughs.
Through the years, the brothers have pitched in occasionally with the family business, Littlefield Construction, though both harbor dreams of working in medical-related careers. For all the glory wrestling has brought him, it's still unclear whether Littlefield will compete beyond high school. He hasn't made a college choice yet, but exercise science tops the list of preferred majors right now, with long-term plans that include graduate studies in physical therapy.
"I have been looked at by Shorter, Brewton-Parker, Mount Union (Ohio), and Ferrum College (Virginia). I will probably decide at the end of the season if I will wrestle again and it will probably depend on if I still have the same love for it that I do now. Whatever happens, I'd just like to be remembered as the kid that was a good athlete, stayed hard on the books, and maybe everybody liked."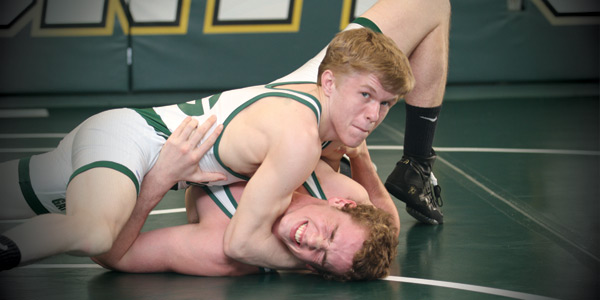 "Whatever Luke likes, he is dedicated to it. He has lots of friends. One of his attributes is that he is so well liked. He just likes being around people." – Dan Littlefield, father
"Luke hates to lose and always has. He'll shake hands with a guy after a match, but losing hurts his feelings. – Dan Littlefield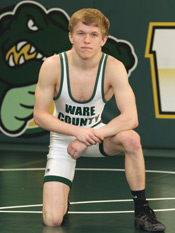 Littlefield's Personal File
• Attends Trinity United Methodist Church in Waycross
• More than 200 career wrestling victories
• 3.6 Grade Point Average
• 1470 SAT score
• Preferred college major: Exercise Science
---
Player Spotlight/Southeast/February, 2014
Luke Littlefield
Ware County High School
Waycross, Georgia
Story by John DuPont
Photography by Bo Carter
Blaze of Glory
https://itgnext.com/wp-content/uploads/ITGNext-logo-Black-and-Cyan-300x186.png
0
0
admin
https://itgnext.com/wp-content/uploads/ITGNext-logo-Black-and-Cyan-300x186.png
admin
2014-02-14 20:50:00
2014-02-14 20:50:00
Blaze of Glory