Rising Star/Columbus Valley/October 2013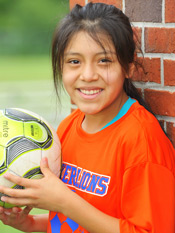 Lizely Hernandez
Baker Middle School
Columbus, Georgia
By Beth Welch
Photos by Jerry Christenson
Soccer athlete enthusiastic about working toward goal.
Soccer is a fall sport for middle schools in Georgia. Many athletes in the Columbus Valley area look forward to autumn so they can take advantage of slighter cooler temperatures to participate in their sports. One such athlete is Lizely Hernandez, a forward for Baker Middle School's Lady Lions soccer team.Hernandez was born in Dallas, Texas, and moved to Columbus several years ago. She grew up watching her father play soccer with friends and then decided to try the sport by participating in youth soccer programs at a local YMCA.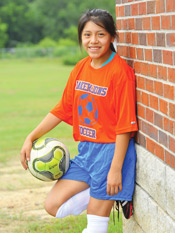 When she began middle school at Baker, she went out for the girls soccer team as a sixth-grader."I enjoyed playing soccer with the Y and decided I wanted to see if I could play it in middle school. I tried out and I am still playing," says Hernandez.The 14-year-old has an infectious smile and humble demeanor. Respectful, gracious and kind are often used when coaches and faculty at Baker talk about her. But on the soccer field, Hernandez transforms into something a little different than her off-field persona."Oh yes, I am competitive," admits Hernandez. "I am definitely competitive on the field. I am not really what you might say is aggressive but I like to win and that makes me competitive."This fall marks Hernandez' third season playing soccer at Baker Middle School.
She started out as a forward in recreational soccer and continues as a forward for the Lions. At 5' and 98 pounds, she might not look like a force to be reckoned with, but her soccer coach has seen what the diminutive player is capable of on the soccer field and she is looking for Hernandez to provide leadership on her team."She is a great ball handler and team player," states BMS girls soccer coach Anastasia Madrid. "She will play the role of team captain and role model for my younger players."Hernandez doesn't like to call attention to herself and is reluctant to talk about what makes her an outstanding athlete for the Lions. When pressed a little on the subject of her strengths, she eventually comes up with a couple of positives about her game."Well, I guess I am pretty good at kicking the ball. I have been told I can kick the ball pretty far and that I am pretty fast. My size surprises people when I kick the ball but I guess that is why I am fast, too," says Hernandez.Madrid knows Hernandez has those capabilities. But the second year coach has picked up on another of Hernandez' strengths."The thing that sets her apart from other soccer athletes at this stage is level of maturity on the field when it comes to having great sportsmanship. I have never seen her get upset on the field, and she always keeps a good attitude regardless of the circumstances," Madrid states.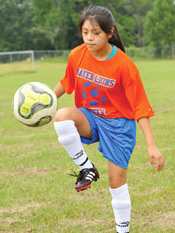 The oldest of three children, Hernandez has poise and presence sometimes not found in young athletes. She doesn't rush to make things happen on the field and says she generally leaves the game right there after a tough loss. Her maturity shows up again as she discusses her preparation for the 2013 season. She has been watching footage of great soccer athletes to learn more "tricks" when handling the ball because she wants to be ready to play at the next level.That next level will probably come at Carver High School if Hernandez has her way. She has thought a lot about high school and Carver is the school she hopes to attend next year. Right now the A-B student is concentrating on her schoolwork and hopefully helping her teammates put some soccer matches in the win column this fall.
The 2012 season was disappointing for Madrid and her girls soccer team as they posted a winless season.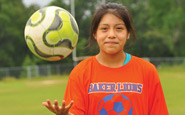 It was not the season Madrid had hoped for but the Lady Lions are looking for better days this time around. Coaching Hernandez for a second season has allowed Madrid to gauge her play from last year to this season, and it also gives her the perspective to foresee her star athlete's chances for more soccer down the road."She has improved in her ball handling skills. I do think she has potential to play soccer at the high school level because of her hard work ethic," says Madrid. "She is a great kid and any coach would be lucky to have her on their team. I know she will be successful on and off the field in the future."
Getting to know Lizely Family:
Parents: Vicente Hernandez and Elizabeth Damaso; one brother and one sister
Favorite food: Pasta
Favorite place to eat: Hibachi
Music: Smooth music
Church: The Refuge
Hobbies: I love to draw and sketch.
Favorite book: The Twilight Series
Something many people might not know about her: I love to sing.
If you could visit any place in the world, where would you go: Mexico
Best thing about Baker Middle School: Meeting new friends each year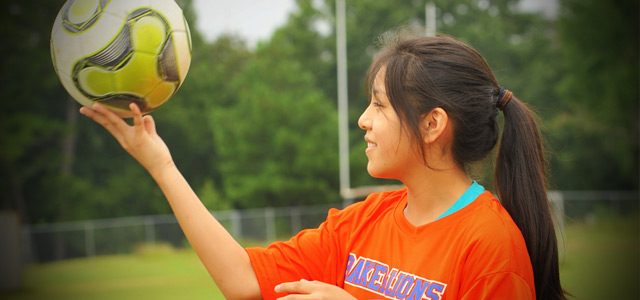 https://itgnext.com/wp-content/uploads/ITGNext-logo-Black-and-Cyan-300x186.png
0
0
admin
https://itgnext.com/wp-content/uploads/ITGNext-logo-Black-and-Cyan-300x186.png
admin
2013-10-01 16:57:00
2013-10-01 16:57:00
Soccer athlete enthusiastic about working toward goal