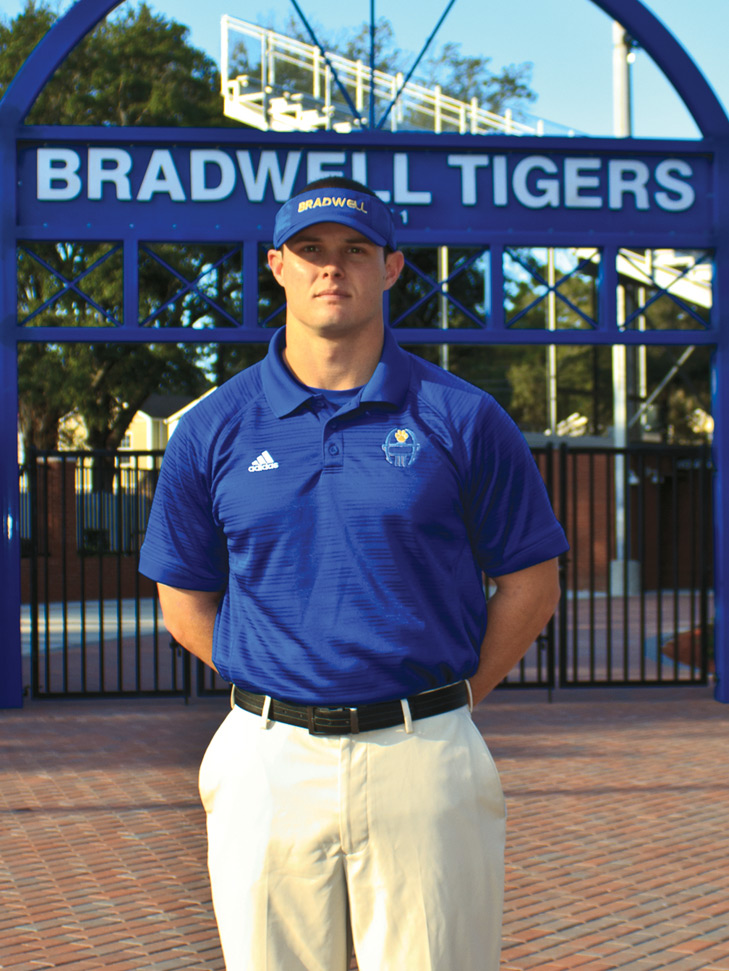 Bradwell Institute head coach Adam Carter dreamed about that day when the scoreboard had zeros across the time clock and his team got the win. Carter's first win came against Savannah High a day before his 29th birthday and his mother even happened to be visiting. Of course, Carter didn't know exactly when that first head coaching win would come on the Georgia coast, but he has embraced the Institute, the players and fans, and the administration has reciprocated.
Carter was at his desk in the Ed Edwards field house at Olvey Field, the game ball resting on a shelf, trying to figure out how to beat Charlton County the next week.
"We are very pleased with the enthusiasm that Coach Carter has brought to the football program. The excitement in the school and the community is great. The discipline and work ethic shown by our student athletes is something that will impact them the rest of their lives," Bradwell Institute Principal Scott Carrier says.
For football coaches and especially head coaches in south Georgia, a win on Friday night lasts until you either finish watching your own film or you fall asleep listening to Tommy Palmer's scoreboard show. The game plays over in your head as you sleep and once the sun breaks in the east, another opponent awaits.
Jeff Herron's decision to retire last year as the head football coach at Camden County High School sent ripples through his staff and all of high school football. Following Herron's departure, Camden offensive coordinator Welton Coffey was hired to take over the program. The success of the Wildcats football program makes it hard to keep suitors from courting coordinators and assistants.
"I think Coach Carter is going to make an excellent head coach. I am sure they are going through some growing pains this year but if they are patient with him he has all the qualities to turn Bradwell Institute around. He did a great job for us at Camden and has all the qualities you look for in a head coach," Herron says.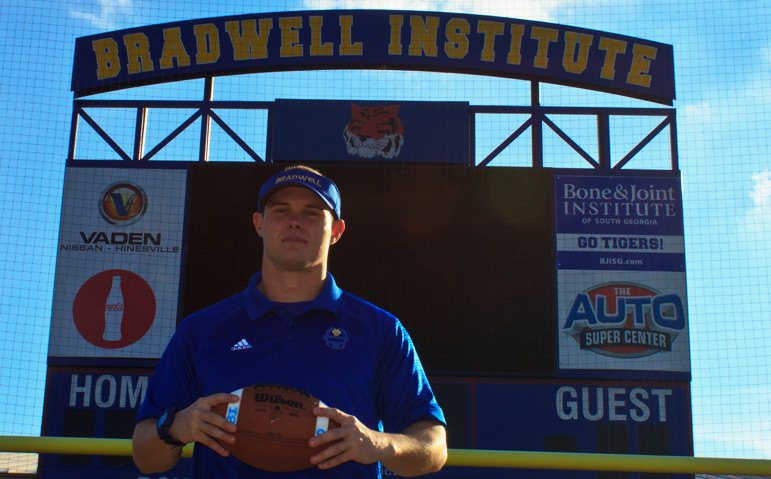 Wildcats co- defensive coordinator Adam Carter, who was in his second season with Herron, would have been a viable candidate at Camden if he had more experience. Carter applied for the Bradwell job and got it and has brought a passionate vision to a former powerhouse program that for a variety of reasons had gone through some tough seasons.
"The administration here at Bradwell has been great. Mr. Carrier is a class act and very supportive of the student-athletes and the coaches. The community wants to win and I don't blame them. They got on board with us this year and we are hoping to give them more of what they want to see in 2014," Carter says.
Carter, 29, is one of the youngest head football coaches in Georgia. Originally from Dallas, Georgia in Paulding County, 2013 has been the year for his home county. All of the Paulding County schools made the playoffs and the county is the current home of the cradle of Georgia High School football coaches. Seven current high school head football coaches, six in Georgia including Carter, all are Paulding County alumni.
After graduating from Paulding High School, Carter went on to play in the secondary at the University of West Georgia. In college he met his best friend and current offensive coordinator Chris Reese, who had played for Herron at Oconee County. Reese was also on staff at Camden before coming to Bradwell.
"Having good people around you is very important. As a head coach you have to trust the people on your staff and be able to give them responsibility. I have some good guys on my staff that love the kids and football. I was able to bring Chris Reese with me to be the OC. He will be a head coach soon, he is very good at what he does," Carter says.
Carter started coaching and teaching in 2007 with stints at Paulding County, North Paulding County and South Carolina State University, and Camden County. The former assistants at Camden who go to other schools have been able to take the basic blueprint they learned from Herron and apply it to their own circumstances. Camden has been a national power since the early 2000s.
Going from coaching high school to the college game taught Carter a lot about organization and coaching in general. Those who watch the quickness of the Auburn offense need to realize that for the majority of his career, Gus Malzahn, an authority on the modern day spread, honed that offense at Shiloh Christian School. He spent the majority of his career as high school football coach. Baylor's Art Briles, who has a high-powered offense, was running the same type of wide alignment plays with his Texas high school teams at Brownwood and Stephenville. Briles didn't even make the jump from high school to college when Mike Leach hired him as running backs coach until 2000.
Camden has produced coaches with the same passionate commitment as Malzahn and Briles. Coaches who understand football, even at the high school level, know that it is a 365-day commitment if you want to be the best.
"My experience at programs that know how to win is priceless. There is a plan for everything we do. The programs I have been to in the past do things the right way and they work. The staff at Camden works for the season 365 days a year. Knowing how to win is something that is learned and not just given to you. Being at these programs, I have learned how to win and will implement those things here at Bradwell," Carter says.
The Tigers finished 4-6 this season defeating Savannah High, Jenkins, Windsor Forest, and Groves. The growing pains for Carter's squad were obvious when Bradwell just missed a chance at the playoffs, losing to Effingham, 7-6, in the opening game of Region 3-AAAAA. The 4-6 record is the Tigers' best finish in last three seasons and Carter has certainly renewed the support of the community.
"I do not think we have turned the corner yet. We have a lot of things to improve on if we want to contend for the playoffs in 2014. We must fix a lot of mental mistakes, get stronger and faster, and add more depth to our team. I will say that we have hit the ground running since April and during those months leading up to August, I think we worked as hard as anyone to get ready. I try to get our kids to live by a 'hard work' mentality and that sometimes they just have to 'find a way.' If we keep improving throughout the offseason, I think next season will have brighter days at Bradwell," Carter says.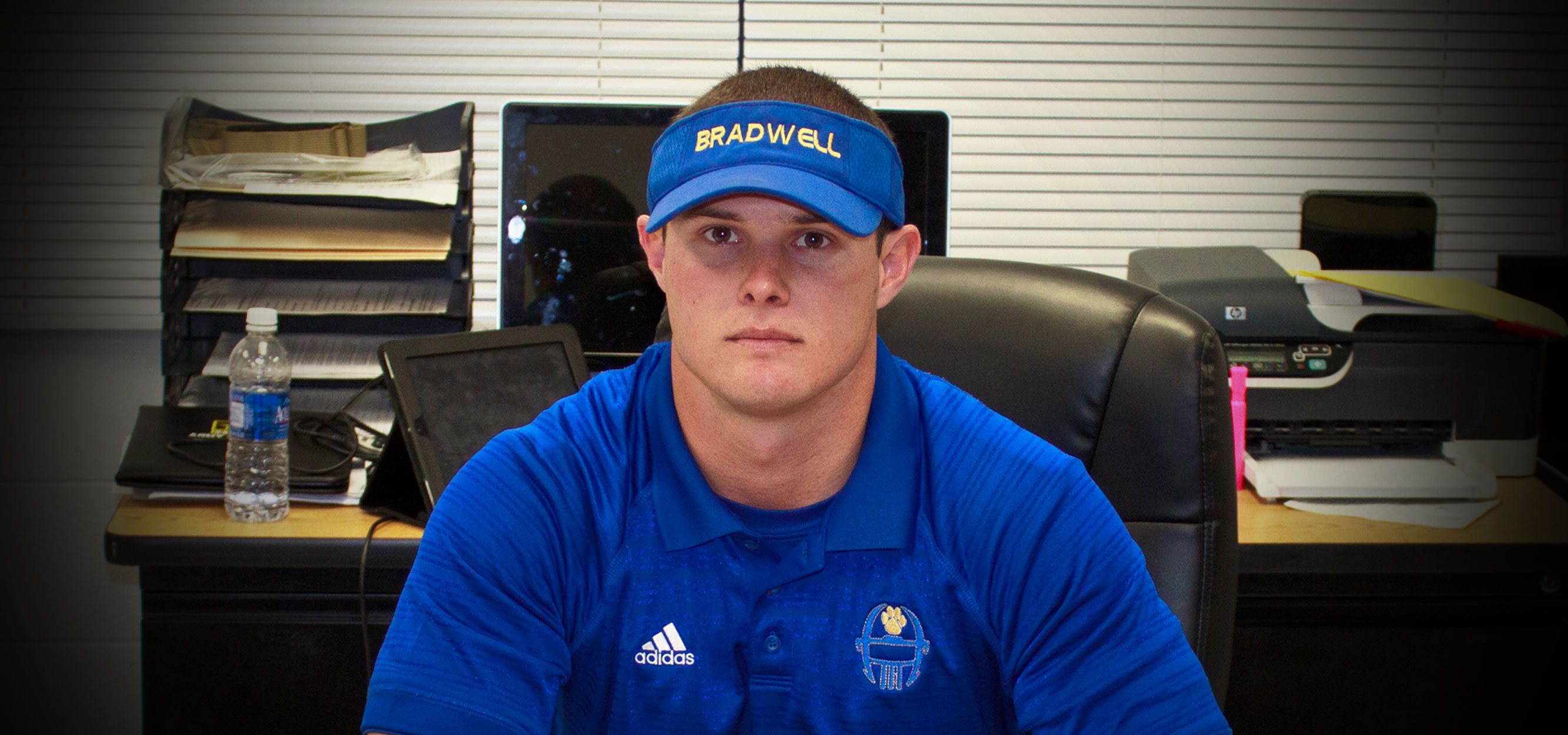 Southeast Georgia Edition
Coach's Corner
Adam Carter
Bradwell Insititute
No time like the present
By John Wood
Photography by Jeffrey Griffith
https://itgnext.com/wp-content/uploads/ITGNext-logo-Black-and-Cyan-300x186.png
0
0
admin
https://itgnext.com/wp-content/uploads/ITGNext-logo-Black-and-Cyan-300x186.png
admin
2014-01-03 20:07:07
2014-01-03 20:07:07
No time like the present