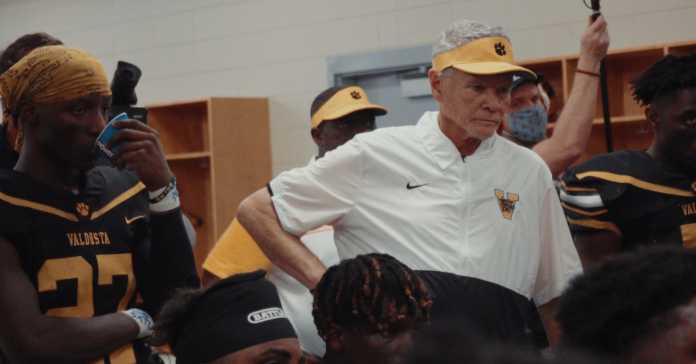 Valdosta Board of Education to Meet on May 17 to Reconsider Renewing Contract of Football Head Coach Rush Propst
A stunning turn of events has the Valdosta City Schools Board of Education apparently ready to reconsider their earlier decision to not renew the contract of football head coach Rush Propst.
The latest in what has been one surprise after another occurred at the close of Tuesday night's BOE meeting when long-time board member Warren Lee made a motion to have a special called meeting of the board on May 17 to discuss personnel issues.
On Wednesday morning, an announcement on the Valdosta City School's Board of Education website included the upcoming May 17 meeting agenda, which contained the following line item: "Revisit non-renewal of head football coach at VHS-Mr Warren Lee-action required."
This will apparently open the door for another vote by the board to reconsider their earlier vote during the April 27 board meeting, during which the board members voted 5-3 to not renew Propst's contract. Since that meeting, there had been rumblings in the Valdosta community that board members were already second-guessing their decision and were wanting a redo. It now looks like they'll get their wish.
The speculation among many observers, including those close to the situation, is that during the May 17 meeting, those board members who voted against renewing Propst's contract during the April 27 meeting will reverse their vote and opt to bring the coach back.
Regardless of what the board members decide to do, there remains the issue of the Georgia Professional Standards Commission's ongoing investigation into Propst and allegations that arose from an audio recording of a conversation between Propst and former Valdosta touchdown club director Michael "Nub" Nelson. The investigation could determine whether Propst keeps his teaching certificate, which coaches must have to be eligible to coach high school sports in Georgia. That decision could render the board's upcoming vote meaningless.
For up-to-date reports on this story, follow us here and tune in to "Extra Point! With Phil Jones" Monday through Wednesday from 5 p.m. to 7 p.m. on Facebook Live.
Written by: Phil Jones