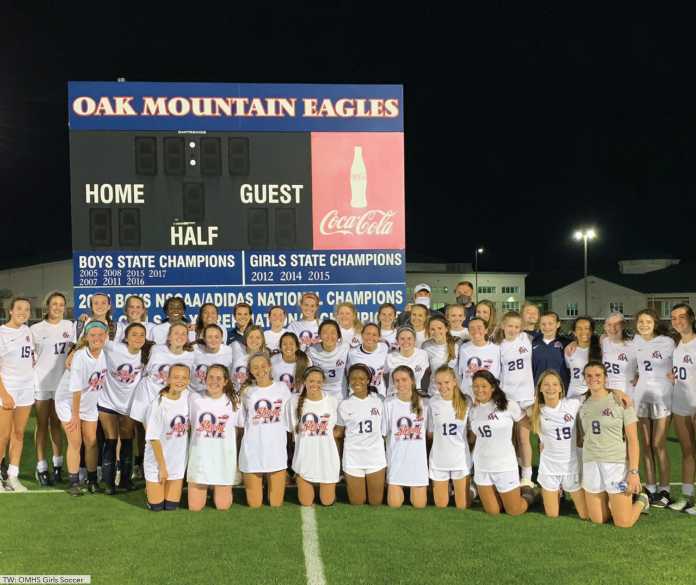 Alabama Girls Soccer State Championship
Girls soccer season has come to an end in the state of Alabama. After plenty of upsets and surprises throughout the year, 2021 state champions have been crowned. Let's take a look at which teams came out on top in each of the four brackets. 
Class 1A – 3A: Trinity Presbyterian
In Class 1A – 3A, Trinity Presbyterian defeated Donoho by a score of 3-1. The No. 8 Wildcats pulled a big upset by defeating the No. 3 Falcons. Donoho had allowed five goals over the course of an entire season coming into the state championship match. The Wildcats jumped on Falcons goalie Maggie Wakefield from the start, and scored two goals by Mary Alice Sasser and Emilyn Ethridge in the first half. Trinity MVP Healey Mathison scored the third and final Wildcats' goal in the second half. "This just means the world to me," said Mathison to al.com. 
Class 4A – 5A: Montgomery Academy
In Class 4A – 5A, Montgomery Academy defeated St. John Paul II by a score of 6-1. No one who follows AHSAA girls soccer should be surprised, as the Eagles latest title is their eighth-straight since 2011. Sophomore Hayes Jenkins and senior Leighton Robertson scored two goals each, while Virginia Meacham and Sophia Cho scored one apiece. "To be able to go the whole way through without losing and going through the state championship in such convincing fashion is great," said Eagles head coach Joe White to al.com.
Class 6A: St. Paul's Episcopal
In Class 6A, St. Paul's Episcopal defeated Homewood by a score of 2-1 in the only girls state championship match to come down to penalty kicks. The No. 5 Saints finally broke through to claim their second state title in program history – and first since 2009. Previously, the Saints had lost seven straight in either the third round, semifinals or finals over the last decade. Leah Robinson knocked in the winning penalty kick to outscore the No. 1 Patriots, and reigning state champions, by a penalty kick score of 5-4. "We knew this was going to be our year," said Saints head coach Ashley Johnson to al.com.
Class 7A: Oak Mountain
In Class 7A, Oak Mountain defeated Enterprise by a score of 5-0 to capture its fourth girls soccer state title. The No. 3 Eagles opened their scoring with a goal from Kierson McDonald, followed by another by Kaitlin Maynard to extend the lead. After intermission, Maynard scored a second goal. McDonald then completed a hat trick, scoring two additional goals at the 55th and 58th minutes. The performance earned her a state title, and tournament MVP honors. "It feels amazing," McDonald said. "Really tired from yesterday [in the state semifinals], and I'm still in shock." 
Written by: Reagan Cofield