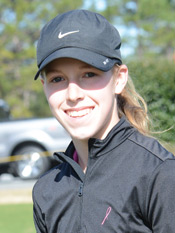 Victories or low medalist awards in over 35 golf tournaments. Two-time player of the year on two different tours. Two-time sectional champion. Sounds like the resume of a veteran golfer who has been playing for several decades, right? The golfer behind those achievements isn't even a decade and a half old. She's been playing tournament golf for a little over five years and is already one of the best – if not the best – female golfers in the area.
When Elizabeth Funderburk was little, her father, Darrell, an assistant principal at Colquitt County High School, put a golf club in her hands. Funderburk was a smart young lady and her father thought the difficulty and strategy of golf would play right into her strengths. Golf was a little less strategic and more of a game for her then. "I used to go to the golf course with my dad. It was something we did together. He bought me a set of clubs and I figured I better stay with it then," she laughs.
The more she played, the more she picked up on the difficulty of the game. And the more she was able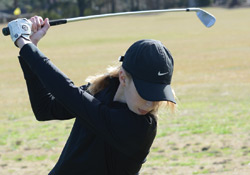 to master it. Figuring out golf – at least as much as anybody her age could – and getting better each and every week were fun to Funderburk. So she kept playing. And she kept getting better. Then she started winning tournaments.
Funderburk plays on three different tours plus her middle school team: the Red Hills Junior Golf Tour, the Southeastern Junior Golf Tour, and the Georgia State Golf Association's junior tour. Her most recent win as of press time was the SJGT Sea Island Classic in January; she won the girls 12-14 age group with an 83 and 85. Her best score for nine holes is a 34; for 18, it's a 77. The key to Funderburk's success is hard work – she spends hours, hours, and more hours practicing – and staying calm. "I look at each hole as an individual contest. I take each hole one at a time. I don't worry about what happened on the last hole and I don't look forward to the next one. I just play the one I'm on at the time," she says.
When In the G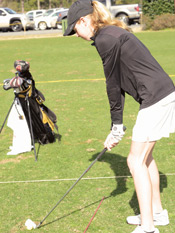 ame spoke with Funderburk in mid February, the middle school season had not yet started. However, during her middle school career, her team has been undefeated. This season, she hopes to continue that streak. "I'd like to keep that going. I also want to do better this year than I did last year," she says.
As good as Funderburk is at golf, she is equally good, and maybe even better, at cross country. "They are two totally different sports. Golf isn't physically demanding like running is. When I run, I get to push myself physically in a way that I can't on the golf course," she says.
Funderburk ran for three years at C.A. Gray. This season, she won all six races in which she competed. She was sixth in the state at the state meet in Cochran (she ran a 13:02 three-kilometer race). Funderburk also ran in the junior varsity race at the Region 1-6A region championship. She was the first female runner in the 5K event with a 20:44. Her time ended up being just 20 seconds off the eventual region champion's time in the varsity race. "This season surprised me. I didn't expect to win all those races. I just enjoy running. I try to run every day and it's something I want to keep doing," she says.

Already, Elizabeth Funderburk has the talent to play golf and run cross country in college should she choose to do so. She is thinking about college golf but she isn't too worried about that right now. She is just having fun playing golf and running. It doesn't hurt that she's winning events in both sports. The most immediate issue is the kind of impact she will have next year on the Colquitt County golf and cross country teams. Funderburk will help both teams tremendously from the first day she shows up at practice. "In high school, she has a chance to contend for a region title in both cross country and golf," says Darrell Funderburk.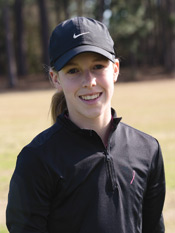 Favorites:
• Subject in school: Math
• Dream course to play: Augusta National
• Golfer: Stacy Lewis and Natalie Gulbis
• TV show: Duck Dynasty
• Character: Uncle Sy
• Place to travel: Puerto Rico
• Person to meet: Phil Mickelson
---
Rising Star/South Georgia/March 2014
Elizabeth Funderburk
C.A. Gray Junior High School
Moultrie, Georgia
Robert Preston Jr.
Colquitt eighth-grader dominates in golf, cross country
https://itgnext.com/wp-content/uploads/ITGNext-logo-Black-and-Cyan-300x186.png
0
0
admin
https://itgnext.com/wp-content/uploads/ITGNext-logo-Black-and-Cyan-300x186.png
admin
2014-03-10 20:03:47
2014-03-10 20:03:47
Colquitt eighth-grader dominates in golf, cross country